Donald Trump's Potential New Campaign Slogan Has Twitter Confused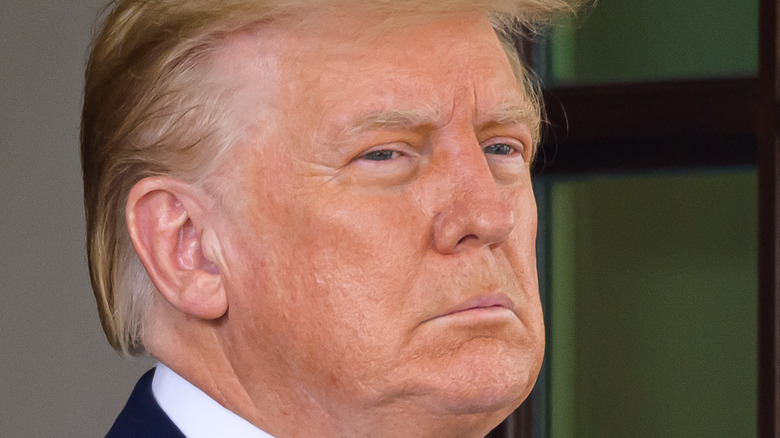 noamgalai/Shutterstock
Former President Donald Trump is ready to get back on the campaign trail. The politician had been hinting for some time that he wanted to run again for president. According to Axios, Trump was planning to make the official announcement right after the midterms, as it was predicted that the Republicans would have a strong win and that would fuel the excitement of his fanbase. However, the so-called red wave didn't happen as Democrats took over more congress seats and gubernatorial races than predicted (via AP News). 
Trump will most probably face strong opposition from other rumored Republican presidential candidates including former Vice President Mike Pence and Florida Governor Ron DeSantis. Relations between Trump and Pence have progressively deteriorated; it is reported that their last conversation was a phone call back in April, per CNN. Tensions between Trump and DeSantis have also increased as the latter won the gubernatorial reelection and has seen a recent boost in popularity among Republican voters, FiveThirtyEight reported.
Now that Trump has announced his bid for re-election, he's planning his campaign, which just might include a new slogan. 
Donald Trump is rebranding MAGA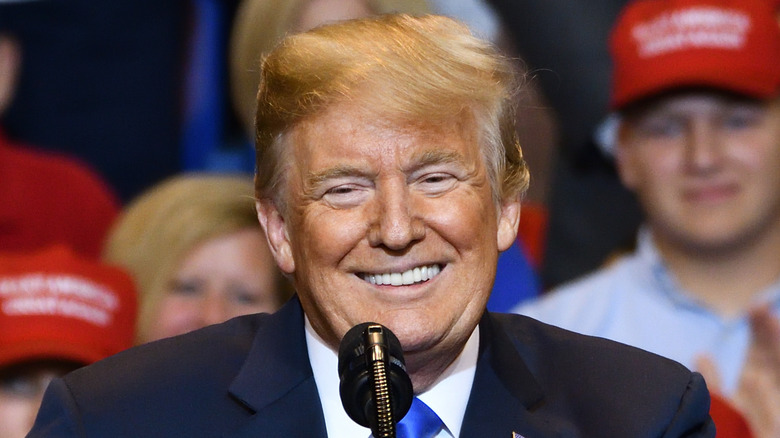 Evan El-Amin/Shutterstock
Donald Trump announced his 2024 run on Tuesday night from his residence Mar-a-Lago in Palm Beach, Florida. "In order to make America great and glorious again, I am tonight announcing my candidacy for president of the United States," Trump said as his supporters celebrated the news. The Republican candidate also used this opportunity to criticize President Joe Biden, who also seems to be interested in running again for president (per The New York Times). "That was not good what [Biden] did. A lot of bad things like going to Idaho and saying 'Welcome to the state of Florida,'" he said (via Twitter).
While Trump's announcement is news in itself, the politician has gone viral on social media for a specific combination of words in his speech. "So he says he's running. The hats'll have to say MAGAGA — make America great and glorious again. If it makes you gag, get used to it," Harvard professor Laurence Tribe tweeted. Many followed suit in joking about the new slogan including Guardian Australia journalist Tory Shepherd. "Make America Great and Glorious Again #MAGAGA Sounds like a baby babble," she tweeted.