How Donald Trump Is Reportedly Handling Ivanka's Decision About His Campaign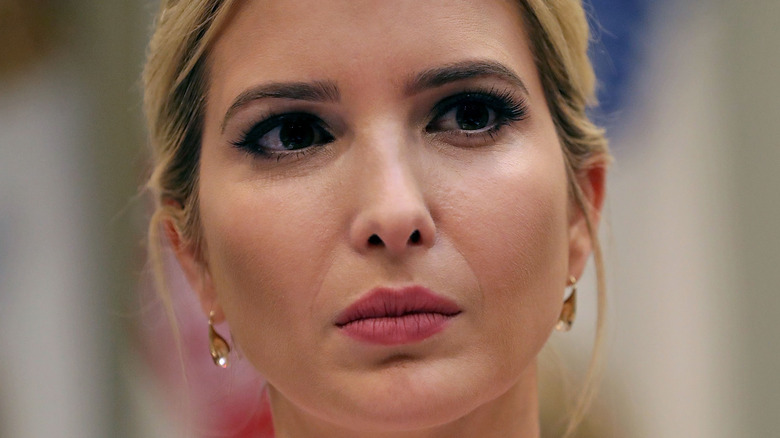 Chip Somodevilla/Getty Images
Former President Donald Trump announced his bid in the 2024 election after much speculative anticipation. Since the 45th President publicly declared yet another (third, to be exact) run for Commander in Chief, Republicans have voiced their thoughts, and it's far from an overwhelming majority of support.
Politico reported a roundup of Republican officials either have mixed feelings about the potential GOP nominee, or simply don't want to comment on it altogether. 
However, there has been an interesting turn of events in Trump's own circle of support. Ivanka Trump, Trump's oldest daughter, broke her silence on her father's decision to run for the top position in the Executive Branch (via CBS). The businesswoman said via social media: "I love my father very much. This time around, I am choosing to prioritize my young children and the private life we are creating as a family."
And it's no surprise that reports are now saying that Ivanka's departure from politics is something the former president doesn't take lightly. 
Donald Trump urged daughter Ivanka and son-in-law Jared Kushner to publicly endorse him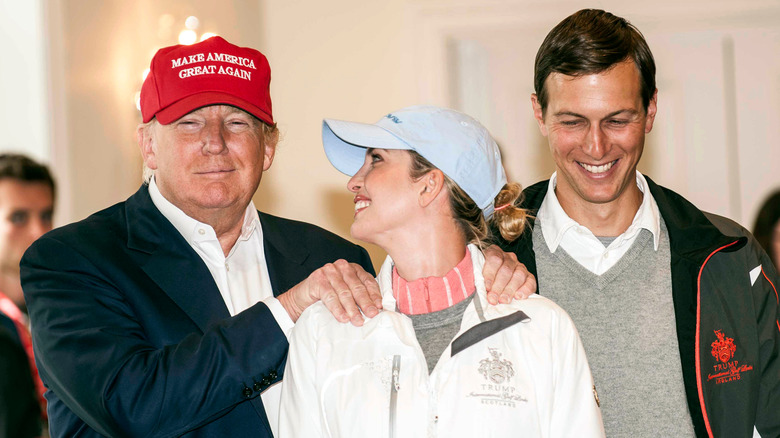 Christian David Cooksey/Shutterstock
Before Donald Trump officially made his announcement on November 15 to run a third time for president, he met with his daughter, Ivanka Trump, and her husband, Jared Kushner, at a family event. The Daily Mail reports that at his daughter Tiffany Trump's wedding at Mar-a-Lago earlier in November, apparently some overheard that Trump was pleading with Ivanka and Kushner to make an appearance on stage in Palm Beach, Florida, where he made his bid speech.
Clearly, that didn't happen, as Ivanka seems firm in her stance to not vocalize her support for her father publicly. The publication went on to say that Ivanka and her family don't plan on returning to Washington, D.C. Currently, the family of five live in a small town in Florida right outside of Miami (via People). 
For now, it seems that they're still trying to rebuild their life amidst multiple legal troubles Trump is facing at the hands of the government, and take a step back from Trump's antics.
Members of the Trump family continue their political journey amidst legal battles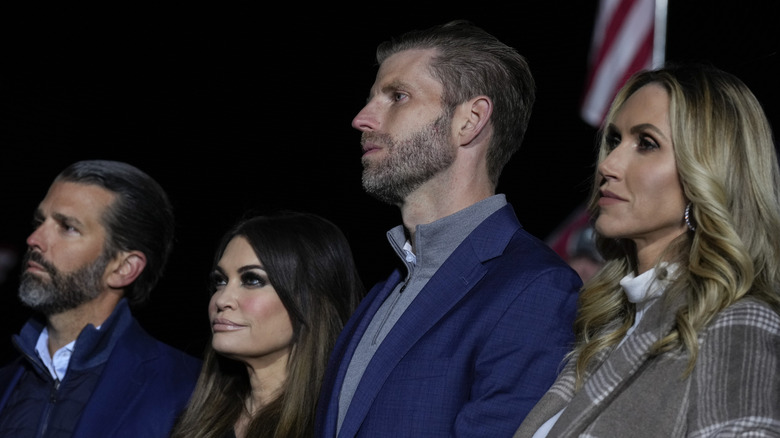 Drew Angerer/Getty Images
While Ivanka Trump and Jared Kushner have expressed their desire to stay out of the political limelight, Trump's other children have continued to be outspoken in their support for Trump's third presidential campaign. Donald Trump Jr., who could not make the rally due to a hunting trip conflict, enthusiastically tweeted after his father's announcement, "We will once again put America First!"
Don Jr.'s younger brother, Eric Trump, was seated in the front row at Mar-a-Lago during his father's election announcement on Tuesday. During his hour-long speech, Trump asked his son to stand, and said, "I think [Eric] got more subpoenas than any man in the history of our country. So unfair," per The Independent.
When it comes to business, Donald Trump likes to keep it in the family. But his children's involvement in his business ventures have landed them in some legal hot water over the years. According to The Hill, the January 6 committee issued multiple subpoenas for Eric Trump's phone records to analyze his involvement in the "Stop the Steal" campaign and the events leading up to the Capitol riot on January 6, 2021. New York attorney general Letitia James also filed a high profile lawsuit against Trump and all three of his oldest children; these charges cover over a decade of fraud and illegal activity within the Trump Organization (via Vanity Fair).
While details about how present Trump's sons will be during his campaign, their enthusiasm hints that they will likely be involved in some way.