Jinger Duggar Vuolo Is Catching Heat For Her Charlie Brown Christmas Tree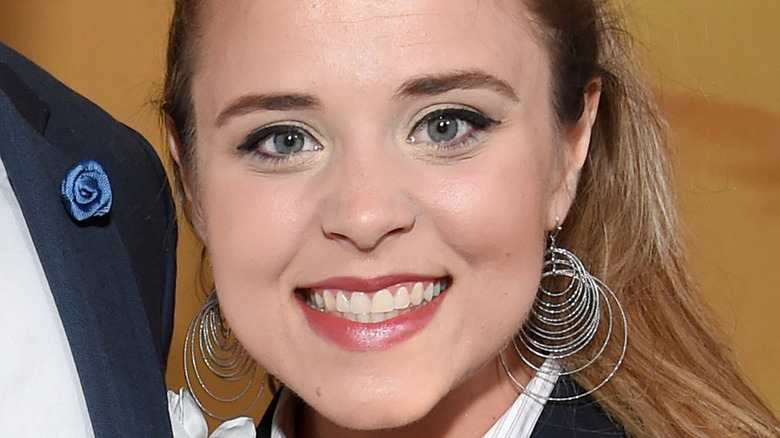 Michael Kovac/Getty Images
Jinger Duggar Vuolo is making a name for herself away from her famous family. Formerly a cast member of the "19 Kids & Counting" reality show, Jinger now lives outside Los Angeles with her husband, Jeremy, and their two daughters, Felicity and Evangeline. While she helps support the family through her sponsored partnerships on social media, her biggest accomplishment to date may be the release of her explosive upcoming new book. It's a takedown of the extremely restrictive church in which Jinger grew up, which she says left her in fear of incurring God's wrath if she disobeyed the stringent rules. 
But while Jinger no longer follows her family's bans on wearing pants or listening to pop music, she does maintain the Duggar love of the holidays. Like a growing number of Americans, she believes it's never too early to start Christmas decorating. Her sister Jessa Duggar Seewald feels the same way, judging by the photo she posted to Instagram around Veterans Day. It showed her youngest daughter admiring an ornament on the family Christmas tree. Now, the Vuolos are showing off their own holiday décor online, but not everyone is on board with their choice of trimmings. In fact, some are expressing their disappointment that Jinger's tree is looking more pitiful than festive.
Fans had a lot to say about Jinger's Christmas tree
Fans of the Duggar family got a glimpse of Jinger Duggar Vuolo's holiday festivities on November 16, when her husband, Jeremy Vuolo, posted a photo to his Instagram Stories (via The Sun). The foreground of the image showed a Santa mug, and the caption read, "Jinger's blend in my Christmas mug." This was, of course, a loving promotion for Jinger's new coffee collab with the small subscription company Matchbox Coffee.
But what caught the most attention online wasn't the coffee or Jeremy's mug, but the Christmas tree visible in the background. It was clearly an artificial pre-lit model, and, for some, looked less than festive. There were no visible ornaments other than the lights, and the gaps between the center branches made the tree resemble the famous little fir twig in "A Charlie Brown Christmas."
The tree also sparked a huge debate on the Duggars Snark Reddit page. "[T]he middle section looks awful even compared to the rest of the tree. The tree definitely still needs to be fluffed," said one follower. Other critiques included "rough" and "not finished." One commenter even panned, "I have a $90 fake tree from Target and it still looks better than this sad little thing." But other fans rushed to defend the family. "A lot of people put their tree out but don't decorate it till after Thanksgiving," explained one.