How To Fake The Skinny Brow Look Without Committing To The Shape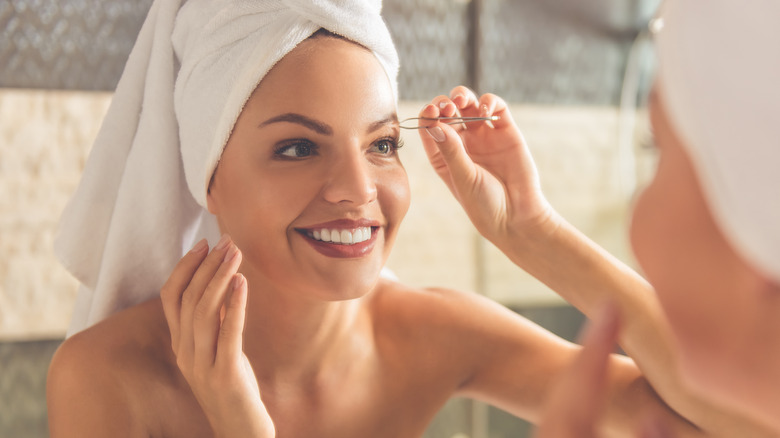 Vadimguzhva/Getty Images
The '90s have been back in style for the last few years. From baby tees to slip dresses, butterfly clips to bucket hats, novelties that were trendy long before smart phones are in the stores yet again (via Hello!). It's what's called the "20-year rule," according to Forbes — every two decades (give or take), fads cycle back around. Social media has contributed to the process, creating what are known as "micro-trends" in the midst of these decade revivals (via NPR).
Now, we're beginning to see an early-2000s resurgence. So, what does this mean for the fashion world? Low rise jeans, chokers, cargo pants. Also notable is the revival of the Y2K skinny brow, once exhibited by the likes of Paris Hilton and Jennifer Lopez on Hollywood red carpets. Make-up artist Shanzey Al-Amin told Byrdie, "These ultra-thin brows were not to be missed. 'The thinner, the better' was the motto when it came to millennium brows." When paired with smokey eyeshadow and messy liner, "pencil-thin brows enhanced the mood and made the 2000s an iconic [decade] for the skinny and pointed brows." However, with origins in the 1920s and '30s popular culture — and with bleached brows even dating back to Elizabethan England — this trend is truly nothing new (via W Magazine).
Given how quick styles shift nowadays, there are ways to achieve the appearance of a 2000s thin brow without committing to plucking (or risking an at-home bleaching session). All you need is a little makeup and a mirror.
Use concealer to blur-out your brows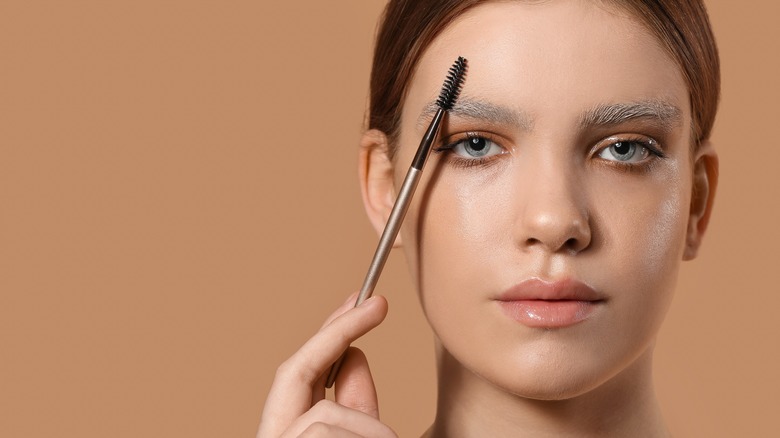 Pixel-Shot/Shutterstock
According to celebrity makeup artist Sam Visser via Vogue (and as later reported by The Guardian), "People are doing their brows now not from the angle of 'I look better this way,' but 'this is a cool way to look" Celebrities like "Euphoria's" Alexa Demie and, famously, Bella Hadid have recently gone full-pluck on their brows. To accomplish the look without actually removing any hair, you'll need a concealer that matches your skin tone, a brow brush, and a thin liner.
Byrdie recommends starting the process by brushing your eyebrow hairs in the same direction, ideally towards your temple. Next, use your pencil or brow pomade to carefully outline the shape you want. Finally, use your concealer to cover any hairs that aren't a part of your penciled-in outline. Set with clear brow gel. Now, you can fully recover your 2010s thick brows with just a bit of makeup remover rather than wait years for them to grow back. For best results, Bustle suggests using brow scissors to trim your hairs shorter. With this, your makeup will look neater, but roots won't be disturbed.
According to esthetician and brow specialist Nicky Cayot, "Brow trends don't last. I think anyone who lived through the '90s and abused the tweezer can vouch for how much brow [growth] serum they used to get their naturally full brows back." Ultimately, it's best to try your hand at a temporary look before committing to the real thing.
Experiment with a face editing app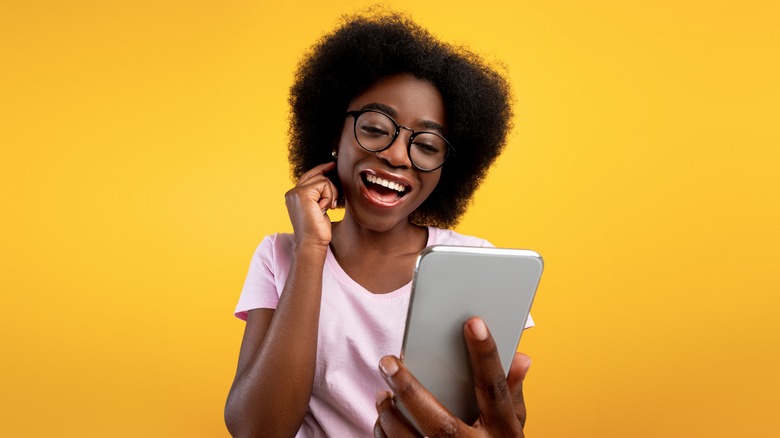 Prostock-studio/Shutterstock
According to celebrity eyebrow specialist Joey Healy, "people are not asking for skinny brows when they come in, so I think this is a trend that's more about faking it rather than doing it for real" (via Byrdie). Another way to "fake" the look of skinny brows is through an editing software.
Platforms like Facetune and FaceApp can be helpful tools when deciding whether to commit to a new color. Though both have steep subscription fees, free trials will allow you to test out a few looks — and save those images — before privileges expire. Facetune's free period lasts an entire week, whereas users are able to experiment with FaceApp without charge for up to 3 days.
So, how are these softwares different from viral TikTok or Snapchat filters? They alter only what's specified. In other words, no secret blush or chin sharpening on top of eyebrow-shrinking. With this, you'll get an accurate indication of what your face might look like in the wake of simply plucking rather than what it might look like with additional plastic surgery-esque facial alterations. Ultimately, "Brows are the most important element [of the face], key to expressiveness," says British makeup artist Isamaya Ffrench via The Guardian. "So when you change them, it fundamentally changes the structure of your face."