Style Rules That Will Help You Dress Like Marilyn Monroe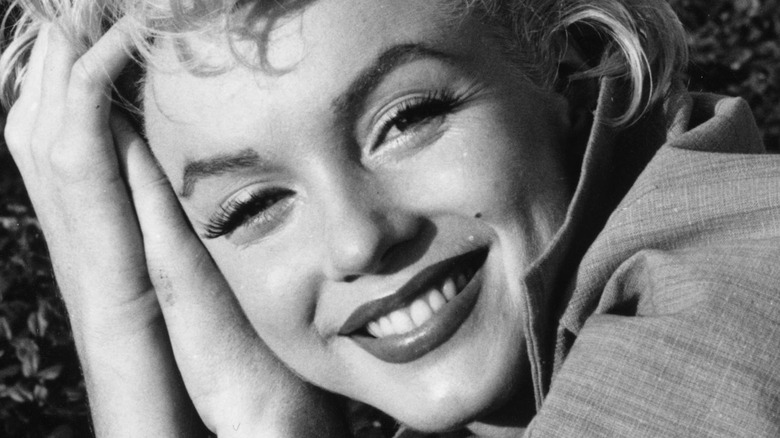 Baron/Getty Images
When you hear the name Marilyn Monroe, you're likely to think of Hollywood glamour. The actress is known for her beautiful bouncy curls and signature makeup look, not to mention her blonde bombshell persona both in the movies she appeared in and in her day-to-day life. Her impact on pop culture is immeasurable, with her image seen everywhere from cosmetics to vodka, jewelry to soda, as well as inspiring music videos such as Madonna's "Material Girl." 
Monroe's appearance and general persona was once again brought into the mainstream public eye in 2022, when Kim Kardashian controversially wore one of Monroe's original dresses to the Met Gala (via W Magazine). Whether you were against Kardashian's decision to wear the dress or didn't mind it, there's no doubt that the hype around Marilyn Monroe never fades.
Many of us want to emulate Monroe's style, from her off-duty looks to her screen siren outfits. So, how can you figure out the main components of her style, and what are the ground rules to help you achieve her iconic look?
The blonde bombshell has long been associated with the glitz and glamour of Hollywood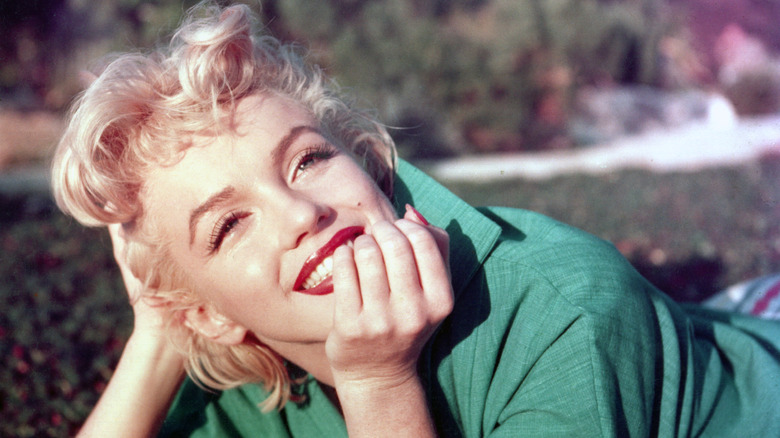 Baron/Getty Images
The number one style rule you should embrace when dressing like Marilyn Monroe is simple: embrace your curves. Though in modern US sizing Marilyn Monroe would be considered closer to a size 4-8 rather than the 14-16 she is often reported to be (per Forbes), it's evident she has a curvy figure. As outlined by Vogue, the actress knew how to accentuate her figure, both in the stunning dresses she wore to movie premiers and in her more relaxed downtime. Her slightly cropped jumpers nipped her in at the waist, as did the cropped capri pants she often wore. 
Moreover, per Harper's Bazaar, Monroe often let her clothes speak for themselves rather than going overboard with accessories. Whatever she was wearing, she let the cut of her clothes take center stage, which resulted in many of the iconic silhouettes associated with the actress today. You don't have to dress exactly like the starlet, but the message is clear — embrace your body's shape instead of hiding it.
Marilyn Monroe's style is still one of the most copied over 50 years since her death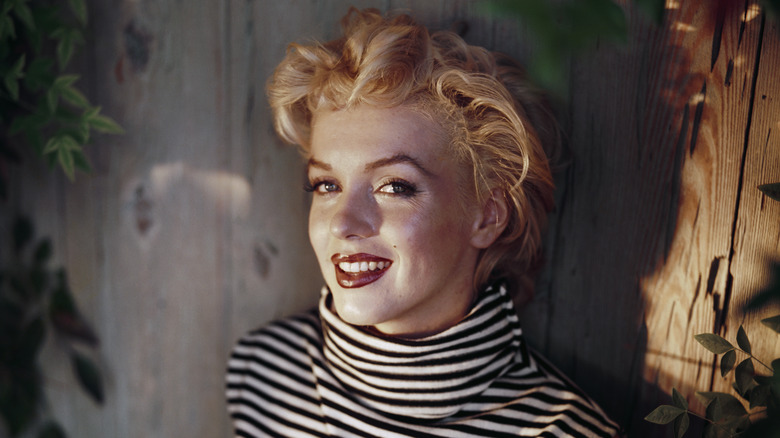 Baron/Getty Images
Another important style tip to follow when channeling your inner Marilyn Monroe is to embrace a lower neckline. She wasn't afraid to have her cleavage on display, and the same should go for you (if you're comfortable with that, of course).
Whether your bust measures 35 inches like Monroe's did (via Forbes), or you're on the smaller side, it doesn't matter. The true point is to find a neckline that flatters and accentuates what you do have, rather than feeling insecure or unsure. Monroe personally favored plunging halter neck dresses and classic sweetheart necklines the most, wearing outfits with this silhouette both on and off-screen (per Grazia).
Of course, the actress had insecurities too (per Vanity Fair), a fact that has sparked movies such as "My Week With Marilyn" and "Blonde," but her iconic Hollywood glam look lives on. On the days when you're feeing less confident about your appearance, channeling your inner Marilyn Monroe could be the boost you need to get through.