The Hallmark Movie That Brought Victor Webster And Shantel VanSanten Together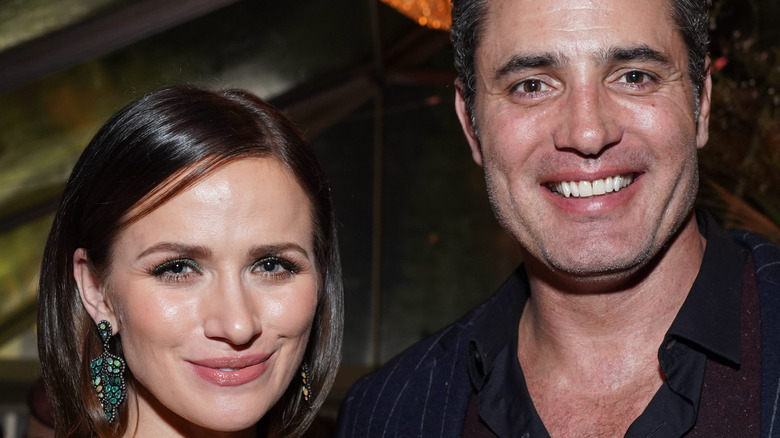 Rachel Luna/Getty Images
Working with someone on a project or even at work can sometimes lead to romantic sparks. Consensual workplace romances can blossom into beautiful love stories. Working with someone in a romantic setting can make the chance of love even greater, which is why there are many celebrities who find love with their costars.
Us Weekly lists Kirsten Dunst and Jesse Plemons, Kit Harington and Rose Leslie, Blake Lively and Ryan Reynolds, and many other couples who found romance on set. Many Hollywood A-listers fall in love with their costars while filming unromantic films, so it shouldn't come as a shock when celebrities fall in love while filming a romantic movie.
For many viewers, Hallmark movies are the epitome of romance fantasy. They present the perfect settings for these characters to find their soulmates — sometimes they don't even need a holiday to find love. Hallmark stars also occasionally fall in love when the cameras stop recording. The network has produced a few real love stories, with this couple turning their one on-screen Hallmark appearance together into a lifelong commitment.
Their love bloomed in Love Blossoms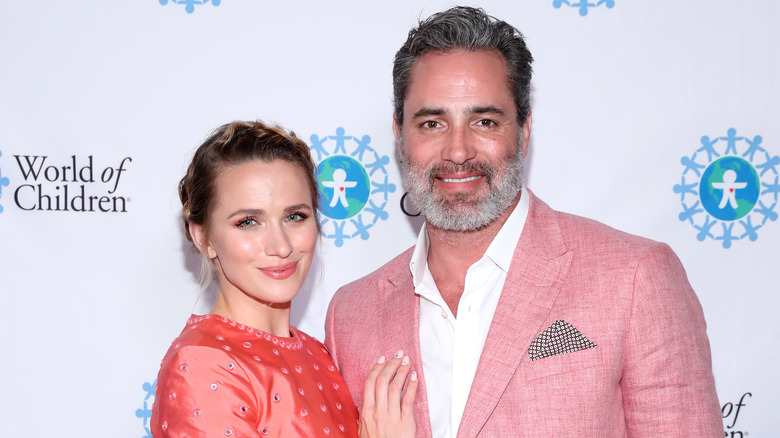 Rich Polk/Getty Images
In February 2017, "Love Blossoms" premiered on Hallmark. It's a film about a perfumer and a botanist with an expert nose. They fall in love while trying to make a signature scent (via Hallmark). Southern Living named it one of the best Hallmark movies of all time. Many fans love the movie because of Shantel VanSanten and Victor Webster's on-screen chemistry. It translated off-screen as well.
In 2016, Shantel VanSanten and Victor Webster spent several months in Belgium filming "Love Blossoms" for Hallmark. However, according to Brides, they remained just friends while filming. VanSanten even "helped him with his dating life." Flash forward a year later and they became a couple.
VanSanten didn't officially reveal that they were dating on her Instagram until 2018. Since that initial post, the pair often post pictures together or of each other. In 2020, VanSanten even shared on her Instagram the first picture that they took together while on the set of "Love Blossoms."
Webster is one of Hallmark's regular leading men and has been in many Hallmark movies worth your time, but VanSanten is the main reason why the channel holds a special place in his heart.
In an interview with Media Village, Webster called his life "kind of like a Hallmark movie." He further stated that Hallmark has left a lasting impression on his life, because of his relationship with VanSanten. He also talked about loving working with the network.
They had three weddings in 2021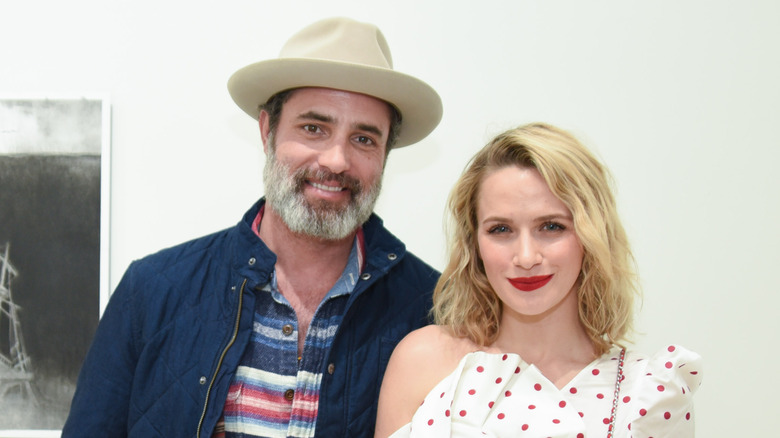 Lilly Lawrence/Getty Images
In February 2021, on Instagram, VanSanten detailed how Webster and she hiked to the top of the mountain where he first told her that he loved her. He then got down on one knee and proposed. They became engaged after four years of dating. She shared in a People interview that the proposal "was the most perfect, wonderful day of my entire life." She went on to express her excitement about their upcoming wedding.
Between August 2021 and October 2021, they had three official weddings. In a Brides exclusive, VanSanten and Webster document each wedding, including outfit details. They also explain why they had three weddings. The first was a civil wedding to honor VanSanten's deceased grandparents. The second and third were more official weddings, one in California and one in VanSanten's hometown of Luverne, Minnesota.
They had the hometown wedding so that VanSanten's older relatives could attend. In a heartfelt Instagram post, VanSanten shared that she only began believing in forever when she started dating Webster. She ends the post by thanking her late grandma for sending him her way.
Webster continues to appear in Hallmark movies, but "Love Blossoms" was VanSanten's only Hallmark movie. Now that the weddings are over, maybe an on-screen Hallmark reunion could come next.