The List's Exclusive Survey Uncovers The Most Popular Type Of Sweater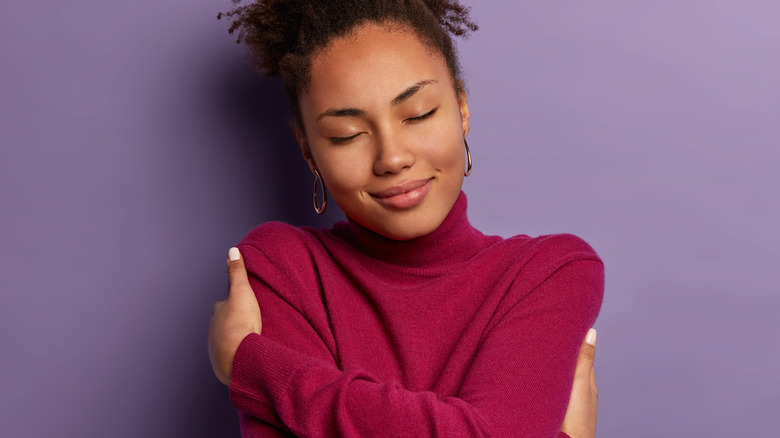 Cast Of Thousands/Shutterstock
Unless you live in a place with constant sunshine — we're looking at you, California — you've probably already started to reach for your cold weather clothes. As the leaves fall and the sounds of holiday music start to fill the air, it's time to break out your big coats and thermal leggings . . . winter is coming!
Winter doesn't get a whole lot of love. A CBS News poll reported that only 1 in 10 people claim winter as their favorite season, per Washington Post. Many complain about the cold weather but there is so much to love about this festive time of year. One of our favorite things about wintertime is the fashion. We just can't get enough of the cozy winter styles that are so comfy we forget to change when we get home. 
When you're getting your wardrobe ready for the cool months ahead, make sure you break out your favorite sweaters. Sweaters are one of the most versatile pieces of winter wear. Whether you're enjoying a cozy night in or braving the cold winter air for a night on the town, sweaters are the perfect outfit choice to keep you warm and stylish. To find out which sweater you'll be seeing on everyone as the temperatures drop, The List conducted a survey asking 587 people, "Which style of sweater is your favorite?"
This fan favorite sweater is a classic cold weather staple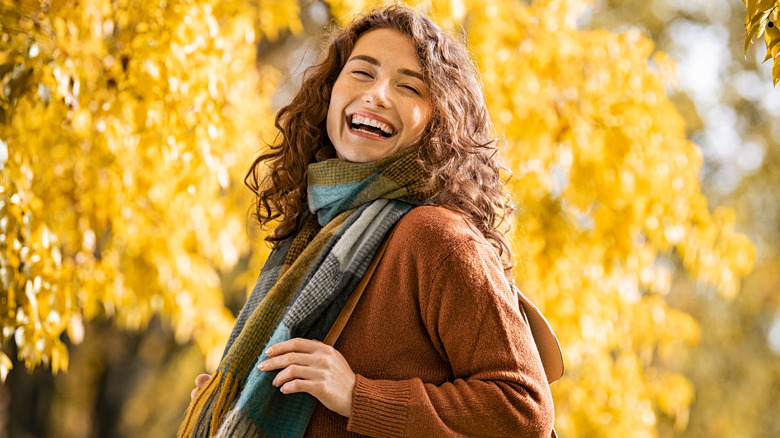 Ground Picture/Shutterstock
According to The List's survey, the most popular sweater style is a cardigan. With 34.41% of the vote, this cozy, open-front sweater looks great on every body type. Made of knit material that comes in every color imaginable, cardigans are comfy and cozy without sacrificing style. Per Editorialist, they go with practically everything from dresses to overalls; throw a cardigan on top, and you have a complete look that looks great and feels even better.
In second place with 14.82% of the vote is the turtleneck, a style of sweater that keeps your neck nice and toasty with its extra long fabric around the collar. Turtlenecks have been gaining popularity this season thanks to celebs like Hailey Bieber and Selena Gomez, who have been spotted looking super chic while rocking this type of sweater (via L'Officiel).
14.65% of voters love the look and feel of a chunky sweater, while another 14.14% prefer a more lux cashmere sweater style. Tunics (12.78%) and cable knit (9.2%) sweaters have also been having a moment, proving that there's a perfect sweater for just about anyone.
Look good no matter how cold it is with these tips for styling layers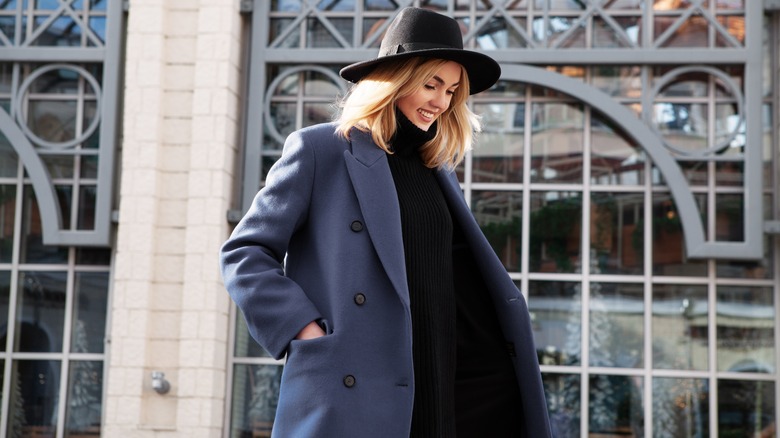 Anna Zhuk/Shutterstock
It's easy to make mistakes when shopping for winter clothes — avoid the stress of swimming in bulky coats that make you look shapeless with these tips for layering your winter wardrobe.
Sweaters are a great staple piece to begin your layering journey. But according to Cosmopolitan, the first step to layering an outfit is to start with thin layers like a long sleeve, a thin mesh top, or even a cute dress. Once you have your basic look together, start experimenting with different hems and fabrics, per The Pioneer Woman. Pair your favorite jeans with a chunky cable knit, or a turtleneck underneath that slip dress you've been obsessed with all summer. The more you play with different layering options, the more combinations you'll make without having to buy an entirely new wardrobe every season.
Using this layering technique will also give you options when you need to regulate your temperature; you might start your night braving the cold as you walk to your destination, but once inside, you might get toasty under all your layers. Being able to shed a jacket or two will make you more comfortable, and you'll still have a styled outfit underneath to show off.