Awkward Talk Show Moments That Were Caught On Camera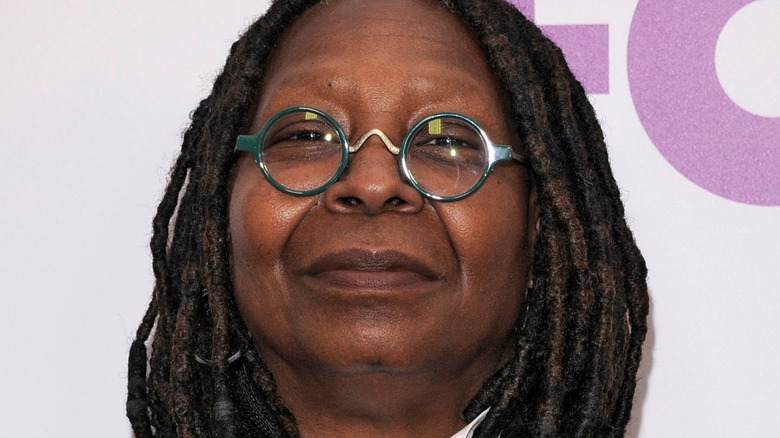 Ron Adar/Shutterstock
Boring talk shows seldom make history. A little drama, a stir of the pot, an awkward moment here, a controversy there — this is the stuff successful live television is made of. The talk show format has been around for over six decades in the United States, and as noted by CNN, its most distinct features — a couch and table set with an amiable host and their famous guests — have become icons of American culture. "It's an attempt to show some semblance of our idea of an American living room," media scholar Robert Thompson opined. And what better place than the living room to be your eccentric best? 
From Mark Wahlberg to Madonna, many celebrities have gone inexplicably rogue on-air, while other times, hosts like Whoopi Goldberg and Jimmy Fallon have ensured the memorability of talk show segments by finding themselves in a pretty pickle. Farts, angry walkouts, jokes and non-jokes, personal disclosures — nothing is off-limits on talk shows. It is perhaps this quality of candid, audacious, and undemanding content that has secured longstanding popularity for talk shows (via Parrot Analytics). Scroll on to relive some of television's most notorious moments that unfolded on-air! 
When Tom Cruise went wild jumping on Oprah's couch
People who remember it are still scratching their heads over that strange Tom Cruise interview. Yup, you know the one we're talking about. The one where the "Mission: Impossible" star hoisted himself onto a couch before Oprah Winfrey for an impromptu jig that can only be described as perplexing. It was 2005 when Cruise and his then-beau, Katie Holmes, had only just started out as the new hot couple on the Hollywood block (per The Hollywood Reporter). Only a month after the pair went officially public with their relationship, Cruise appeared on "The Oprah Winfrey Show," ostensibly to talk about his upcoming film "War of the Worlds." But the interview is memorable for everything but. 
The subject of his romantic life excited Cruise to such an inexplicable degree that he trampolined on the couch, even inviting Winfrey into his mini celebration by taking her hands into his. "He's gone. He's gone. The boy is gone," his antics prompted the legendary talk show host to declare (per HuffPost). Celebrity oddities are a regular (even welcomed) feature of talk shows today, but back then, they thoroughly confused and irked people. According to The Ringer, couch-jumping Cruise was a landmark internet phenomenon, emerging as an early template of viral videos and online gossip.
Martin Short's late wife was brought up during this blunder of an interview
Martin Short can humor himself out of any sticky situation. Even when the legendary comedian found himself at the receiving end of a rather ill-informed line of questioning once during an interview, he managed to come out on the other side smiling. Short was prepping for the release of his film "Madagascar 3: Europe's Most Wanted" in 2012 when he made an appearance on NBC's "Today" show. The conversation soon turned to Short's life, with host Kathie Lee Gifford invoking his iconic relationship with his late wife Nancy Dolman. Except Gifford didn't seem to know Dolman had died of cancer in 2010. 
She asked the "SNL" icon: "How many years for you guys?" Short replied, "36 years," politely playing down the obvious gaffe. The host then went on to inquire why he was still in love with his wife. "I'm cute," he answered in all honesty. Despite the mounting mess, Short deftly and gracefully maneuvered his way through the uncomfortable interview. Per Daily Mail, Gifford later apologized on-air, revealing that Short had privately filled her in with what she apparently missed. The actor, meanwhile, stepped up in Gifford's defense, saying that one was susceptible to making mistakes on live television. It's not for nothing that Vanity Fair called Short "the funniest, nicest, best of them all." And we couldn't agree more! 
Joaquin Phoenix was not thrilled about Jimmy Kimmel showcasing a private video
For someone who can deliver a mammoth of a performance when in character, Joaquin Phoenix is painfully and infamously ill at ease when it comes to interviews or public speaking. So, imagine the degree of discomfort for the "Joker" star when confronted with a supposedly private clip of him at his eccentric best (or worst) before a global audience in 2019. The actor was on Jimmy Kimmel's show, talking about his Oscar-winning role as the tragicomic clown Arthur Fleck. And just when you thought Phoenix was finally loosening up, Kimmel delivered a blow by showcasing an outtake from the sets of "Joker" that captured the star in a grouchier-than-usual mood.
"The constant whispering, just shut the f**k up, dude. I'm trying to find something real," Phoenix is heard snapping at someone off-camera. He further berates one Larry for apparently making fun of him by comparing him to Cher: "Like I'm a f***ing diva." The video left a visibly embarrassed Phoenix fumbling for an explanation about how things sometimes got tense for actors at work. Larry from the outtake was revealed to be cinematographer Lawrence Sher. While Phoenix issued an on-air apology to Larry for his outburst, the crew member later claimed that their fight was apparently a prank they pulled on the film's director Todd Phillips (via Business Insider). 
Tyra Banks asked to be bit by Hollywood's in-house vampire Robert Pattinson
Nothing furthered the cause of vampires as "Twilight" did upon its release in 2008. ("The Vampire Diaries," with its sexy, smoldering Salvatore brothers, was to premiere a year later.) And as Robert Pattinson became the face of Edward Cullen, a million fan fantasies about the hot blood-sucking beast from Stephenie Meyer's books sprang to life. One of those apparently belonged to Tyra Banks. The actor-model lived out a particularly strange impulse when Pattinson made an appearance on her talk show at the peak of "Twilight" fanaticism. "I want you to bite me, Robert. ... On my neck," Banks demanded of a visibly baffled Pattinson, who was then just 22. He relented. 
In what can easily go down as one of the weirdest moments on "The Tyra Banks Show" — and that's saying something, given the program's reputation for sensationalism — Pattinson leaned in and proceeded to give the host a supposed hickey as the audience cheered on. Just when you thought the exchange couldn't have gotten any stranger, Banks announced: "That felt good." This segment won an honorary mention on The Cut for being one of the best from Banks' talk show interviews, while The Guardian dismissed it as an eyeball-grabbing stunt. No matter the polarity in verdicts, the moment sticks out for being a memorable television event! 
This moment literally prompted Meghan McCain to quit her talk show
All it takes to quit your job is that workplace colleague. You know the one we're talking about — the one who pushes your buttons like no one else. For television speaker Meghan McCain, that foe was Joy Behar. A single statement delivered on-air by the comedian was apparently enough for McCain, her co-host on "The View," to hand in her papers. The women's political differences were a constant on the long-running daytime talk show (per People). But things came to a head when McCain returned to the show in 2021 after maternity leave, with one particular showdown with Behar apparently hitting a nerve. 
The Hot Topics segment was heating up during an episode when Behar snapped at McCain for interrupting her. The conservative co-host remarked with a laugh, "You missed me so much. You missed fighting with me." Call it provocation or brutal honesty, Behar replied: "I did not miss you. Zero." That revelation apparently left McCain, who was dealing with postpartum anxiety, in tears and drove her towards the exit door, Variety noted. In her memoir "Bad Republican," McCain further alleged the workplace culture at "The View" was toxic and following a Twitter squabble with Behar, compared the show to an ex "who won't stop drunk texting you" (per New York Post). 
David Letterman's weird hair fetish moment with Jennifer Aniston
With star adulation, the line between adoration and creepiness is thin. "Friends" actor and pop-culture icon Jennifer Aniston, endeared to millions as America's sweetheart (per NBC News), was faced with an awfully weird situation where that line blurred — on national television, no less. Back in the scandalous talk show days of yore, which allowed anything to pass on-air, Aniston appeared on David Letterman's "Late Show" only to have the host actually, literally suck on her hair. Now, Aniston's golden hair is the stuff of legend and the universal object of envy. But even that hard fact fails to explain Letterman's bizarre reaction to it in 1998. 
"Forgive me if this is rude, I just want to try one thing," the host casually told Aniston mid-interview, before leaning it to take a lock and put it into his mouth (via InStyle). A visibly uncomfortable Aniston flinched, proceeding to wipe Letterman's spit off her hair and rounding off the grotesque encounter with an awkward laugh. Clips of the interview resurfaced on social media in 2021, with netizens lambasting Letterman for his act; many even called it outright harassment (via Glamour). Though many female guests have been prey to his impropriety, with Aniston, Letterman has been a repeat offender, fixating on her "tremendous legs" in one interview in 2006. It's safe to say Letterman's legacy has not aged well.
Did Whoopi Goldberg fart on live television?
If ever there was anyone who could let one rip on national television without putting their monumental legacy in jeopardy, it's Whoopi Goldberg. That may or may not have happened. In 2011, things got a little too windy (sorry, not sorry!) on "The View," when it appeared that Goldberg — in all her Goldberg glory — had let out a fart during the daytime talk show (via TMZ). Actor Claire Danes was speaking when a toot rang out on stage. "Excuse me, I think I just blew a little frog outta there!" Goldberg, with her impeccable comic timing, admitted, owning the awkward moment. ABC later cleared the air (get it?) saying that it was "all in good fun."
Goldberg seems to have mastered being comfortable in her skin, what with her on-air candor about cutting the cheese. The gag caught up with Goldberg in 2014, when she found herself at the center of what "The View" dubbed fart-gate — an innocuous farting incident during a live panel that Goldberg later claimed was a joke to cover up a stray sound effect (via Evening Standard). "I make funnies. I don't fart on air for real!" she insisted. But you wouldn't put it past the comedian, born Caryn Elaine Johnson, to do the deed since, as her granddaughter claims, her legendary nickname "Whoopi" only came about "because she likes to fart a lot" (via Entertainment Weekly). 
Ellen DeGeneres and Dakota Johnson's birthday party tiff
Through its 19-year run, Ellen DeGeneres' talk show had earned somewhat of a reputation for putting guest celebrities in a tight spot. But the controversial host found her match in Dakota Johnson, who graced the hot seat in 2019 and memorably turned the tables on DeGeneres. The "Fifty Shades" star had then just turned 30, ringing in the milestone with a star-studded bash (via People). DeGeneres also, apparently, got an invite but gave the celebration a miss — something the host conveniently seemed to gloss over while poking Johnson about it. "How was the party? I wasn't invited," DeGeneres declared, probably not expecting a rejoinder from Johnson, who said: "That's not the truth Ellen, you were invited." 
The actor went on to tell a speechless DeGeneres that she wasn't sure the host liked even her. Thus began an awkward back-and-forth between the two, before DeGeneres' producer cut in and reminded her that she hadn't been in town on Johnson's birthday. The moment has become somewhat iconic for Johnson's little fact-check, inspiring memes, and, per some, even the beginning of the end for DeGeneres' talk show, which concluded in 2022 amid allegations of toxic workplace culture (via the Los Angeles Times). Moreover, Drew Barrymore made a cheeky reference to the viral interview on her own talk show, lauding Johnson: "That was amazing, by the way."
This amazing realization Jimmy Fallon had about Nicole Kidman
Everybody likes Jimmy Fallon — even Nicole Kidman! Except, Fallon didn't know just how much until the Hollywood star told him. While chatting with the "Bombshell" actor on his talk show in 2015, Fallon recalled an early first encounter with her after a mutual friend arranged their meeting. He rambled on about prepping to receive the actor at short notice before an amused Kidman threw the host off balance by retelling her version of the story. Kidman revealed that she had a bit of a crush on Fallon then, as the dumbfounded host unleashed a volley of dramatic "wait, whats." With overtones of disbelief and hope, Fallon asked Kidman if their first meeting (unbeknown to him) was actually a date! 
"You're there in a baseball cap and you wouldn't talk. ... And then you put a video game on or something," Kidman spilled, much to the embarrassment of Fallon, who disappeared under his table. Though both celebrities are happily married to other people, and Kidman later admitted regret over being so candid (per Entertainment Tonight), the adorable revelation is still quite the viral sensation on social media where clips of it abound. Kidman too made a wink-and-nudge reference to their what-if romance during an interview with Fallon, six years on from that golden awkward moment (via Independent). 
When legendary band the Bee Gees walked off a talk show
In the history of memorable television walkouts, the Bee Gees' takeoff mid-interview with Clive Anderson ranks high. The iconic pop-rock trio, who ruled the disco decade of the 1970s and became best-selling musical artists, are regarded highly in the music world (via Britannica). For them to be compared to Mickey Mouse would naturally touch a nerve, one would expect. Anderson didn't. In 1997, the funnyman hosted the Bee Gees on his talk show, only to unleash a string of not-very-nice wisecracks at the siblings through the chat. From calling them "sisters" to insinuating that they were s**t writers, Anderson took a joyride at their expense (via Smooth Radio).
The host seemingly joshed around a bit too much for the Bee Gees' liking, since the musical group upped and left before the segment was over. "We're getting on like a storm aren't we Clive?" Barry Gibb, the oldest of the three, said before storming off the set. Robin and Maurice Gibb followed. In an interview with The Sun years later, Gibb senior explained why he snapped: "It was just a barrage of inferred insults." Anderson, meanwhile, also went on record to admit that he regretted his bungled-up interview with the Bee Gees and that his brand of humor was "not always entertaining to everybody else" (via The Spectator). It's safe to say the love between them wasn't deep.
That infamously strange exchange between Madonna and David Letterman
Whatever transpired in that weird David Letterman interview with Madonna in 1994 is still a mystery. The "Papa Don't Preach" hitmaker's appearance on Letterman's talk show was overrun with expletives, profanity, and sexual innuendos — basically all kinds of shocking (via Far Out magazine). The episode kicked off on an awkward high with Madonna gifting Letterman her underwear and asking him to sniff it. Yup ... that happened. Letterman, whose long-running talk show career has retrospectively come under fire, ultimately turned to his routine episodic cracks about Madonna's private affairs, telling her at one point: "Why don't you go kiss a guy in the audience?" She bluntly (and perhaps rightfully) rejoined, "Why are you so obsessed with my sex life?" 
But before long, she steered the conversation into bizarro territory by bringing up her underwear again. Entertainment Weekly counted up a tally of 14 times Madonna said f**k during the interview, calling the Letterman appearance nothing more than a stunt acted out by an artist whose career seemed to be dipping. Even so, the Madonna episode reportedly raked in record numbers for the talk show's ratings; though it also holds the crown of CBS' most-censored talk show segment, per People. Madonna later remarked that bits of the show were derogatory and that she regretted the whole event. 
When Abel Ferrara was Conan O'Brien's worst talk show guest
Even the best talk show hosts have bad days. Though renowned for his career-long adroitness in loosening up celebrities (and their tongues), Conan O'Brien hit a wall back in 1996 when Abel Ferrara made an appearance on his "Late Show." The two celebrities were a mismatch from the get-go, with the discomfort between them palpable even through the screen. Ferrara, mirroring the eccentricity of his films, looked thoroughly disinterested, mumbling over O'Brien's lines. His odd antics prompted an incredulous O'Brien to remark at one point: "Is it just me?" 
Ferrara's train wreck of an interview led O'Brien to name the avant-garde filmmaker as his worst talk show guest ever: "He came on camera against his will," he noted, revealing that Ferrara had apparently tried to flee a few minutes before he was to go live and had to literally be chased down (via USA Today). O'Brien also claimed to have been yelled at by Ferrara that night. Yikes! Nevertheless, their encounter lives on as one of the most brilliantly bizarre moments in television history, with even Willem Dafoe calling it a classic. "You did your best," the Oscar-nominated actor, who is a friend of Ferrara's, assured O'Brien. 
Megyn Kelly dared to ask Jane Fonda about her plastic surgery
With a six-decade-long film career glittering with awards to her credit, there is just so much one could dive deep into with a living legend like Jane Fonda. Never mind that, "Today" show host Megyn Kelly chose to touch upon the aspect of Fonda's life that the actor has admitted she is "not proud of" (per Vogue) — cosmetic surgery. Fonda appeared on Kelly's program in 2017, when the interviewer apparently waded into very personal territory. Kelly's question about why the actor wasn't proud to admit she had "got work done" was met with a cold stare from Fonda, who quipped: "We really want to talk about that now?" The awkwardness was diffused with laughter then but marked the beginning of sourness between the two. 
The viral interview drew criticism for Kelly and turned Fonda's deadpan expression into a popular meme. The actor later told Variety that Kelly's line of questioning was inappropriate and went to show that she was "not that good an interviewer." Kelly's reaction was sharp, with the host recalling all the times Fonda had spoken openly about her surgeries; her counterstrike also took shots at Fonda's political commentary (per The Washington Post). When Kelly's show, embroiled in controversy, was canceled in 2018, Fonda took the high road and said she felt bad for the journalist: "I wanted her to make it" (via Entertainment Tonight). 
Mark Wahlberg turned up on Graham Norton's show kinda sorta drunk
A celebrity going overboard is a sure-shot way for a talk show to pull viewership. Absurdity, especially if it comes from A-listers like Mark Wahlberg, is fun to watch after all. The "Planet of the Apes" star got up to some aping of his own when he showed up on Graham Norton's talk show, allegedly intoxicated. From flipping people off to pinching their nipples, Wahlberg had a reckless field day during his 2013 on-air appearance (via HuffPost). In one of the most memorable segments of the episode, Wahlberg seated himself on Norton's lap, as the host smiled and patted him awkwardly (via Facebook). 
If you can believe it, Wahlberg even took a brief nap during the chaotic interview. On live television. "I think it's that sort of thing when you finish drinking, that isn't the drunkest you're going to be," Norton ruminated, when asked about the incident in a later interview (via Ladbible). He attributed Wahlberg's eccentricity that day to an overlap of wine and jet lag, quipping: "He fell asleep — that was the good bit" (via HuffPost). Wahlberg, on his part, claimed that his capers were pre-planned. "I tried to do a bit, and some people took it a little too seriously," he told Digital Spy.