Concerning Details Involving Meghan Markle Arise About Disgraced Royal Aide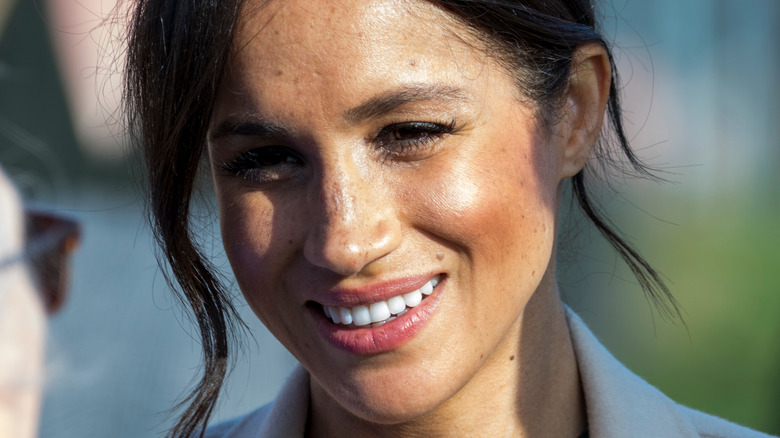 Alan Fraser Images/Shutterstock
The controversial reason Queen Elizabeth's longtime lady-in-waiting just resigned from the palace has put the royal family's alleged racism back in the spotlight. The Mirror confirmed that Lady Susan Hussey had resigned from her role as palace aide after making a number of shocking racist remarks to Ngozi Fulani, a Black charity worker who was visiting the palace. Lady Susan is William, Prince of Wales's godmother, and was one of the late Queen Elizabeth's closest friends.
Fulani runs the charity Sistah Space, which helps African and Caribbean women affected by domestic abuse. Queen Consort Camilla Parker Bowles reportedly hosted Fulani and others at Buckingham Palace to honor their charities, but the visit quickly turned ugly. The head of Sistah Space tweeted about her disturbing conversation with Lady Susan, who harassed Fulani, asking her several offensive questions including: "What part of Africa are you from?" 
The news of the resignation of the Queen's former aide had Twitter defending Meghan Markle and Prince Harry. As one user pointed out, "Meghan Markle and Prince Harry told you of racism in [the] royal family & household. But she was vilified, abused & violated for speaking the truth. Ngozi Fulani's experience with Lady Susan Hussey wasn't isolated, one-off, or a 'bad apple' at Buckingham Palace. You can't reform this." As it turns out, Lady Susan and the Duchess of Sussex have a surprising connection dating back to when Meghan first joined the royal family. 
Lady Susan Hussey was tasked with helping assimilate Meghan Markle into royal life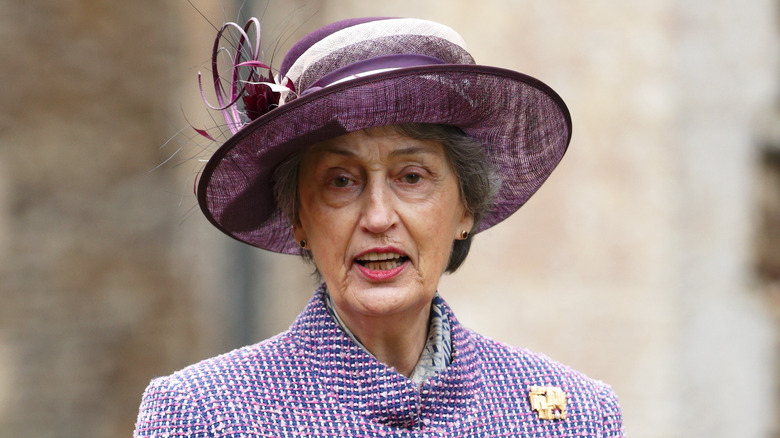 Max Mumby/indigo/Getty Images
Disgraced royal aide Lady Susan Hussey made headlines earlier this year for her reportedly negative views about the Sussexes' relationship. The queen's former lady-in-waiting claimed that Prince Harry and Meghan Markle's marriage would "all end in tears," as author Tom Bower revealed in his book, "Revenge: Meghan, Harry And The War Between The Windsors," per the Daily Mail.
As Queen Elizabeth's close advisor, Hussey's warning about Meghan and Harry's marriage caused quite a bit of controversy especially since the disgraced royal aide played a key role in Meghan's initial introduction to The Firm. According to Bower, Hussey was part of the team that Buckingham Palace tasked with assisting the Duchess of Sussex as she settled into her new role, both before and after she married Prince Harry.
Twitter was up in arms upon learning of the connection between the former lady-in-waiting and Meghan. As one royal watcher noted, "Lady Susan Hussey who was assigned to 'help & advice' [sic] Meghan Markle, resigned for interrogating a Black British woman of 'where she's really from.'" Another commented: "When you consider that Lady Susan Hussey is one of the late queen's most trusted advisors who was assigned to help Meghan Markle assimilate into the royal family before her wedding, it's not hard to imagine what Meghan's experience must have been." 
The palace aide's racist comments are overshadowing a royal visit to Boston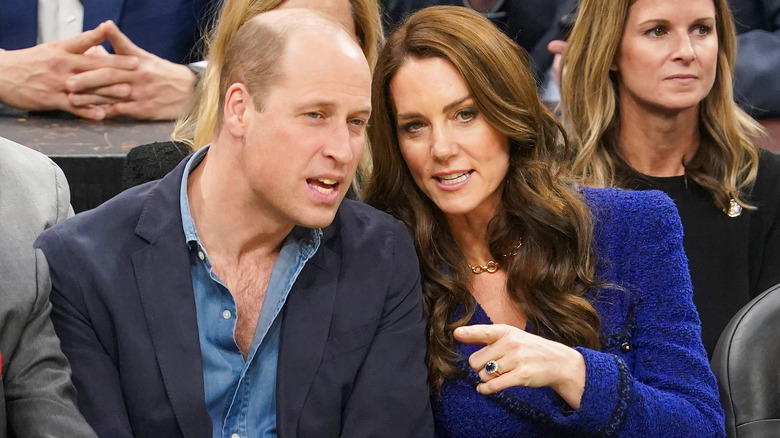 Pool/Getty Images
Lady Susan Hussey's derogatory comments to Ngozi Fulani put the spotlight back on racism at Buckingham Palace, following years of disturbing allegations, including from Prince Harry and Meghan Markle (via Page Six). It's likely causing huge problems for The Firm behind the scenes. As former BBC reporter Peter Hunt explained, "Charles and William's problem is that the focus is already shifting from the actions of one woman to broader questions about whether Buckingham Palace is institutionally racist" (via the Daily Mail). 
Hussey's behavior also threatens to overshadow the Prince and Princess of Wales's visit to Boston, to promote the Earthshot Prize awards. On December 1, the Daily Mail pointed out that several major U.S. news outlets had picked up the Lady Susan story, including heavy-hitters The New York Times and The Washington Post, which isn't exactly the best look for the royal family — especially since the Duke and Duchess of Sussex are getting an award next week for pushing back on "structural racism" in the British monarchy. 
People confirmed that Meghan and Harry will be receiving the Robert F. Kennedy Ripple of Hope Award. RFK's daughter Kerry Kennedy explained why the Sussexes are being honored with the prestigious award in a statement, noting, "They embody the type of moral courage that my father once called the 'one essential, vital quality for those who seek to change a world that yields most painfully to change."