Here's What Should Be Worn Under A Wedding Dress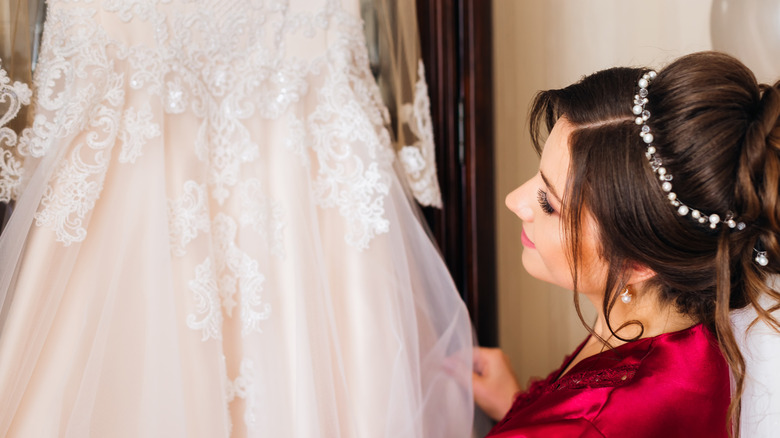 Kyryk Ivan/Shutterstock
It's your big day. There has never been so much pressure to get your makeup, hair, nails, and accessories just right. But what about your undergarments? Not the lingerie for after the guests leave, but what you'll be wearing under your wedding dress. According to The Knot, it is important to have pieces that will cater to your shape and the design of the dress. What's needed for a ball gown will be different from what to wear under a fitted dress. Without the proper pieces, the perfect trendy wedding dress can become unflattering.
Brides suggest bringing your intended wedding day garments to your dress fitting. Doing so will allow you to catch any mishaps, like visible panty lines or a gaping bra. Your undergarments can be just as important as your wedding dress. It will help you feel confident and chic. Not to mention, ease the struggle of putting on and taking off the delicate gown. But what exactly are the best pieces to wear under your wedding dress?
Here are the best wedding day undergarments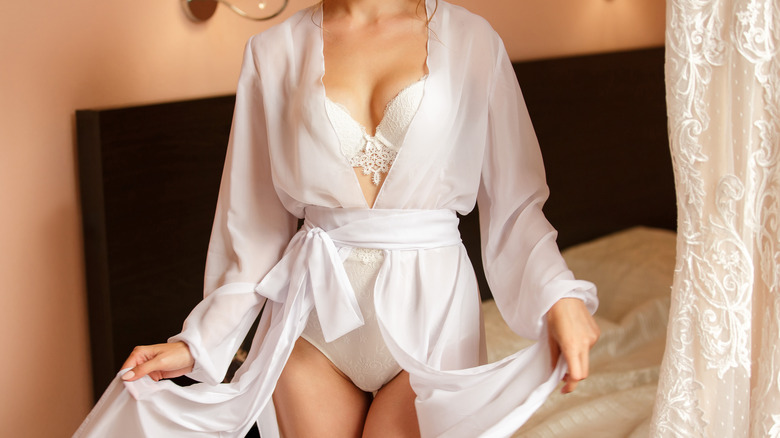 Kkshepel/Getty Images
For your wedding extravaganza, you'll need the support of well-fitted undergarments. A bra and underwear are the main pieces to focus on, according to The Knot. If your wedding dress covers your chest, back, and shoulders your favorite neutral color bra will work just fine. For gowns that are strapless, low-back, and have plunging necklines you will need a bra that offers support with minimal material to avoid it stealing the spotlight from your dress. The best bra option is backless and adhesive. This can come in the form of boob tape, silicon cups, and nipple covers. For those daring, you can sew supportive bra cups into the bust of your wedding dress for the same coverage without having to stick any material to your breast.
When it comes to the bottom half of undergarments, the fit of your wedding dress comes into play. For loose styles, like ballroom gowns, any skin tone, white, or black underwear will do. With fitted dresses, like trumpet and mermaid style, seamless underwear is the way to go, according to The New York Times. This will ensure a smooth finish to your fit and flare. Another way to avoid seams is to wear a g-string or a thong. It offers light material and your wedding dress will have a flush fit. But what if you're considering shapewear?
Shapewear can be a must for some brides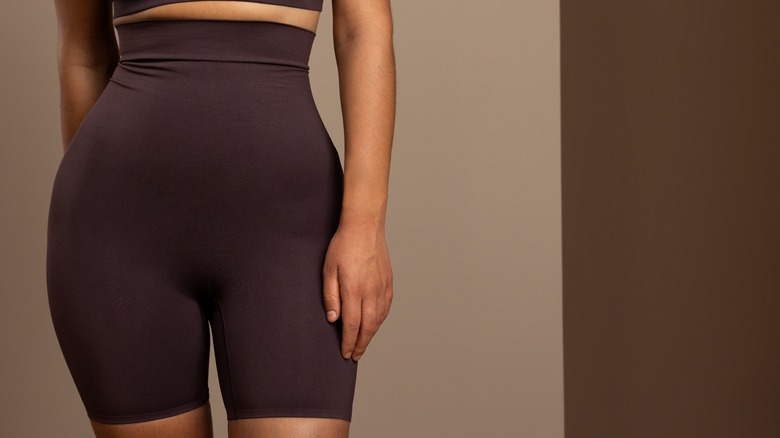 Akitha Linda/Shutterstock
Shapewear is totally up to you. Instead of the typical bra and panties, shapewear offers more coverage and support. Whether Spanx or Skims, it helps smooth, lift, and sculpt specific areas of your body. Shapewear can be better for heavy dresses as they have "wicking technology" to keep you cool, according to Style Me Pretty. With loose-fitted gowns, your silhouette will be hidden, which defeats the purpose of shapewear.
Despite the contour and slimming effects of shapewear, Bride Box reminds us that it adds an extra step when going to the bathroom. So if ease is on your wedding day list, a sculpting underwear or bra may be a better option. When choosing your shapewear, avoid colors that will show through your dress. Hemlines can also show with shapewear. Pick pieces that end where your dress flares out, are seamless, or have a thong cut. With these tips, you will be stellar on every layer for your wedding day.