How Authentic Is The Cajun-Style Cooking In My Southern Family Christmas?
In Hallmark's new holiday movie "My Southern Family Christmas," Campbell Wallace, played by "Grey's Anatomy" actress Jaicy Elliot, is a journalist living in Dallas, Texas. Campbell is looking for a feature-worthy story for the airplane magazine she writes for, but she's worried that there's nothing Christmas-related left to write about. 
But, after getting a call from her estranged father Everett's new wife, Jennifer, she decides to learn more about the Christmas traditions where their family lives, in Sorrento, Louisiana. She finds out from Jennifer that her father is going to be the Pere Noel, or Father Christmas, in Sorrento's celebration, lighting the reindeer's way on the bayou toward the town's houses. 
Campbell is the protagonist's nickname from her adoptive father, and since Everett only knows his estranged daughter as Alice Bergeron, she goes undercover to visit Sorrento and learn about her father's new family, including her two half-sisters. 
The Bergeron family runs a food truck called Bergeron Meat Pies, which is the most successful around the holidays. In the movie's baking boot camp scene, the Bergeron family teaches Campbell how to make their famous Cajun meat pies. And as the movie goes on, Louisiana's rich mixture of cultures and traditions are celebrated. So, just how authentic is the Cajun food in "My Southern Family Christmas"?
Sorrento is a real town in Louisiana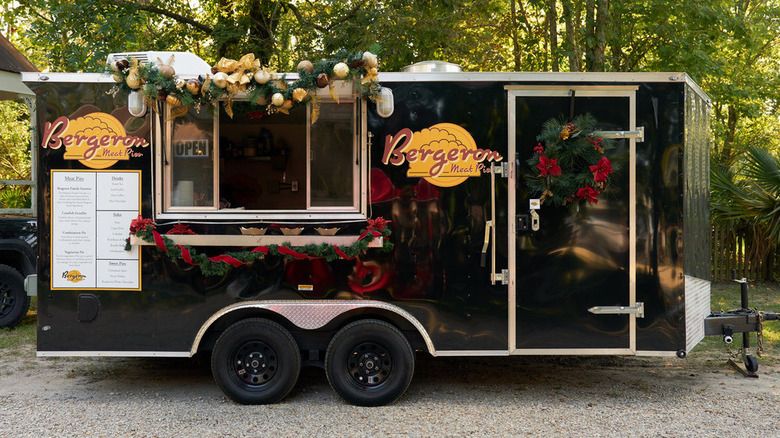 Hallmark
Hallmark's "My Southern Family Christmas" inherits both Louisiana traditions and the history of the real-life town of Sorrento. Mayor Thomas tells Campbell, "We were named after Sorrento, Italy, because a German railroad tycoon brought his wife there on their anniversary." Though he mistakes the couple's honeymoon for their anniversary, this is the true story of the town's name, according to the real Sorrento's website.
In the movie, Sorrento has a Cajun Kitchen store, classic Southern sweet tea, and a festival stand called Gatorville at the Cajun Village. There, Campbell and Everett read aloud from a Christmas story about Pere Noel, or Father Christmas, written in French. As Campbell's half-sister Amelia explains, "Pere Noel is Cajun, so he speaks French... and he drinks blackberry wine and eats meat pies."
When asked if she's ever tried a meat pie, Campbell replies: "Pierogies, yes, Sambousek, sure. But, a genuine Louisiana meat pie? I can't say I've had the pleasure." Campbell is referring to equivalent foods from other cultures. Pierogies, which look more like dumplings, are a traditional Polish dish filled with potatoes, and Sambousek, which is a Lebanese meat pie, can be filled with cheese, beef, or lamb. 
As a writer for an airplane magazine, it makes sense that Campbell is well-traveled and fluent in French. The irony is that Campbell knows little about her father's cultural roots or his family's traditions. Everett even says that his recipe for meat pies is a "Bergeron family secret." But, is it authentic to Cajun culture?
Meat pies have a long history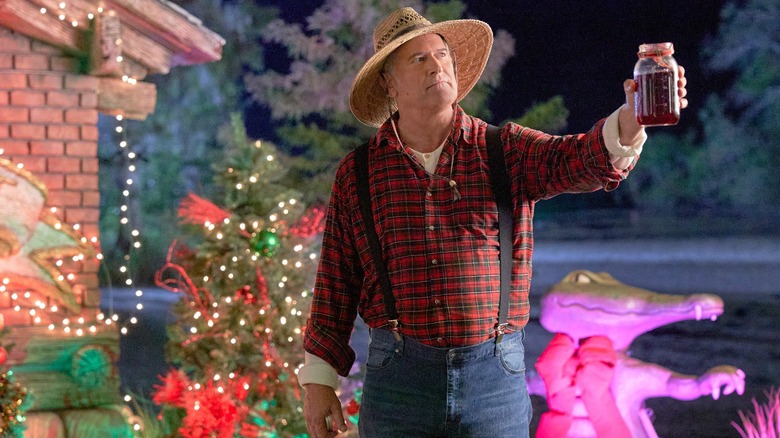 Hallmark
Though "My Southern Family Christmas" doesn't give up its meat pie recipe, the audience sees the Bergeron family kneading and shaping dough, adding meat and secret spices, then frying up the pies. Southern Living provides its own recipe, sharing the meat pie's staple ingredients: beef, pork, fried dough, onion, celery, and bell pepper, plus plenty of Cajun spices. Deep Dish South notes that the dish also has influences from Brazil, African countries, and the Caribbean.
Meat pies are one of Louisiana's state foods — more specifically, Natchitoches meat pies. These were named after the town where they were popularized, Natchitoches, Louisiana. It was a French colony established in 1714, and the town still holds its own meat pie festival.
Natchitoches meat pies are similar to several other dishes: empañadas popular in the Spanish-speaking Caribbean, the French pâté, and Jamaican meat patty. But Smarty Pants points out the major difference between empañadas and meat pies is the seasoning they use, with the latter employing spices with Cajun and Creole roots.
Beignets, fried dough pastries covered in powdered sugar, also get a shoutout In the movie. Both beignets and meat pies are super popular in New Orleans, Louisiana, where the movie was filmed, and are sold in huge quantities at the New Orleans Jazz and Heritage Festival.
As Everett tells Campbell, "The best research is hands-on." So, learning how to embrace Cajun cooking traditions is a wonderful way to learn more about the culture behind "My Southern Family Christmas."