Netflix Drops Second Harry And Meghan Docuseries Trailer Ahead Of December 8 Premiere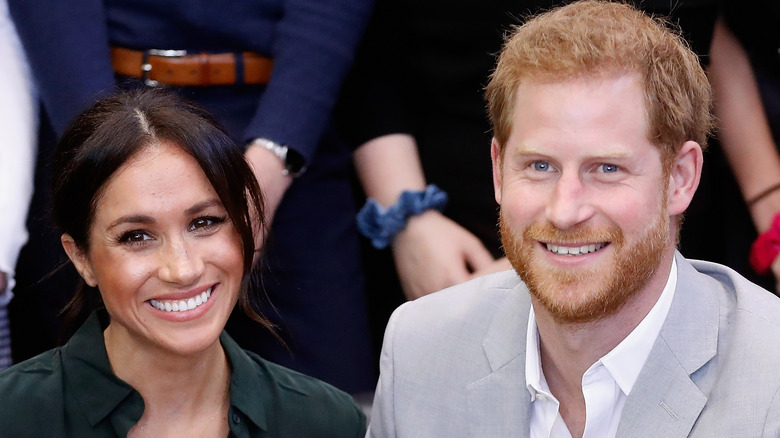 Chris Jackson/Getty Images
The suspense of Prince Harry and Meghan Markle's upcoming Netflix docuseries keeps building. While royal fans have to wait until January 2023 before they can read the authentic admissions of Harry's memoir, "Spare," the Duke and Duchess of Sussex's show, "Harry & Meghan," is only days away.
Since the first trailer dropped on Dec. 1, 2022, its content and timing have created a stir. Sources accused the Sussexes of upstaging Prince William and Princess Catherine's US tour. However, while The Telegraph has observed that the Duke and Duchess of Sussex are known to excel at being newsworthy, it appears that the timing was not chosen by them.
Page Six cited sources who state that the Sussexes would have preferred the first trailer to debut on Nov. 28. In addition, The Times corroborated that Netflix picked the release date, angering the streaming giant's climate advisors in the process. Tom Rivett-Carnac, who has the dual role of advising Netflix and Earthshot, said, "The remarkable finalists and winners of the Earthshot Prize are changing the world. They deserve all attention and recognition so the timing of this release from Netflix, a sustainability content leader, is profoundly disappointing."
And, now, three days before viewers can start watching the series for themselves, a new trailer has arrived. While this second trailer doesn't have any dubious timing, it is packed with pithy soundbites that hint at some tumultuous revelations ahead.
The second Harry & Meghan trailer includes some serious allegations
Netflix dropped its second trailer for the upcoming "Harry & Meghan" docuseries, out on Dec. 8. This teaser offers new glimpses of bombshell revelations, including tech entrepreneur Christopher Bouzy asserting, "It's about hatred. It's about race." Jenny Afia, Prince Harry and Meghan Markle's lawyer, is seen onscreen saying, "There was a war against Meghan to suit other people's agendas," per the Daily Mail.
The trailer also touches on issues of security, including that of the late Princess Diana. "I realized, they're never going to protect you," Meghan says. Harry speaks of being afraid of "history repeating itself," alluding to Diana's tragic death in a car crash after being chased by paparazzi.
The trailer closes with the Duke of Sussex saying directly to the camera, "No one knows the full truth. We know the full truth." Afterward, the trailer announces that the series' first installment debuts on Dec. 8, with the second dropping on Dec. 15. Netflix has also revealed that each volume contains three episodes.
Although King Charles III and Prince William are planning to hold crisis talks in preparation for the series on Dec. 8, senior royals will keep their minds on work. "There are engagements in the diary and they will carry on with them," a palace source told The Telegraph. However, a source close to the Netflix team thinks they'll need to brace themselves, telling the Mirror, "I genuinely think it's going to be worse than the royals can imagine."
Content from the first trailer is drawing criticism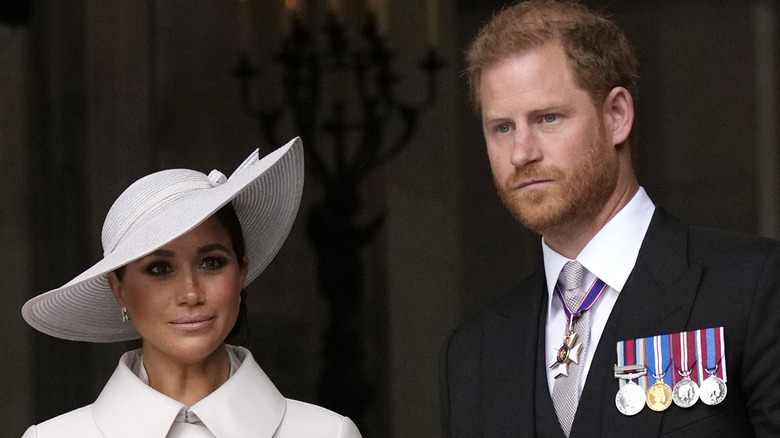 Wpa Pool/Getty Images
Revelations aside, the upcoming "Harry & Meghan" docuseries is drawing some criticism for giving viewers too much information. "We've gone from knowing very little about their interior lives to possibly knowing too much," writes Vogue's Michelle Ruiz.
Others feel this information has already been shared, like during Prince Harry and Meghan Markle's landmark interview with Oprah. "It will feel more dramatic and they'll have to up the ante but in terms of narrative points, there can't be anything left," a source told The Telegraph.
In addition, two photos from the Netflix series' first trailer have come under scrutiny. The first includes legions of photographers pointing their cameras in one direction. The Sun revealed this shot is from a 2011 "Harry Potter" movie premiere — five years before the Duke and Duchess of Sussex started their romance. According to Doug Seeburg, a Sun photographer pictured in the shot, no royals went to that premiere. 
Royal expert Ingrid Seward observed, "I don't imagine Harry would have realized, but Netflix have been careless here as it weakens Harry's comment about protecting his family. This fake picture weakens his point."
The second photo proving controversial features Harry and Meghan from behind in Buckingham Palace. According to The Telegraph, the Sussexes' photographer didn't have permission to be at the palace, resulting in a written complaint. "However, the photographer was not asked to leave," a source observed.