The Future Of Meghan Markle's Controversial Podcast May Be In Question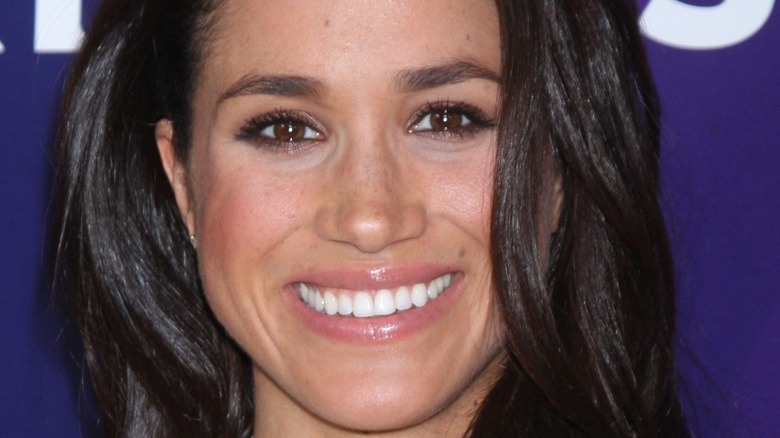 Kathy Hutchins/Shutterstock
For the past three months, Meghan Markle has expanded her already long list of titles (actress, duchess, activist) by sitting behind the microphone as host of the "Archetypes" podcast. The project aims to "investigate, dissect, and subvert the labels that try to hold women back," featuring mostly other famous women as guests including Serena Williams, Mariah Carey, Paris Hilton, Constance Wu, and Mindy Kaling.
"Archetypes" became the number one podcast in six markets, which included the U.S. and the UK, when it first launched on Spotify, according to Variety. Since then, the podcast has tumbled on the Spotify charts, currently landing at the 17th spot for the U.S. and the 32nd spot for the UK.
Besides dropping in popularity, the show hasn't been without controversy. One royal expert claimed that the hidden motive behind "Archetypes" is to start a "war" against the royal family. Other critics pointed out that the Duchess of Sussex talks more than her guests on the podcast, a hosting faux pas (per The Sun). Then, Markle came under fire after guest Allison Yarrow hinted in an Instagram post that she was interviewed by a producer for the show, not the duchess herself.
Now that the first 12 episodes have wrapped, there are signs that the future may not be so bright for the controversial podcast.
'Archetypes' producer Rebecca Sananès has resigned
"Archetypes" producer Rebecca Sananès is leaving the podcast and Prince Harry and Meghan Markle's company, Archewell, Page Six reports. Sources revealed that Sananès, who played an important role in the development of Markle's show, is looking to launch a new project of her own.
The resignation comes just after news broke that Archewell president Mandana Dayani stepped down from her position, leading the Duke and Duchess of Sussex to front their company on their own (per People).
Following these internal shakeups, it's unclear what the future of "Archetypes" will look like. According to The Daily Mail, Markle hasn't yet confirmed if the podcast will return for a second season. The duchess also left listeners hanging by ending her latest episode with the message, "We're working on other ways to keep the conversation going, but just know that as we close out this season of 'Archetypes,' that I thank you."
In the meantime, the Sussexes have more content on the way, including the December 8 premiere of their Netflix docuseries.