Fans Tell The List What They Hope Harry And Meghan Will Discuss In New Netflix Show - Exclusive Survey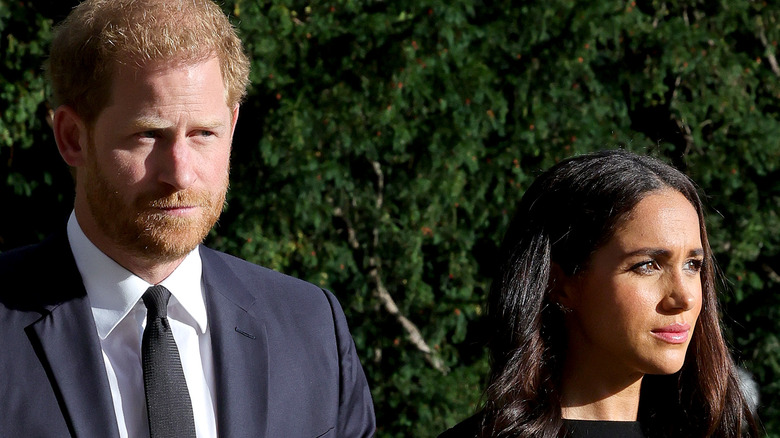 Chris Jackson/Getty Images
Only a few months after Prince Harry and Meghan Markle's decision to leave the royal family and move to California, they signed a lucrative deal with Netflix in September 2020 (via Town & Country). Nearly two years later, it was announced that a docuseries, "Harry & Meghan," would be released. Very few details have been confirmed about what they will cover in their new show, but we can't wait to find out.
Ever since Netflix dropped the dramatic trailer for Meghan and Harry's bombshell docuseries, which comes out Dec. 8, 2022, we can't stop thinking about all the royal tea that will be spilled. Fans worldwide are speculating about what the couple will discuss and how it will affect the dynamic of the royal family moving forward. 
To find out which topics fans are anticipating most, The List conducted a survey on YouTube that asked, "What do you hope Harry and Meghan talk about in their new Netflix documentary?" With over 12,000 votes, a single topic reigns supreme as the one most people are concerned about.
Can Harry and Meghan repair their relationship with the royal family?
According to The List's survey, 50% of voters want the Netflix docuseries "Harry & Meghan" to reveal where the Duke and Duchess of Sussex stand with the royal family today. One commenter on the YouTube survey said they want to know the "juicy stuff," like whether Prince Harry and Meghan Markle will ever be on good terms with Prince William and the rest of the family again and how the queen's death affected William and Harry's relationship.
If speculation is to be believed, we might find out some upsetting things about the royal family regarding their judgment and lack of respect for Meghan and Harry's relationship. In the Netflix trailer, Harry expresses fear, saying, "I didn't want history to repeat itself." One can only assume he's referencing his mother, Princess Diana, who experienced mistreatment at the hands of the media and the royal family and died after a paparazzi chase and subsequent car crash (via CBS News).
As for the royal family, it seems they're readying for damage control once the series airs. The Mirror reported that King Charles III and William are already preparing to "respond to any allegations of racism or ill treatment of Harry and Meghan in their TV series." As of now, chances of a warm reunion between the royals aren't looking so good.
More topics that fans hope the Sussexes cover in their new series
Fans are definitely concerned about Prince Harry and Meghan Markle's relationship with the rest of the royal family, but that's not the only thing they're dying to hear about in "Harry & Meghan." According to The List's survey, 16% of voters said they want to know what life is like for the Duke and Duchess of Sussex in the United States. We're sure to get some inside knowledge about how parenting is going, too, especially since there are royal parenting rules Harry and Meghan no longer have to follow.
Another 15% of voters hope that Harry opens up about his childhood. Growing up as the second son of King Charles III and Princess Diana provided many challenges: His childhood nickname was "the spare," a nod to his older brother Prince William, "the heir," who is now first in line for the crown. Ever cheeky, Harry used the nickname as the title of his highly anticipated memoir, "Spare," out in January 2023, per the New York Post.
Meanwhile, 11% of voters are interested in learning about Harry and Meghan's time as working royals, while another 8% want all the details about how the two got together. Luckily for them, it's been confirmed that the series will cover their "early days of courtship," per Elle. It was also revealed that sources who "have never spoken publicly before" will be discussing their firsthand accounts of what the Sussexes endured.
The first three episodes of "Harry & Meghan" will be available to stream on Netflix on Dec. 8, and the second installment of three episodes will drop on Dec. 15.