How You Can Fit A Big Christmas Tree In A Small Space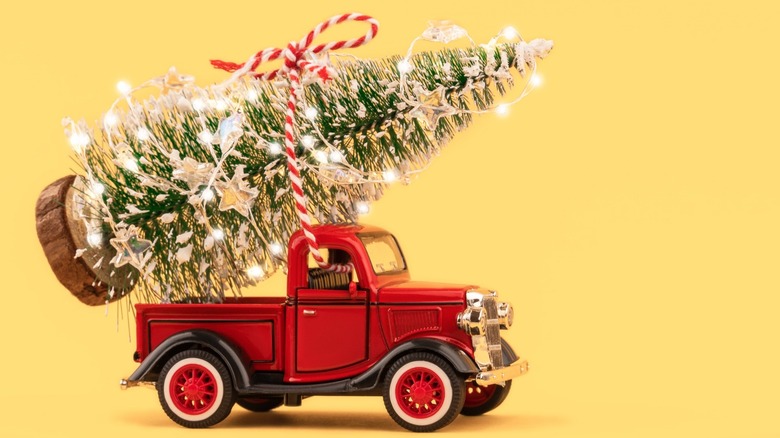 Vronivis/Shutterstock
While Charlie Brown's little twig Christmas tree was cute in cartoon form, you probably want something a little bigger and more festive for your own home this holiday season. Of course, if you live in a smaller home or apartment, finding room to fit a larger tree can be tough. If you worry that you can't make it work, though, think again. Regardless of how small of a space you're working with, you can usually fit a bigger Christmas tree with some creative organization. In fact, finding a way to do so can take the attention off the lack of square footage you're working with and instead make your home seem warm, cozy, and totally inviting. Plus, it'll go a long way toward getting you and your loved ones in the holiday spirit.
Ready to get decorating for Christmas? Here's how to incorporate a larger tree into a smaller living space this year.
Make space in your living room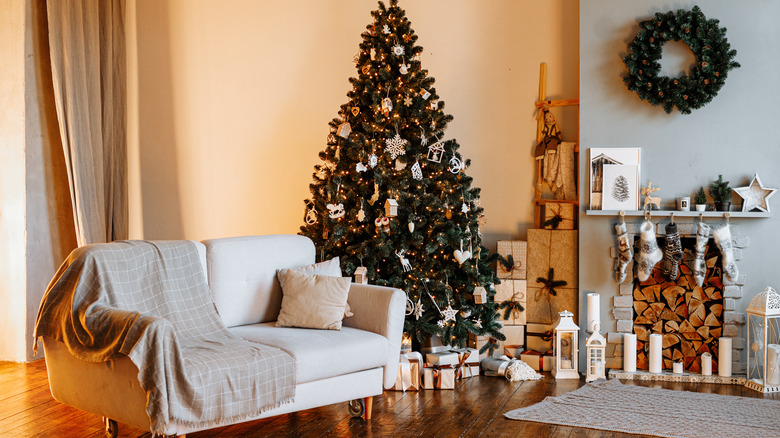 Balchugova Maria/Shutterstock
If you want to fit a larger Christmas tree in a smaller living room, you may have to temporarily move your cozy corner couch a few feet to make it work.
Before getting started, check out the edges of your room to decide on the best possible tree placement. A corner that doesn't need to be accessed regularly and isn't in your daily walking path is best. You'll still be able to see it and enjoy it but it won't be in the way. 
Work with the space you have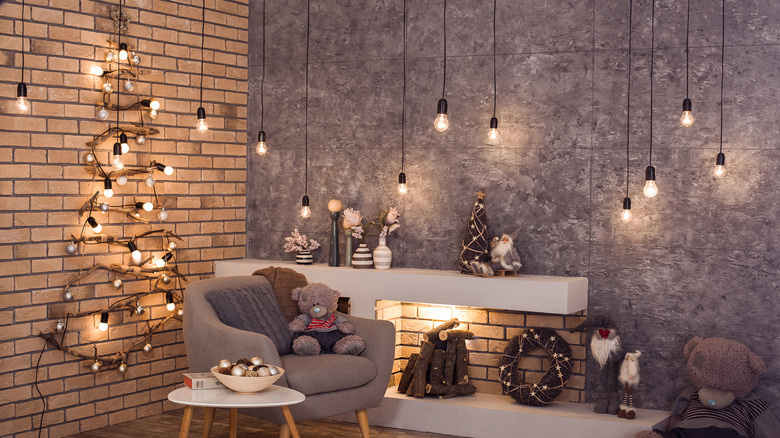 Favorestudio/Getty Images
If you've moved all your furniture and still can't fit in a traditional Christmas tree, consider something a little different. Given that all types of materials can be used to create the classic tree shape, your options are endless.
The most space-conscious way to use an alternative tree is to find a blank wall (or move a picture to make one), then start thinking outside the box. Make a Christmas tree shape on the wall using a string of lights, washi tape, garland, twigs, sticky notes... you get the idea. As a bonus, you won't have to deal with dead pine needles that come from real trees.
Skip the bottom half of your tree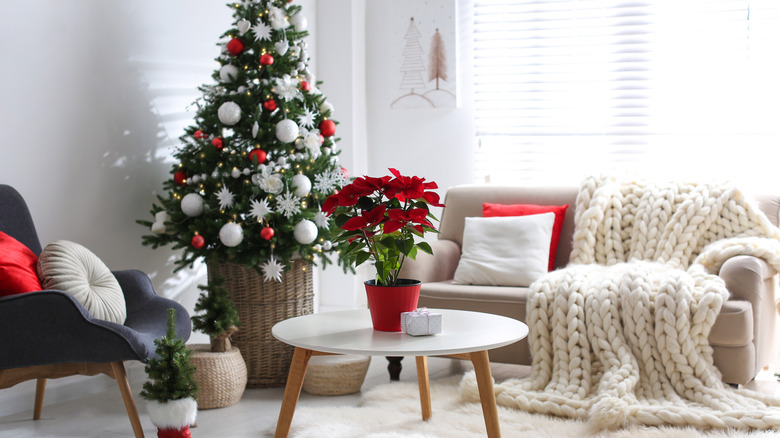 New Africa/Shutterstock
While you might want a towering tree, it's important to remember that more height equals more width. Per Christmas Central, a full tree that stands 7.5 feet tall can spread out five feet or more at its widest. The solution? Skip those bottom branches and start somewhere in the middle.
The trick is to use a shorter tree, then give it some height with a narrow base. This way, the tree's widest branches are several feet high, leaving your limited floor space intact. For the base, consider using baskets or planters to keep things seasonal but tidy.
Replace your nightstand with a Christmas tree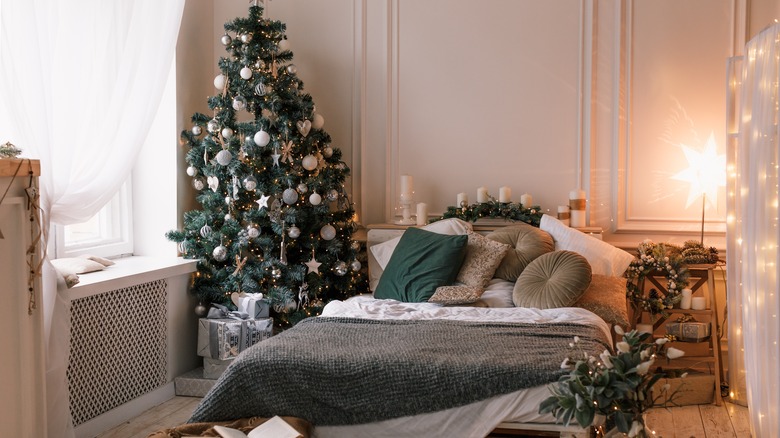 Miridda/Shutterstock
It can be hard to find extra space in the bedroom for your clothes, let alone a Christmas tree, but it's certainly not impossible. Waking up every morning to the shining lights and glimmering ornaments is bound to make your day "merry and bright," so a little rejigging is well worth the effort. 
To make a Christmas tree fit in your bedroom, consider putting it in place of one of your bedside tables or nightstands. This may require moving the bed a few inches and things might seem slightly cramped. However, the holidays come only once a year. Enjoy them!
Elevate Christmas in your kitchen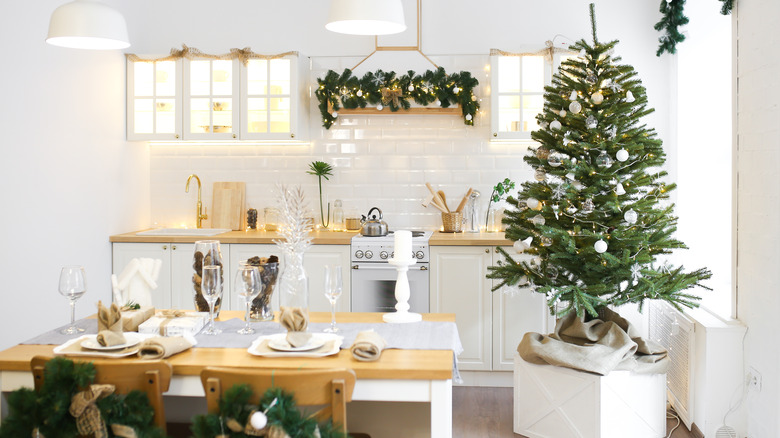 Elizaveta Starkova/Shutterstock
Christmas in the kitchen? Yes, please. For this room, consider a tabletop tree. According to Balsam Hills, tabletop trees are traditionally under 3 feet tall but can be as high as 4 to 5.5 feet. Erring on the smaller side will likely make it easier to fit into your dining space while still lending some holiday cheer to the room. 
You can even create a bit of an optical illusion by putting the tree on a taller platform to make it look bigger than it is.
A Christmas tree for the kids' room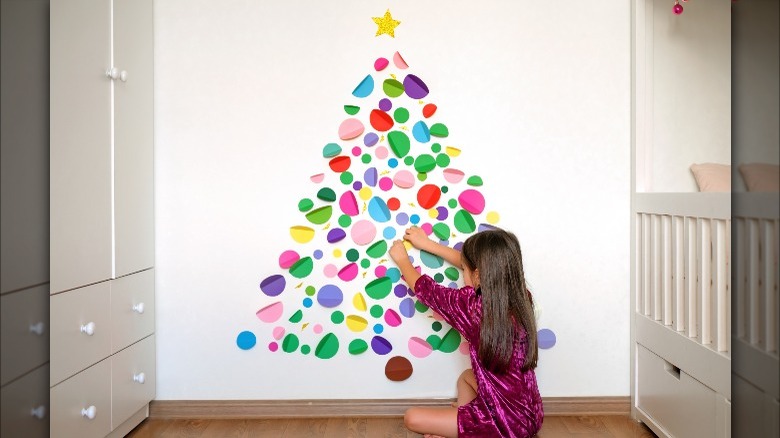 Maryna_Auramchuk/Shutterstock
If your kids are all about Christmas, there's no reason they shouldn't get involved in coming up with festive decorations. In addition to the main Christmas tree in your living room, maybe even consider crafting one of their very own. It's a fun project parents and kids can work on together and it will really let their creativity shine.
This tree made of paper circles taped to the wall is cute, colorful, and takes up zero floor space. You can also make Christmas trees out of paper or felt for the wall, with taped or Velcro ornaments that can be moved around.
Try a deconstructed tree in the bathroom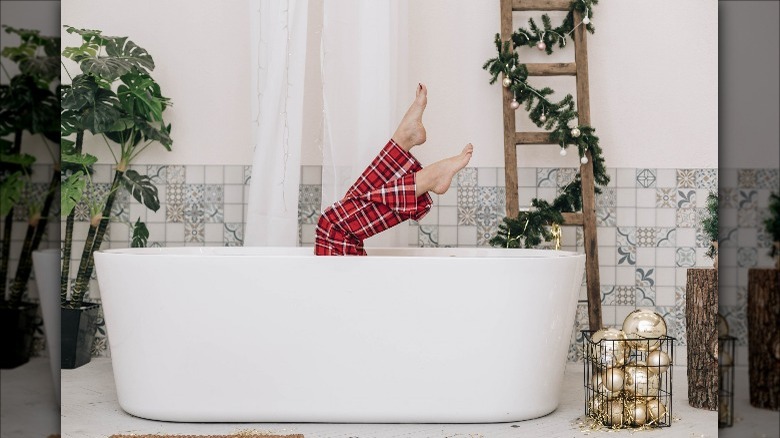 Margarita Aniskina/Shutterstock
If you want a little Christmas absolutely everywhere, you have to include the bathroom, a room that's traditionally known for its small space. Consider a deconstructed Christmas tree made from garland and ornaments, just presented separately.
To create your "tree," Real Simple suggests wrapping garland around a wood ladder, then propping it against the wall. Next to the ladder, you can put a basket full of ornaments. These classic holiday elements will bring real cheer to the most unlikely of spaces. What's not to love?