The Bold And The Beautiful's Ronn Moss Was Once Married To This Young And The Restless Star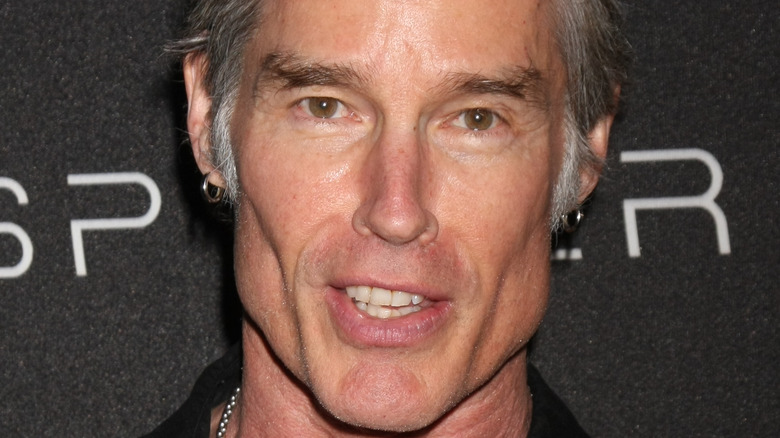 Kathy Hutchins/Shutterstock
Not only is Ronn Moss well-known for playing Ridge Forrester on "The Bold and the Beautiful" for 25 years, but he's also an accomplished rock musician. His band, Player, made it big in 1977 with their No. 1 song, "Baby Come Back," according to their website. They even performed their hit song on "General Hospital" in 2014 when young Spencer Cassadine (then Nicholas Bechtel) hired them to play at the Nurses Ball in an attempt to make up with Emma Drake (Brooklyn Rae Silzer). The cute kid made a reference to Moss' "B&B" career when he told Emma, "I had to do something bold and beautiful to try and make up with you."
Sharri Shattuck played Ashley Abbott on "The Young and the Restless" from 1996 to 1999. As Soap Central reported, Shattuck met Moss when they both appeared in "Hot Child in the City" in 1987. She and Moss dated for a year, although Moss told the Sydney Morning Herald, "I was never a 'dating' kind of guy. I had the usual one-night stands, months of a relationship, years of a relationship, but 'dating' never appealed to me. I was never someone who went out to bars to pick up. I'm hopeless at it. I was always someone who wanted a connection that had depth."
While Ridge had an on-again-off-again relationship with Brooke Logan (Katherine Kelly Lang) for years on "B&B," Moss only had eyes for Shattuck.
Moss and Shattuck's romance turned into marriage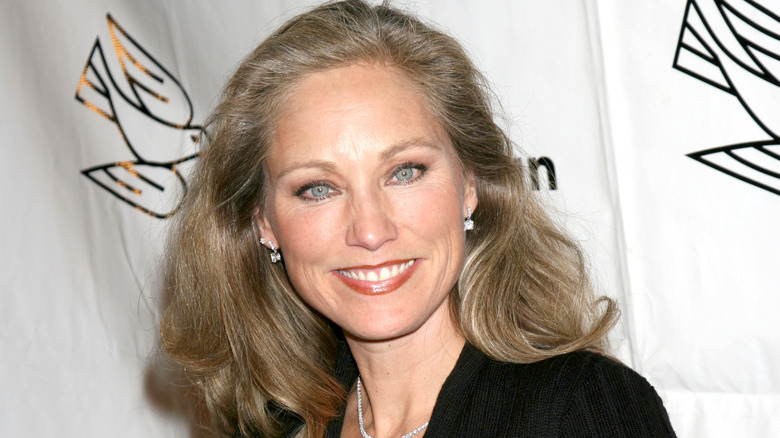 carrie-nelson/Shutterstock
According to Who's Dated Who, actors Ronn Moss and Shari Shattuck got married on January 1, 1990. They were seen at various awards shows together throughout their marriage, such as the Ninth Annual Soap Opera Digest Awards in 1993 and the 6th Annual Angel Awards in 2000. The couple also had two children, Creason and Calee. Moss later gushed about his kids to Soap Opera Digest in 2016, saying, "Creason is in her final year of college and majoring in Film Production. Calee is a senior in high school who sings, plays guitar, and wants me to teach her to play bass. They are beautiful, smart girls, and I'm very proud of them both. Neither one is interested in on-camera work." 
Shattuck's soap credits include the nighttime sudser, "Falcon Crest," as well as Santa Barbara," and a brief stint on "The Bold and the Beautiful" as Heather Thompson in 1992. While later playing Ashley Abbott on "The Young and the Restless," Shattuck told The Los Angeles Times in 1996 that she found her character's preoccupation with employees being clean-shaven to be amusing. She added that she doesn't mind facial hair on men in real life, saying, "Ronn had a beard for a while on his show, and I didn't mind it at all." 
With nearly 12 years of marriage under their belt, Moss and Shattuck sadly started to have marital problems (via BiJog).
After 12 years of marriage, Moss and Shattuck split up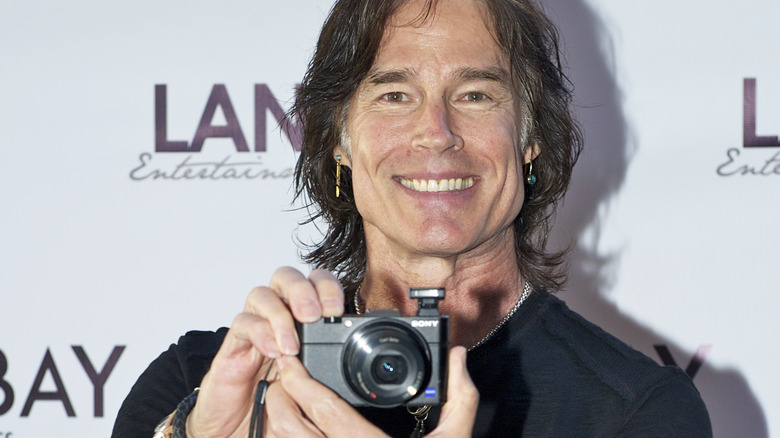 Philip Pilosian/Shutterstock
In 2002, Soap Central reported that actors Ronn Moss and Shari Shattuck split up and worked out a child support arrangement in the divorce that lasted for years. When he left "The Bold and the Beautiful" in 2012, Moss told Entertainment Weekly that he felt bad disappointing his soap fans but expressed his appreciation for their support over the years. While part of why he left had to do with a money dispute, he also stated, "I felt that I needed to go in this new direction to give myself the chance to do all the creative things that I haven't had a chance to do in 25 years, because I've dedicated so much of my life to this."
In 2014, Moss had the child support agreement with Shattuck modified to a lower payment, citing that his income had substantially decreased. Shattuck fought it, and it was ultimately overturned (via Met News). Shattuck is now married to filmmaker Joseph P. Stachura and has become a successful novelist with such books as "Eye of the Beholder" and "Lethal" (per Chick Lit Central).
Moss later married former Playboy Playmate Devin Devasquez and told The Sydney Morning Herald, "Devin teaches me about patience and passion, and she's taught me to be a better kisser." Moss has continued to work on other shows and also directs and produces films in Italy, per his website.