The Viral Makeup Hack To Get Wednesday Addams' Edgy Look
The world's latest obsession: Netflix's new show "Wednesday." Since its release on November 23, the show has amassed one billion viewing hours and is on track to become the platform's most-watched show ever, per NME. The 8-episode series follows teenager Wednesday Addams, played by Jenna Ortega, as she joins a new school and tries to solve a chain of mysterious murders. Beyond the intriguing plot twists and turns, fans have been really mesmerized by the show's aesthetics.
Tim Burton was an executive producer for the show, bringing his recognizable gothic fantasy style to this new spin-off of "The Addams Family." The color palettes spoke volumes about the characters, with Wednesday always wearing black to represent her dark personality while her animated roommate Enid would always sport vibrant colors (via Variety). Wednesday's outfits, hairstyles, and makeup have become fan favorites and are now trending on TikTok where everyone is scrambling around to find the best way to replicate them. Here are some tips to get Wednesday's coveted makeup style.
Here's how to get Wednesday's balmy lips
"Wednesday" makeup designer Tara McDonald spoke with Glamour where she revealed the ideation process to come up with the character's iconic look. "In keeping with 'The Addams Family,' Wednesday was always going to be goth, but it was also very important for it not to be too gothic — it was more like a glossy goth," McDonald told Glamour. "I would always describe Morticia as a 'glossy goth,' and Wednesday as more of a 'soft goth.'"
The show's release coincided with Tiktok's latest obsession: dark balmy lips inspired by the goth aesthetic. Tiktok makeup content creator @molchanovamua posted a video where she mixes clear lip gloss with black mascara to obtain a dark gloss. While the product combination has been criticized by multiple users, some other makeup artists are loving the trend, including @mimiermakeup who tried it and loved the results. If you don't want to destroy your mascara and clear lipgloss for the sake of this trend, here are some alternatives.
How to get Wednesday's lips according to her makeup artist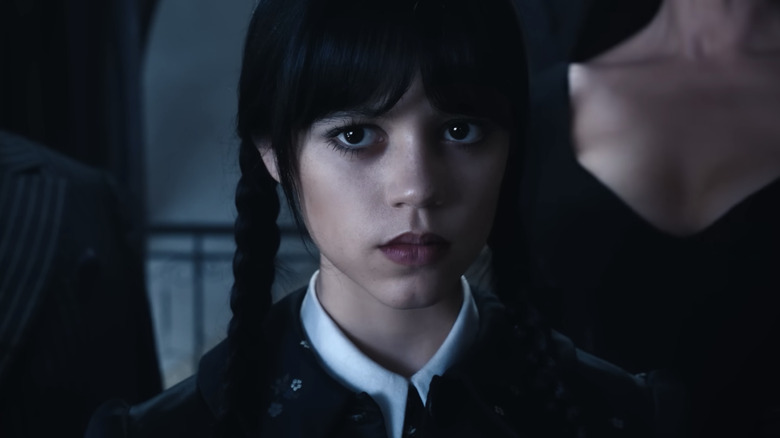 Netflix
"Uncut Gems" star Julia Fox noticed the viral black mascara plus clear lipgloss trend and decided to hop into the discussion to share an alternative. In her TikTok video, the actress reveals that she can achieve the same results using one of her favorite products, Isamaya's Liplacq in the shade of Black Veil. The product description says that it has a plumping effect along with a "vinyl-like finish." 
Good thing for "Wednesday" fans that the show's makeup designer Tara McDonald doesn't gate-keep and shared the exact products she used to achieve the character's lips. The lip combo is pretty straightforward: mixing MAC Lip Pencil in Nightmoth with Dr. Pawpaw clear balm. If you can't find the MAC pencil, opt for any other one in a dark plum shade. "You can almost draw the pencil on your hand, add a little bit of the Pawpaw to get the consistency like a colored balm, and then just dab it on your lips," McDonald told Glamour.