Why Letting Your Hair Dry Naturally Can Produce Your Healthiest Tresses Yet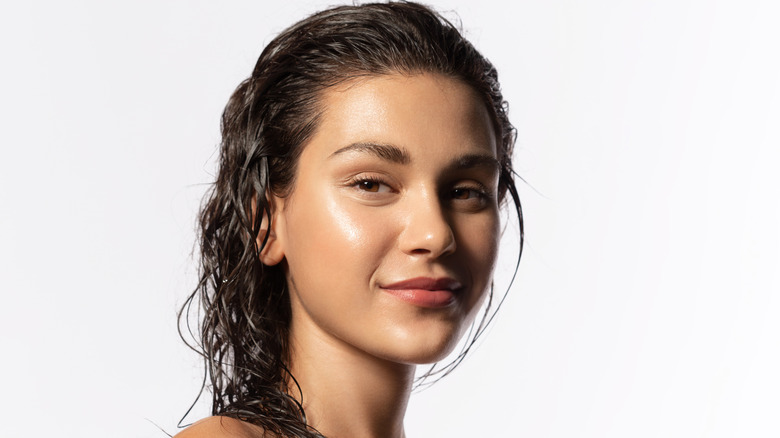 popcorner/Shutterstock
It's commonly known that applying heat to your hair can damage it. In fact, improper use of heat to style your hair ranks as some of the worst things you can do to your hair.
According to celebrity hairstylist Ashley Streicher told Who What Wear (via Yahoo! Life), using heat on your hair can have a detrimental effect. "Without proper protection, high-heat irons will just burn and break your hair off," she said. "Overusing heat on your hair consistently is the biggest way to damage your hair."
Consequently, you should not use heat on your hair on a daily basis. "Hot tools can also make hair look crispy and create split ends if overused," hairstylist Anna Jackson told StyleCaster. "Blow out hair 3-5 times a week and try to limit your flat iron/curling iron usage to 1-2 times a week."
Yet, if you want to attain the healthiest locks of all, you might want to protect your hair from heat and learn to dry your hair naturally.
Air drying your hair requires some prep work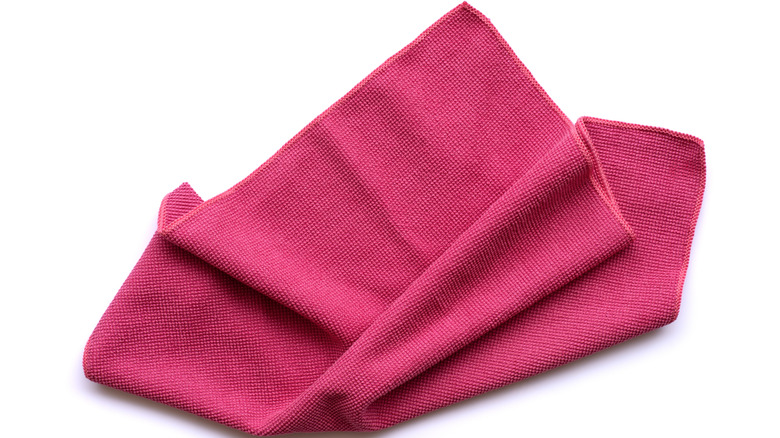 NIKCOA/Shutterstock
Drying your air without using heat can nourish and protect the natural oils found in your hair but you can't just wash it and then do nothing. Celebrity hairstylist Takisha Sturdivant-Drew told Healthline, "The longer your hair stays wet, the more the cortex of your hair will swell and break, resulting in brittle ends and lots of flyaways." For this reason, some people blow dry hair until it's damp and then let it fully dry.
Hair stylist Shaun Pulfrey explained, "Thick hair can absorb a lot of water and be prone to more damage, as hair is weakest when wet but thin hair is less likely to absorb water, and it will be less susceptible to this damage."
You can also use a towel to absorb most of the water when you get out of the shower, as per Women's Health. However, you don't want to use a bath towel. A microfiber towel will be more absorbent while also providing a softer and lighter touch.
Condition your hair before air drying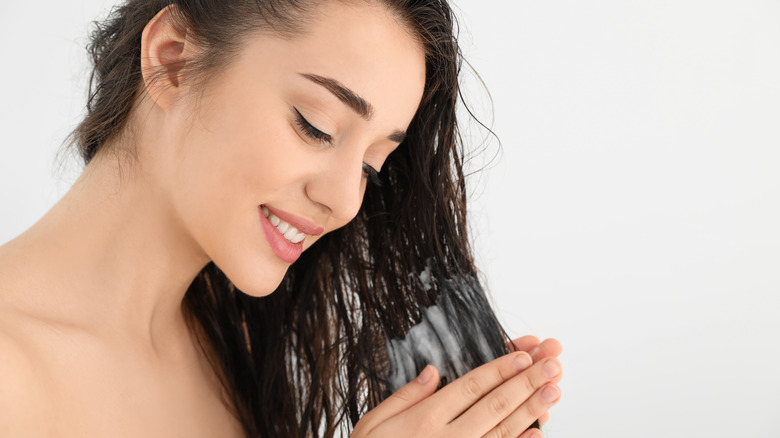 New Africa/Shutterstock
Next, you'll want to make sure your hair has adequate conditioning. "The first step in prepping to air-dry is to ensure you have adequately conditioned,' hair stylist and colorist Rochelle Hunter Mosley told Byrdie. "The lack of heat on your hair can often let frizz run free, and conditioning before this drying process, as well as using a leave-in conditioner, helps to lock in the moisture your hair is lacking,"
Use your regular conditioner while washing it and then after you're done, try applying a specialized air-drying product. Air dry cream is specially formulated to keep hair moisturized while drying. Look for air-dry creams that suit your hair texture, whether curly, straight, wavy, thick, or thin.
Air-drying products should be applied while hair is damp, according to JVN. It's best when applied from the middle of your strands to the ends. To ensure that all locks are sufficiently protected, use a wide-brim comb to evenly disperse the cream.