The '90s Toe-Ring Sandal Shoe Trend Is Coming Back In 2023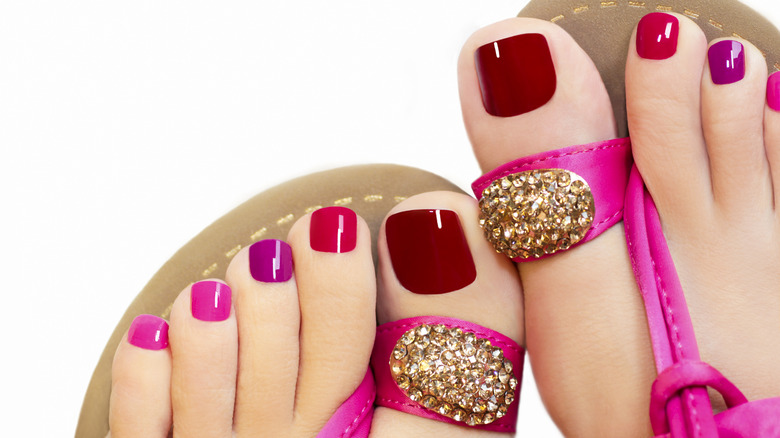 Marigo20/Getty Images
There's no doubt about it — the '90s are back, and have been for a while now. '90s fashion trends are everywhere, with sheer clothes having a real moment while the '90s backless top trend is taking over everything from halter tops to slinky dresses. The latest '90s trend to re-emerge has been spotted on runways and is no doubt all across your Insta feed, too. 
Another '90s shoe that will never go out of style, the toe-ring sandal is here to stay. Toe-ring sandals can be flat, chunky, or taken to platform heights, the latter of which was more popular during the Y2K version of the trend. Though the trend is a polarizing one, celebs such as Meghan Markle love the toe-ring sandal and have embraced the look fully. 
The Duchess of Sussex was spotted during the summer looking effortlessly cool wearing a pair of toe-ring sandals with shorts and a button-down shirt (via InStyle). However you feel about toe-ring sandals, they'll be a major shoe player in 2023 regardless, so you better start figuring out how to style them. Thankfully, we're here to help. 
The toe-ring sandal is hot on the heels of other revived '90s shoe trends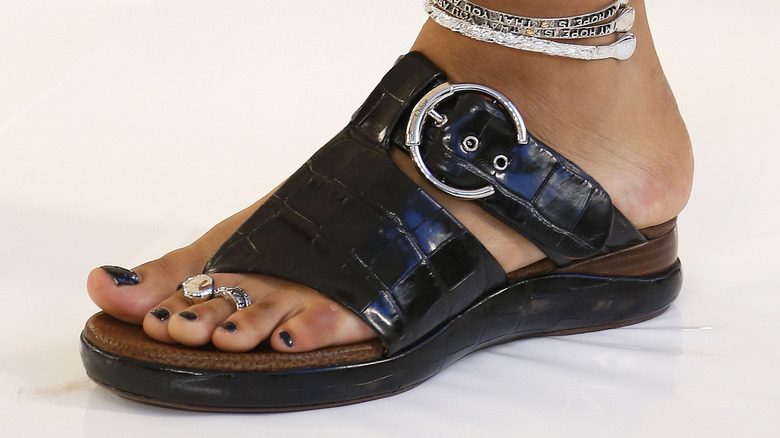 Estrop/Getty Images
No longer restricted to beach holidays only, the toe-ring sandal can make an outfit appear more elegant but with the added nostalgia factor of being a recycled trend. Elle reports that toe-ring sandals were seen on a number of SS23 runways, including at heavy hitters like Tory Burch, Lanvin, and Stella McCartney. 
Get in on the style early by purchasing yours in the holiday sales, and feel smug in the knowledge you will be very on-trend in just a few months' time. Though toe-ring sandals have been around for a while, as evidenced by the fact they graced the Chloe runway back in 2018 (as seen above), they seem to have come back in full force this year. 
This re-emergence will continue into 2023. The divisive factor of toe-ring sandals probably stems from hazy memories of them being worn with capri pants and vest tops, both of which haven't quite made it as part of the Y2K revival. Luckily for us, the new toe-ring styles are less jelly sandals and more chic footwear choice. 
Go all out or stick to something delicate for a more casual take on the trend
The great thing about toe-ring sandals is that they can easily be dressed up or down, which is why they're a good shoe choice to invest in for 2023. For an everyday look that's just elevated enough to wear to lunch or at a garden party soirée, opt for nude sandals like this slightly heeled pair from Intentionally Blank. Try to get as good a match as possible to your skin tone, since this will create the illusion of longer legs, per Who What Wear.
Otherwise, tan sandals will have a similar effect and can be worn with everything from dresses to flared jeans. If you prefer a more understated style, the minimalist Ellie sandals from Reformation are so slim you'll barely feel them on. They come in four colors, including bold burnt orange, but black will go with most outfits. Plus, they're sustainable. 
Sandals in this style are also a good way to ease yourself into the toe-ring trend, as they bridge the gap between the '90s and more modern styles. The square heel is another super popular '90s trend too (via L'Officiel), so you'll be nailing two major trends at once.