The Neon Accessory Fashion Trend To Get You Glowing In 2023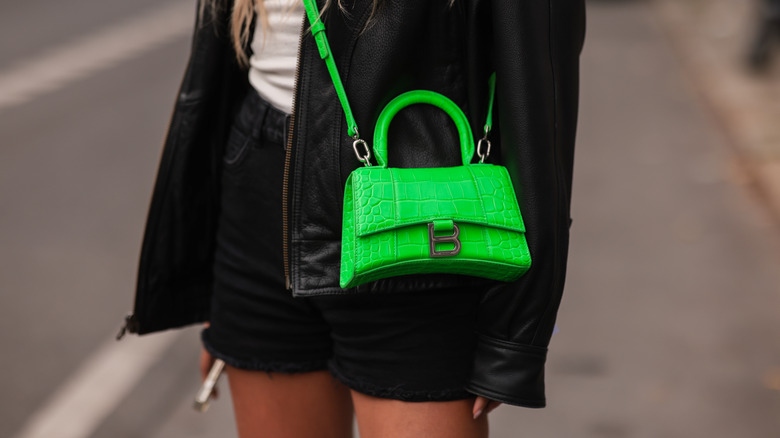 Jeremy Moeller/Getty Images
Love it or hate it, neon has made a bold comeback in several different ways in recent years, from in-your-face dresses to chic tiny handbags like the one Emily Ratajkowski was spotted wearing (via Glamour). It seems that pastels are being swapped out for bolder, brighter hues that force you to pay attention. Neon green had an unexpected moment at the 2022 Oscars, and fluorescent shades in general are steadily gaining prominence. 
No longer reserved just for red carpet outfits, the neon trend is far-reaching. Neon eyeshadow in shades of pink and green was spotted on runways throughout 2021 and 2022, and the hashtag #neoneyeshadow currently has 2.1 billion views on TikTok. Now, a new sub-genre of the neon trend has come into the spotlight, and it's one Ratajkowski and her glamorous cohorts will surely appreciate — neon accessories. 
This aspect of the neon trend is a great way to introduce some color into an outfit, whether you're a fan of Barbiecore pinks or prefer to stick to Scandi neutrals. Here's everything you need to know and, crucially, how to style the trend too. 
The trend is an easy way to add color to your ensemble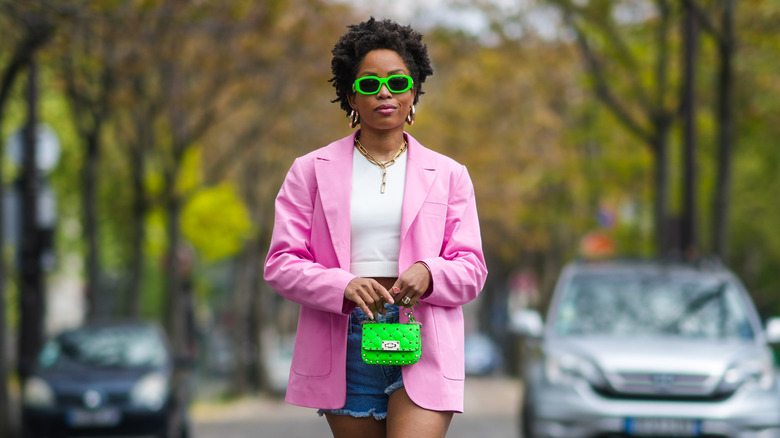 Edward Berthelot/Getty Images
According to The Trend Spotter, neon will continue to be big in 2023, but with one important distinction: it's all about accessories. Highlighter yellow dresses and electric blue trousers have been pushed to the side to make way for the likes of handbags, sunglasses, and, of course, jewelry. Wearing neon accessories is a great option if you want to dip your toe into the neon trend without fully committing, and it's also suited to the colder months. 
You may feel silly wearing a neon orange blouse during winter, but a bag in the same bright shade will contrast with a black coat beautifully and bring some edge to your look. If you have no idea how to style the trend, stick to pairing one neon item with neutrals at first — say, a pair of bright pink shoes with black trousers. Then, when you feel comfortable, start to gradually add more accessories. 
Though neon shades can differ, the key to making a neon look work is by picking out accessories with a similar hue — for example, a bright blue headband paired with a matching bag or pair of shoes. Have fun and experiment, but feel free to take it slowly if you're anxious.
It's all about connecting pieces to create a stronger look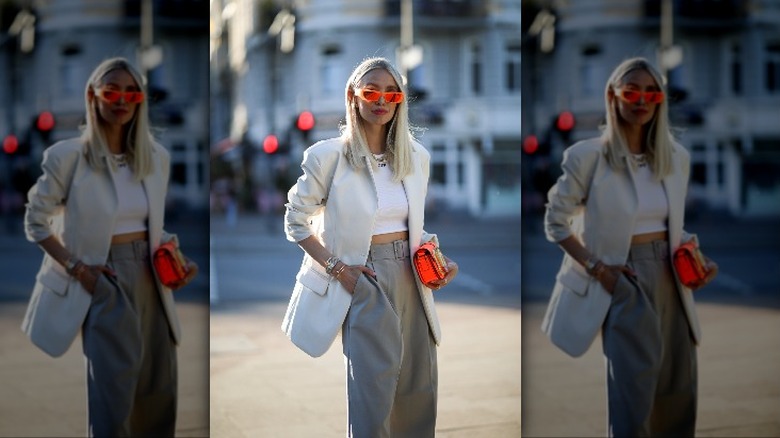 Jeremy Moeller/Getty Images
Even if you aren't wearing a neon dress or top, finding the neon color that flatters your skin tone is still important so you look your very best. Neon green was a major trend throughout 2022, per Teen Vogue, and will suit most warm and neutral undertones, whereas colors like turquoise and magenta are best for those with cooler undertones. If you're still feeling lost on where to start with this trend, take inspiration from street style. 
Matching orange sunglasses with an orange bag — especially if it's a micro one so you can hit another trend — will look especially good with clean and crisp neutrals. If you don't often carry a handbag, you could opt for a beaded necklace instead. This will fit both with the 2023 "bits and beads" jewelry trend and make any outfit appear more fun and playful without much effort required. 
If you're worried about looking childish, stick to chunky bracelets or earrings. The main thing to remember about the neon accessory trend is that it encourages creativity and boldness, so don't be afraid to go for more ostentatious colors over more muted ones.