What To Know About The Bits And Beads Jewelry Trend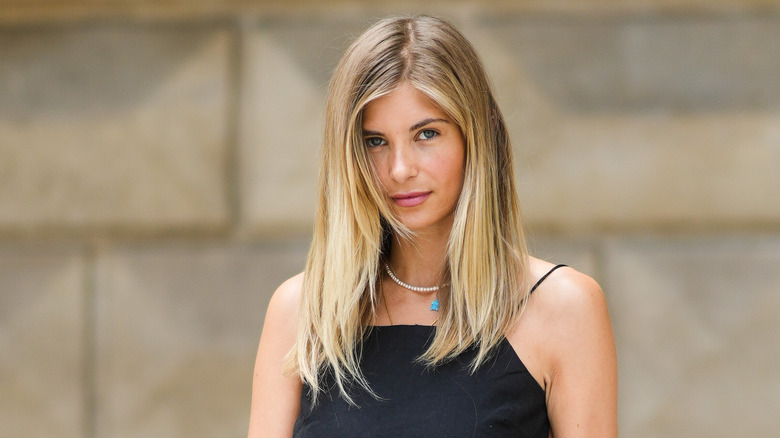 Edward Berthelot/Getty Images
Along with supersized pearls and silver hoop earrings, one of the key jewelry trends for 2023 is something you may not expect. Per Harper's Bazaar, one of the hottest looks for the year centers on using materials such as shells, stones, and beads to create a jewelry piece that looks as though it could have been handcrafted even if it isn't. Dubbed "bits and beads," the trend is less about digging through your old childhood jewelry staples and more about expressing yourself.
Whether you're still holding on to a '90s style choker or prefer a longer layering look, the bits and beads trend has something for everyone. Less about minimalist chains and matching earrings, it combines colors and textures for a bold, slightly clashing look.
If you're still having doubts that you can adopt this look without looking like a preschooler on holiday, there's plenty of inspiration below on how you can wear beaded jewelry, as well as all the info you need to know about the trend. 
The trend is part of a larger style renaissance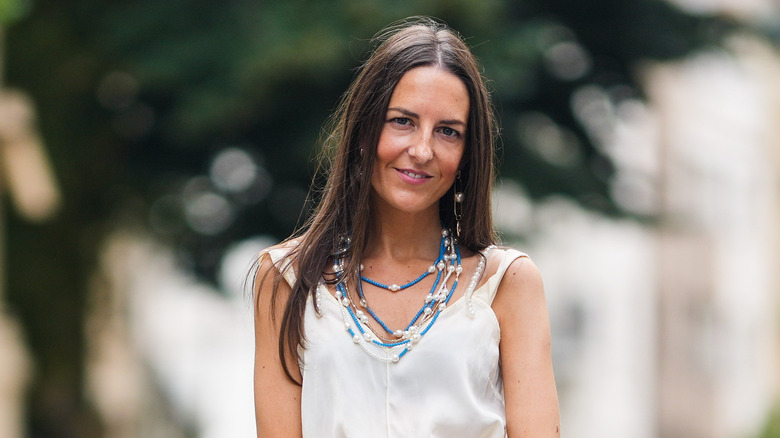 Edward Berthelot/Getty Images
The bits and beads jewelry trend appears to have stemmed from one of the many micro "core" trends seen recently; for example, bikercore and gorpcore. The beaded jewelry trend is part of the trend known as "craftcore." Per Vogue, the craftcore style is exactly what it sounds like — wearing items that have been handcrafted, either by you or a skilled artisan. Though it isn't necessarily a defining factor, several items that fall into the craftcore category have a charmingly handmade look to them, which is perhaps why the trend is so appealing.
Get ready to rock a shell choker like it's the year 2000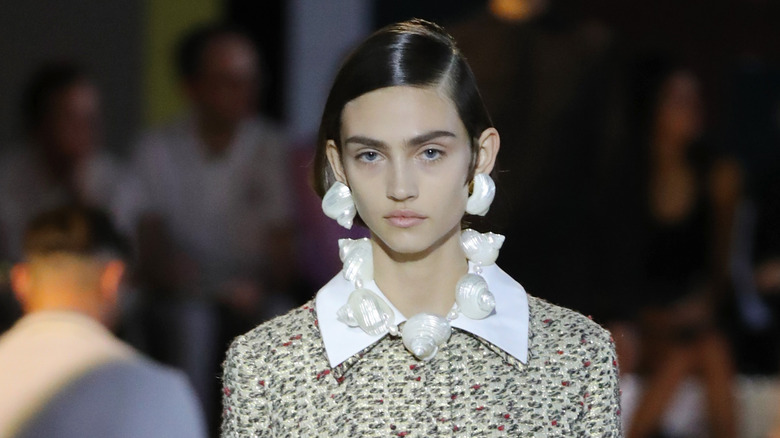 Andreas Rentz/Getty Images
Shells are another major part of the trend. All things shell-related were big in the '90s and early 2000s, so it makes sense that shells are once again in style due to the ever-growing Y2K revival trend. Though some designers like Prada chose to go oversized with the shell motif, smaller shell necklaces are still on trend and can be more easily layered to achieve the bits and beads jewelry look seen on the runway.
Shells and beads go hand in hand with this trend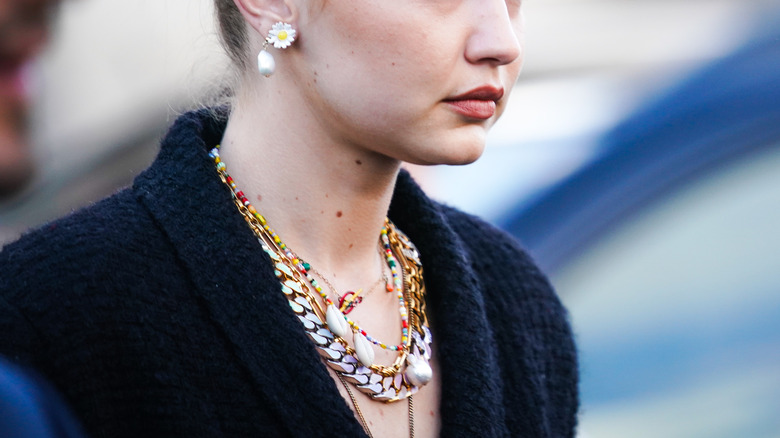 Edward Berthelot/Getty Images
The shell and natural bead trend was seen all across fashion week for Spring/Summer 2023, so investing in a shell necklace or a pair of earrings is the smartest move. Per Cosmopolitan, this pair of golden shell earrings from Jennifer Behr will brighten up any look due to their glistening finish. Though it may seem contrary to invest in pieces typically worn in summer during colder weather, come spring, beaded jewelry will be everywhere and you'll be ahead of the game. 
Longer necklaces can add a whimsical touch to a classic look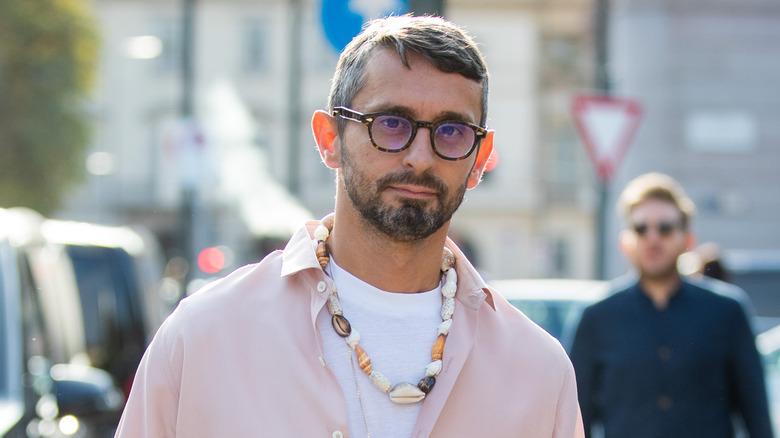 Christian Vierig/Getty Images
Like most beaded jewelry, longer beaded necklaces take inspiration from the 2000s, with kitschy beaded necklaces and bracelets taking over the trend (via Who What Wear). The key to styling a longer bead necklace is to pair it with more laidback pieces in your closet like a button-down or simple t-shirt. This colorful heart-shaped bead necklace from Brinker & Eliza is the perfect way to incorporate some creativity into a neutral everyday look and will go with most outfits due to the many colors included.
Collar necklaces are another key 2023 jewelry trend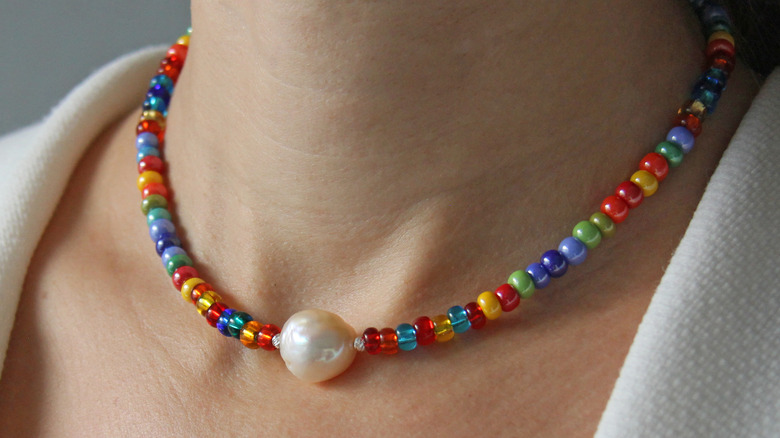 Napoleonka/Shutterstock
Collar necklaces were another trend spotted flooding the runway in Spring/Summer 2023 shows, per StyleCaster, so why not combine two trends in one and opt for a shorter necklace with a shell or bead motif? When paired with a bright and out-there pattern, a rainbow-esque beaded necklace can appear fun and fresh instead of childish — though of course there's nothing wrong with youthful vibes if that's your style. There's no room for being shy with this trend, so dig through your closet to find your kitschiest clothes and embrace the cutesy vibe.
If necklaces aren't your thing, go for bracelets instead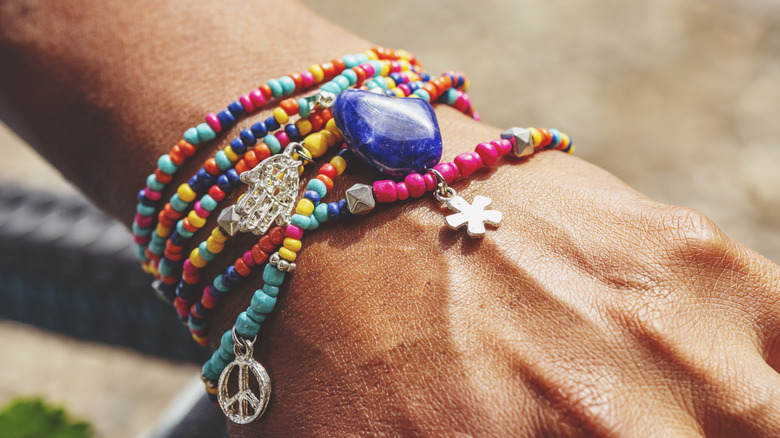 Madkruben/Getty Images
Though the trend does predominately focus on necklaces, bracelets are also a great way to incorporate the beaded jewelry look into your life. Plus, there's no limit on just how many bracelets you can stack. Per jewelry designer Roxanne First, part of why the beaded jewelry trend is so popular stems from having fond memories of choosing your favorite beaded jewelry pieces as a young child (via Glamour). Tap into this nostalgia by choosing bracelets with lots of different colors for a free-flowing vibe. 
The beaded jewelry trend is all about adding fun to your everyday life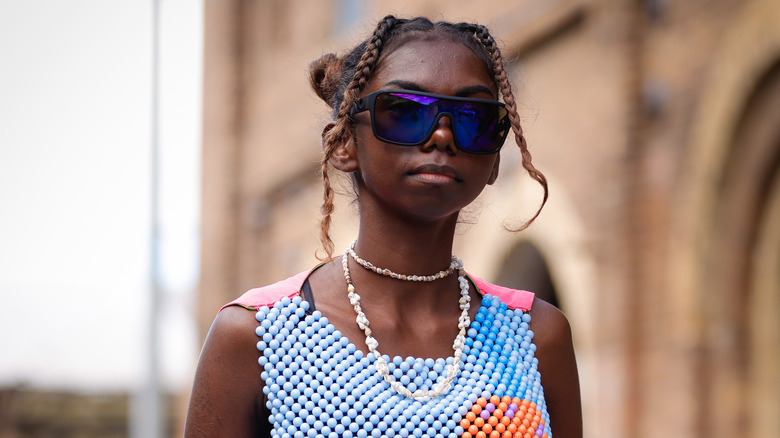 Hanna Lassen/Getty Images
Overall, the beaded jewelry trend will be hot on the heels of other jewelry trends like pearls and silver hoops in the next few months. However, unlike other jewelry trends, the bits and beads trend isn't about looking elegant but about creating a fun and bold vibe that will cheer you up even on the most miserable of days. You can also wear it how you like, whether that's a small beaded bracelet or a rainbow shell necklace, so get creative and embrace your artistic side for the best results.