Make A Statement With The Bold Chrome Lips Trend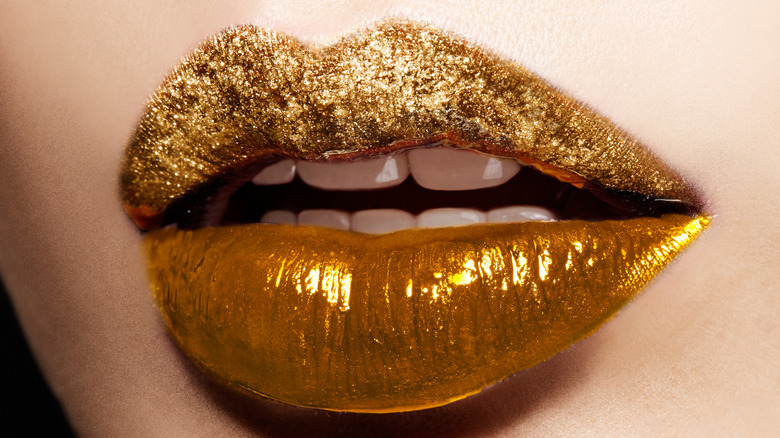 Moustachegirl/Getty Images
We may receive a commission on purchases made from links.
Of all the beauty trends that took over the internet recently, there's one that's guaranteed to make you shine. Well, it will make your lips shine, at least. Per Sunday Edit, a makeup trend called "chromecore" is here, and it's making metallic-looking makeup our new favorite way to get glam and look utterly unique. 
We all know that colorful "Euphoria"-inspired makeup made quite the splash when HBO's hit series premiered and showed us just how cool bright, bold, and unconventional makeup looks can really be. Well, iridescent makeup looks are going a step further, and chromecore is taking the beauty world by storm. The latest addition to this shiny style is chrome lips, some with color-shifting properties, and we have a feeling this look is going to make you leave your matte makeup behind (via Byrdie). 
If you, like most beauty aficionados, are interested in what kind of lipsticks to buy if you really want to make a statement, it's officially time to invest in the products you need to master the chrome lip technique. And don't let the boldness of this trend scare you away. We've got the lowdown on how to pull off this luxuriously light-catching lip look and make a majorly metallic makeup statement.
Why chrome lips are trending
While lips that look like metal may seem totally futuristic, it appears that the future is now. Stars like Alexa Demie and Beyoncé have been spotted sporting the ultramodern look, and now we're all trying to replicate it. According to Sunday Edit, while this unique style may feel like a peek into a crystal ball, it's actually a nod to decades past and fits perfectly with all the throwback trends of today. 
Chromecore makeup takes us back to the '70s. Donniella Davy, the lead makeup artist for "Euphoria" and founder of Half Magic Beauty, says that model Grace Jones' signature looks are the ultimate chromecore inspo. "Her metallic makeup contrasted with her deep skin tone and made for a super-stylized, signature chrome look," she says. "The effect was undeniably fierce, and the colors and texture of her makeup looked like vibrant strokes of paint against her deep skin tone. It made for a future-forward, androgynous look that eventually fell out of style."
Since trends are always cyclical and popular beauty routines these days are all about blasts from the past, Jones' metallic makeup is definitely back. Celebrity makeup artist Robert Greene told Allure, "We are in a time where makeup has become an obsession for a new generation, and making a statement is definitely 'in.' Metallics are bold, vibrant, and create dimension to your lips."
How to get the look
While statement makeup is all the rage, that doesn't make sporting a bold lip any less daunting. Luckily, there are easy ways to ensure that your chrome lip look isn't too much. 
"I like to use metallic lipsticks as a statement piece, like we have our staples and statement pieces in our wardrobe," makeup artist Kristine Cruz told Allure. "I like to wear metallic lipstick and cut down on cheekbone highlighters, which means I go for a clean pop of color on the lips with a flawless, fresh-faced look." With an otherwise pared-down makeup routine, your chrome lipstick can be the focal point. 
When it comes to how to create your chrome lip look, you've got plenty of options, per Byrdie. As metallic lips have become more popular, plenty of brands, like NYX, M.A.C., and Anastasia Beverly Hills, have released metallic liquid lipsticks. Some makeup artists find it more effective to create a DIY version of chrome lips, pairing shimmery eye shadow with metallic eyeliner.
As for choosing the best chrome color for your lips, Donniella Davy explained to Sunday Edit, "Most universally flattering chrome shades are something in a rose-gold, brass, or taupe. Gold also looks amazing on medium and deep tones and leans more glam." For darker skin tones, silver is bold and beautiful. 
When it's time to apply, Robert Greene advises, "Metallic lipstick concentrated on the center of your lips, top and bottom, helps create a pouty lip."