King Charles Reportedly Made A Bizarre Comment To Diana After Harry's Birth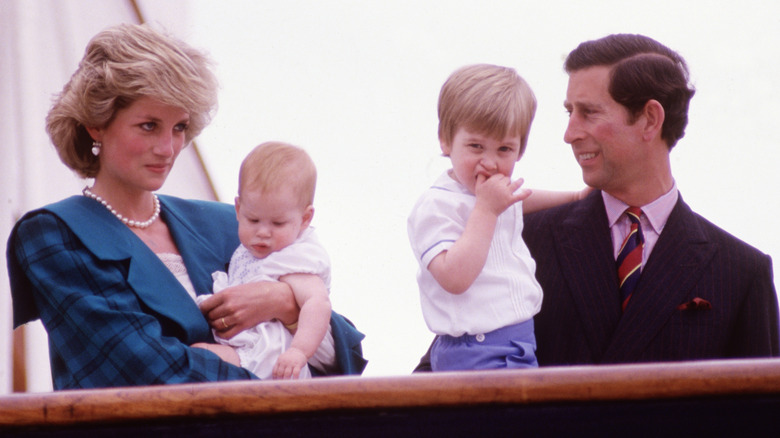 David Levenson/Getty Images
Though the general public will finally get to read Prince Harry's memoir, "Spare," on January 10, an advance copy has reportedly made its way to The Guardian. They wasted no time in sharing the juiciest portions either, which seem guaranteed to widen the divide between the Duke of Sussex and the rest of his family. Among the claims that Harry reportedly makes in his book is that he and William, Prince of Wales, got into a heated argument over his wife, Meghan Markle, the Duchess of Sussex, during which his brother "knocked me to the floor" (via People). 
Other startling allegations revealed in the memoir include a harsh title Harry gives to William ("my beloved brother and archnemesis") and the revelation that the brothers both pleaded with their father, King Charles III, not to marry Camilla Parker Bowles after the death of their mother, Princess Diana, per The U.S. Sun. But Harry is insisting in his promotional interviews that the real purpose for writing his memoir is not to spill royal tea, but to have the world understand his side of the story — a side Harry says has been ignored or twisted by the tabloids for years. 
As William's younger brother, Harry had a role thrust upon him from birth which has colored his life ever since. Even the prince's own father reportedly made a remark about him that not only inspired the title of the book but also affected his sense of self-worth. 
Harry has reportedly always felt like an afterthought in the family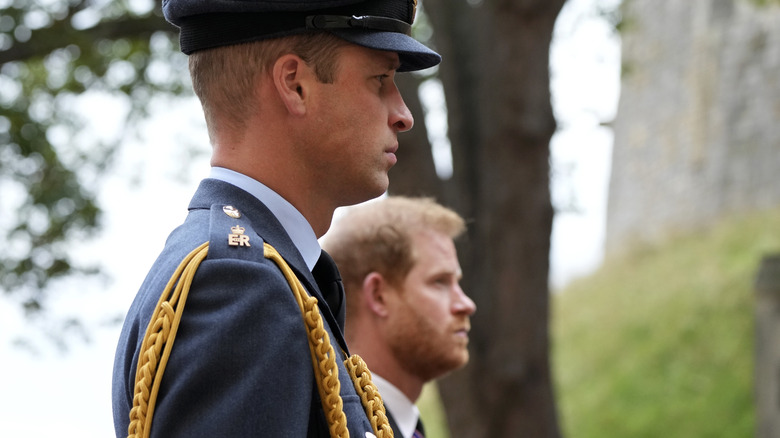 Wpa Pool/Getty Images
According to The Guardian, Prince Harry's memoir mentions a telling moment that reportedly occurred on the day he entered the world. On learning of the birth of his second son, then-Prince Charles allegedly told Princess Diana, "Wonderful! Now you've given me an heir and a spare — my work is done." While the outlet didn't reveal what Harry's thoughts were on the subject, it's a fair assumption that this is a sore spot for the prince. 
For one, Charles's comment is hardly what one would expect from an excited new father. Further, it establishes that the Duke of Sussex has always felt like an afterthought within his family: The royal understudy whose sole purpose was to be ready to step in as monarch if something were to happen to Prince William. Harry goes on to explain that his position as "spare" meant that the palace considered his reputation and well-being less important than that of his brother. 
The memoir even claims that The Firm often spun narratives to the media to make William look like a noble future king, while Harry was painted as a whiner who abandoned his duties out of resentment and a desperate need for attention. In the "60 Minutes" interview scheduled to air just a couple of days before the book's publication, Harry definitively says he doesn't plan to resume his royal responsibilities. It remains to be seen whether he'll even be offered that invitation.