All The Worst Dressed Stars At The 2023 Golden Globes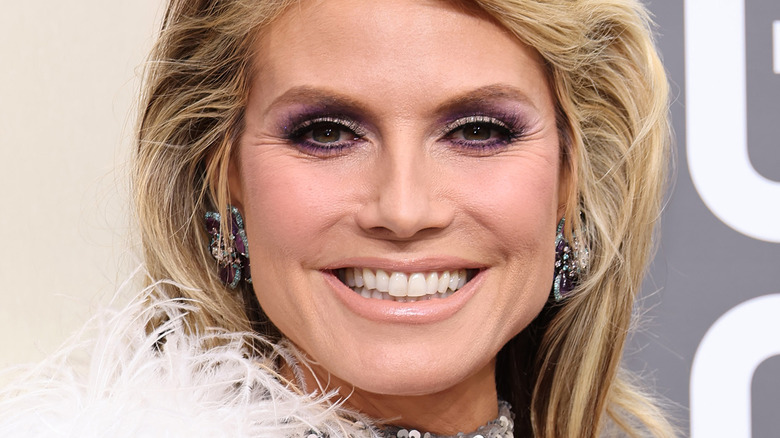 Amy Sussman/Getty Images
The 2023 Golden Globes was notable for its timing: It returned to network TV after a year hiatus. The previous year (per NPR), many people in the entertainment community had boycotted the event in protest over the lack of diversity among the Hollywood Foreign Press Association. The association and certain of its leaders were also accused of ethical breaches and inappropriate behavior. However, the HFPA has taken steps to change its ways, and many A-listers returned to the audience to accept awards, give memorable speeches, and enjoy a drink (or two, or three...).
High style ruled the Globes' red carpet, with many attendees wearing glittering metallics or classic black-and-white gowns. Classic glamour, such as Angela Bassett's retro hairstyle, left viewers stunned. However, other stars stunned for a much different reason: They made their appearance in outfits that were distinctly underwhelming. Here's a look at a few that missed the mark.
This outfit was a sheer disaster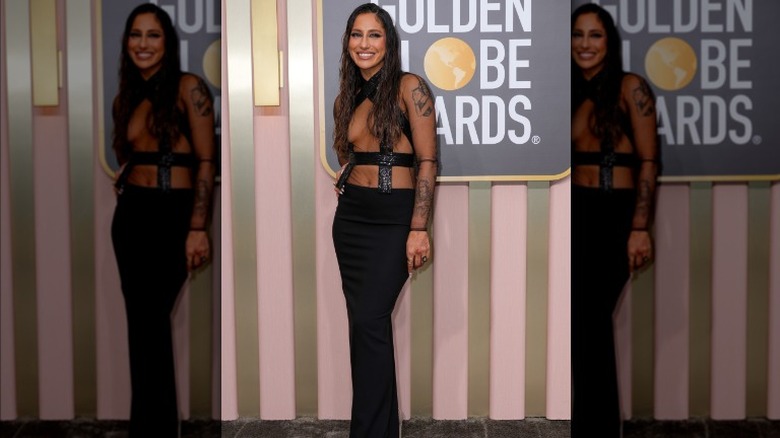 Kevin Mazur/Getty Images
Estefanía "Tefi" Pessoa is known for her personable attitude on her famous TikTok account (via People), but she let it all hang out a bit too much at the Golden Globes. Her gown, featuring a super-sheer top and black strap accents, looked more dominatrix than diva. Her wet-look hair was strategically arranged to keep the TV censors at bay, but the show's producers must still have been nervous every time Pessoa turned her head. 
Not quite a White Lotus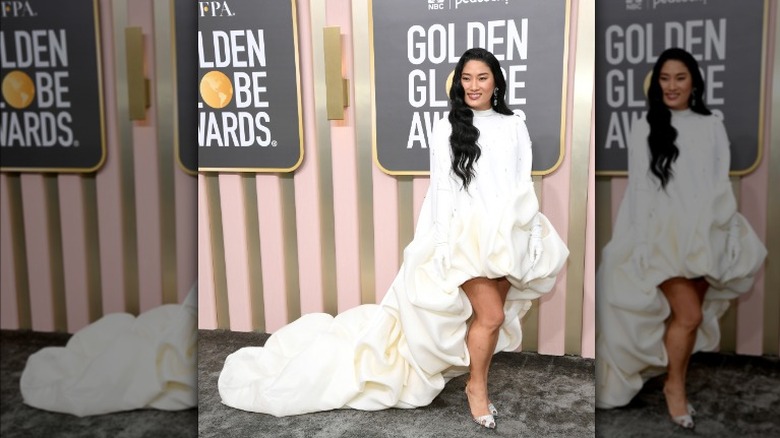 Jon Kopaloff/Getty
The talented pianist at the Golden Globes was Chloe Flower, a classically-trained musician and composer. Per Decider, Flower is also a noted activist who works with a number of organizations aimed at ending sex trafficking. She wore a number of gowns during the night, including a pink number that was among the best Golden Globe looks, but her red carpet look was, alas, less impressive. The tumble of white material seemed to overwhelm her, and it hid one of Flower's best qualities: her hands. 
Keep the glitter, lose the feathers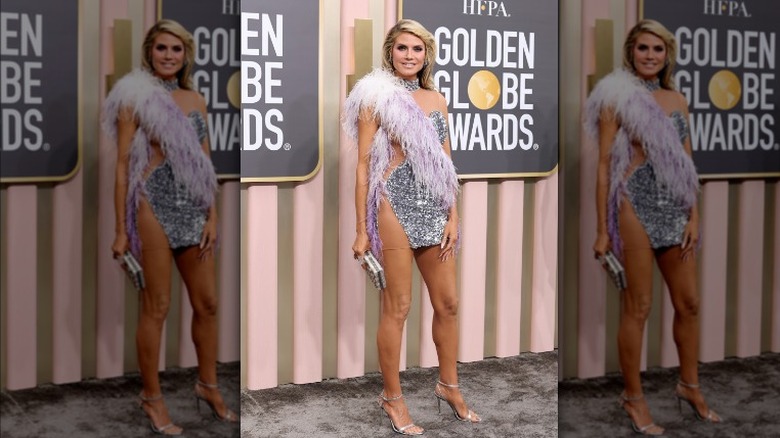 Amy Sussman/Getty Images
Heidi Klum is never afraid to be fashion-forward, but at the Golden Globes this year, she took a step backward. In a night filled with metallics and spangles, her daring cutout minidress was a perfect fit, but the addition of a marabou shoulder sash made it look more like something one might see in a Vegas number. Maybe she should have asked one of the "Project Runway" designers for suggestions.
This pink confection wasn't a treat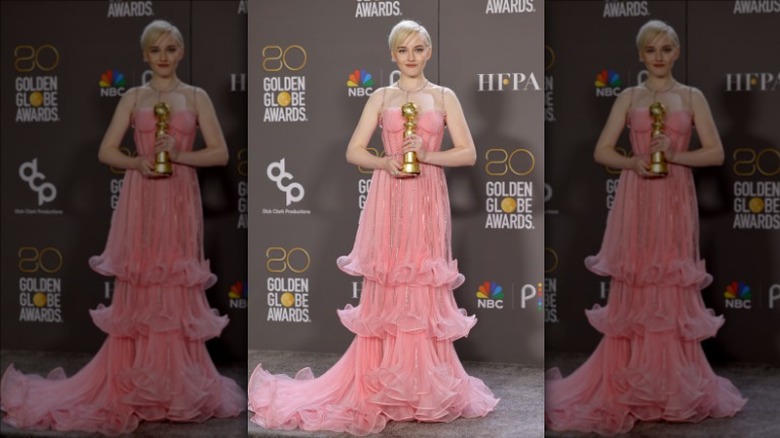 Amy Sussman/Getty Images
Barbiecore was in full force at the 2023 Golden Globes, with mixed results. While some stars rocked the pink trend — Billy Porter shone in a fuchsia duplicate of his iconic 2019 tuxedo dress — others just fell flat. Julia Garner walked away with a Globe, but it was for her role in "Ozark," not for her outfit. The crystal-embossed bustier gown had an overly cutesy tiered ruffled skirt that even Barbie might have rejected. Still, getting the award for Best Supporting Actress in a Musical, Comedy or Drama made up for the fashion fail.
Paging the '70s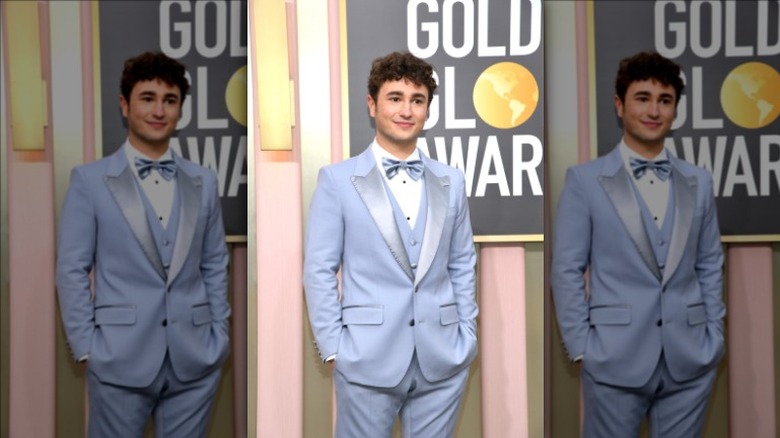 Jon Kopaloff/Getty Images
Canadian-American actor Gabriel LaBelle is off to a shining career start playing a character based on young Steven Spielberg in his autobiographical film "The Fabelmans." So, we're sure we'll see him at many awards ceremonies in the future, but hopefully in a slightly different outfit. He made his appearance at the Golden Globes in a pale blue tuxedo that called to mind memories of high school proms from the disco era. A basic black or a bolder color would have suited the occasion better.
This dress is in trouble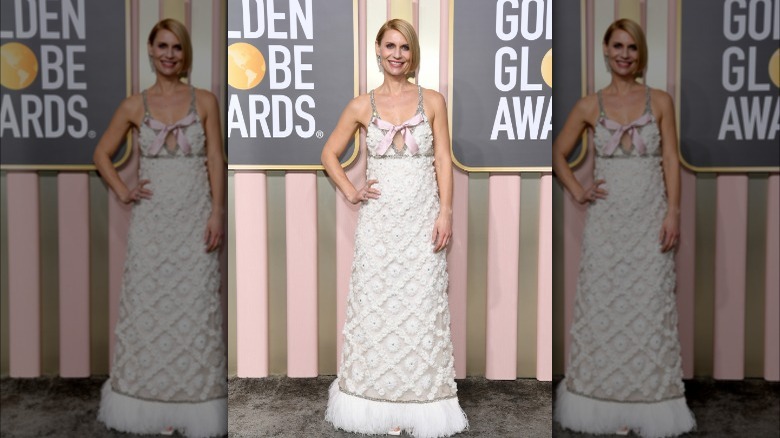 Jon Kopaloff/Getty Images
Claire Danes was at the 2023 Golden Globes for her Best Supporting Actress nomination for "Fleishman Is in Trouble." However, it seems the only person in trouble is her stylist. While Danes glowed on the red carpet as she showed off her baby bump for her third child with husband, Hugh Dancy, according to People, the actress couldn't distract from all the flowers and feathers on her gown. The bow on the front tied everything together in the worst way possible. 
A green screen disaster waiting to happen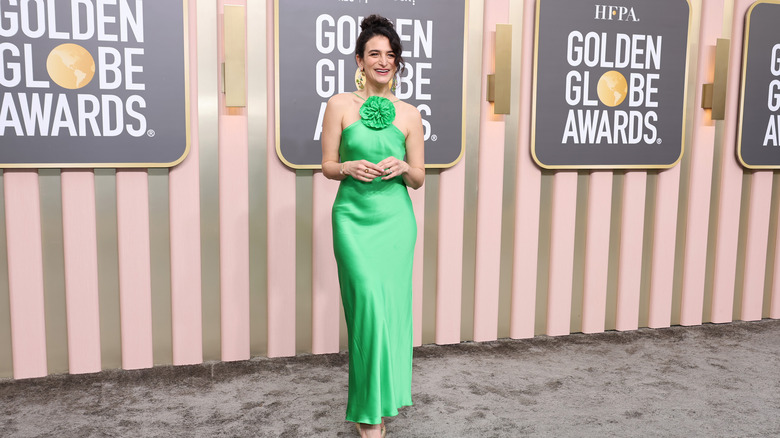 Amy Sussman/Getty Images
While Jenny Slate can normally do no wrong, she did something wrong by picking a green dress for the 2023 Golden Globes. She should have known that this particular color green is prime for photoshopping. When Kate Middleton wore this shade to the Earthshot Prize Awards in December 2022, Twitter had a field day editing the dress for their amusement (via Cosmopolitan). Hopefully, Slate doesn't get the same treatment, but it would be nice if someone could photoshop out the flower on her dress.