Could Sea Salt Spray Be Damaging Your Hair?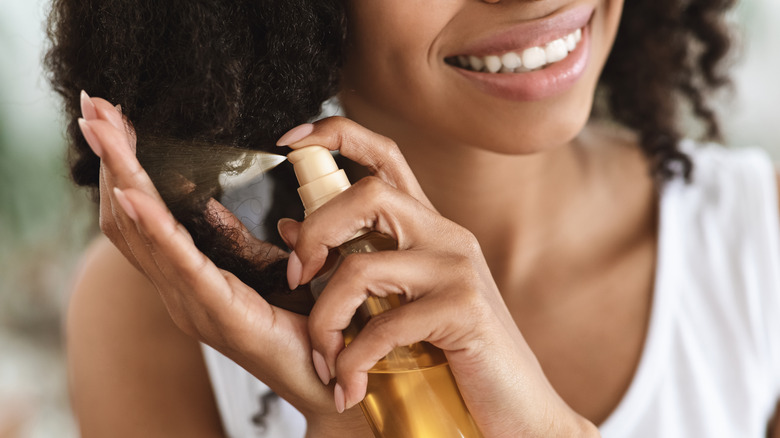 Prostock-studio/Shutterstock
There are many different sprays out there marketed to fix, change, or enhance your hair. According to Davines, the base of any sea salt spray is pretty simple: it is a mixture of salt and water, along with a few other ingredients, that is meant to help achieve that just-left-the-beach look without actually having to get in the ocean. Those who use sea salt sprays are often hoping for texture and volume or even a product that can help greasy hair see another day without washing.
Sea salt sprays have been around for a while. In fact, per Hairstory, the first sea salt products were released in the 1990s and they quickly became popular with consumers as they were deemed a safe hair option with unlimited uses. Sea salt sprays are also a go-to product for hair stylists because they work on pretty much every type of hair. And while there are many benefits to using sea salt spray, there are some hair types who may want to steer clear of the product to avoid damage.
Sea salt spray can have negative effects to the hair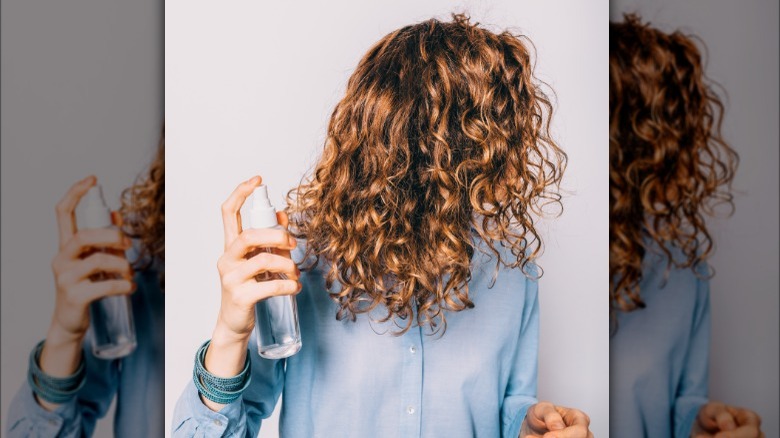 progressman/Shutterstock
While sea salt spray has been used for decades without truly damaging hair, there are some cons to using the spray often. According to Hairstory, if you have frizzy hair or split ends, you may want to limit your use of sea salt spray. Similarly, the spray can be drying to all hair types as it takes the water out of your hair and contains alcohol, per StyleCraze. But don't let that scare you. If you are hoping for those luxurious beach waves, StyleCraze still recommends using a sea salt spray on your hair, just try to find one that also contains natural oils to combat the drying agent.
To prevent your hair from drying out while using sea salt sprays, StyleCraze recommends using a coconut oil mask about once per week to keep your strands hydrated. They also advise shampooing your hair about twice per week to ensure you are getting all the salt residue out of your hair and using conditioner every time you wash. An argan oil-based hair serum can also help combat any drying from the spray. Glycerin is also a game-changing product for dry hair and can help combat any dryness brought on by the salt.
The best sea salt spray products to use
Although sea salt can dry out your hair, if you use the correct products, it can also do wonders for it. As Davines noted, sea salt spray can do so much for your hair beyond just giving you a beachy look. It reduces frizz, adds volume, enhances naturally curly or wavy hair, tames thick hair, adds texture, absorbs grease from second-day hair, and allows for more hold when doing updos or braids.
If that sounds like all the things you would love to have, make sure you are buying the right one. Healthline recommends using one that includes moisturizing products in the spray and ones that are lightweight and have a matte texture to avoid that greasy feeling. They also advise paying attention to your hair type. If you have naturally straight or wavy hair, consider the Nexxus Between Washes Sea Salt Spray or the TRESemme Expert Selection Perfectly (Un)Done Sea Salt Spray. Those with fine hair should try the Kevin Murphy Hair Resort Spray, which is a lightweight option that contains citrus oil for an added shine.
Other great options include the Playa Beauty Endless Summer Spray, which is ideal for curly hair, and Not Your Mother's Beach Babe Texturizing Sea Salt Spray, which is an affordable option that is great for all hair types.