Lisa Marie Presley's Final Instagram Post Is Even More Heartbreaking In The Wake Of Her Death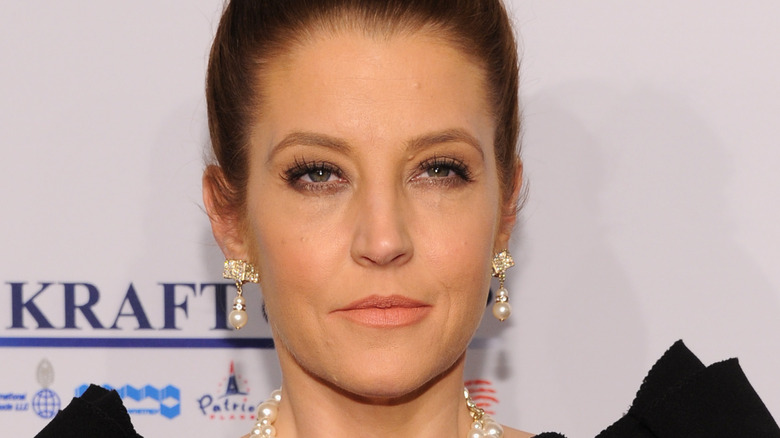 Dimitrios Kambouris/Getty Images
Lisa Marie Presley, the legendary daughter of iconic rock 'n' roller Elvis Presley, died suddenly on January 12, 2023, after reportedly experiencing cardiac arrest and being taken to hospital, per TMZ. Her final days were full of excitement as she celebrated her father's birthday (via Express) and attended the Golden Globes in honor of Baz Luhrmann's acclaimed biopic, "Elvis." 
At the starry awards show, Presley showered Austin Butler, the actor who played her famous father in the movie, with plenty of praise: "It was mind-blowing. Truly mind-blowing," she admitted to ET of watching him onscreen. Butler, who took home the prize for best actor in a motion picture drama, gave special thanks to Lisa Marie and her mother Priscilla Presley, who looked on emotionally during his acceptance speech (via NBC).  
Though Lisa Marie was outwardly all smiles in the days leading up to her death, video footage showed her having trouble walking and standing upright at the Golden Globes (via ET). Likewise, the late singer's final Instagram post, which dates back to August 2022, revealed that the tragedies she faced throughout her life were still taking their toll on her. 
Lisa Marie's final Instagram post was all about grief
Lisa Marie Presley famously lost her father, Elvis Presley, at the age of 9. The profound losses didn't stop there for Lisa Marie either. Her only son, Benjamin Keough, died by suicide in 2020 (via People). Lisa Marie's final Instagram post featured an image of her and Benjamin, and was captioned, "In honor of it being National Grief Awareness Day, I wrote an essay about Grief ... I thought I'd post it here in the hopes that anyone who needs to hear all of this it helps in some way."
In the essay, published by People on August 30, 2022, Lisa Marie wrote, "Death is part of life whether we like it or not — and so is grieving. There is so much to learn and understand on the subject, but here's what I know so far: One is that grief does not stop or go away in any sense, a year, or years after the loss. Grief is something you will have to carry with you for the rest of your life, in spite of what certain people or our culture wants us to believe. You do not 'get over it,' you do not 'move on,' period." 
The rest of the essay confirmed that in the months leading up to her death, Lisa Marie was still struggling with the tragic death of her son: "I already battle with and beat myself up tirelessly and chronically, blaming myself every single day and that's hard enough to now live with, but others will judge and blame you too, even secretly or behind your back which is even more cruel and painful on top of everything else. ... Nothing, absolutely NOTHING takes away the pain, but finding support can sometimes help you feel a little bit less alone." 
If you or anyone you know is having suicidal thoughts, please call the National Suicide Prevention Lifeline​ by dialing 988 or by calling 1-800-273-TALK (8255)​.
Hollywood was left reeling by the devastating loss of Lisa Marie Presley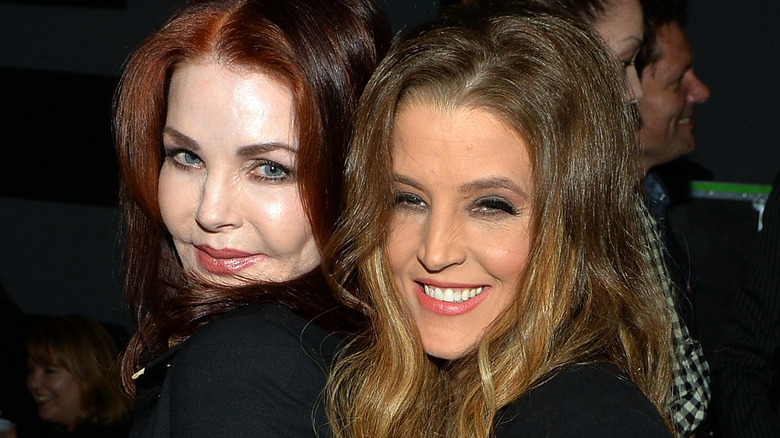 Rick Diamond/Getty Images
Suffice it to say, Lisa Marie Presley's relationship with her daughter, Riley Keough, was incredibly close. And the entire Presley brood was understandably heartbroken by the loss of the matriarch. "Priscilla Presley and the Presley family are shocked and devastated by the tragic death of their beloved Lisa Marie," Priscilla Presley shared in a statement, per CNN. "They are profoundly grateful for the support, love and prayers of everyone, and ask for privacy during this very difficult time."
The loss has rocked Hollywood too, with several celebrities paying tribute to the late singer. "Lisa baby girl, I'm so sorry. I'll miss you but I know I'll see you again. My love and heart goes out to Riley, Priscilla, Harper and Finley," wrote actor John Travolta on Instagram, while Jennifer Tilly shared a photo on Twitter from a recent visit to Graceland, noting, "The guide was telling us that sometimes she would have dinners in the dining room, and once she had a party for her friends in the plane named after her. Rip sweet soul." 
Elsewhere, Leah Remini hinted at some of the difficulties she had throughout her life, tweeting, "I'm heartbroken over the passing of Lisa Marie Presley. Lisa did not have an easy life, as some might think. May she be at peace, resting with her son and father now. Her mom Priscilla and her three daughters, Riley, Finley, and Harper, are in my prayers."