The Biggest Mistake You're Making With Party Makeup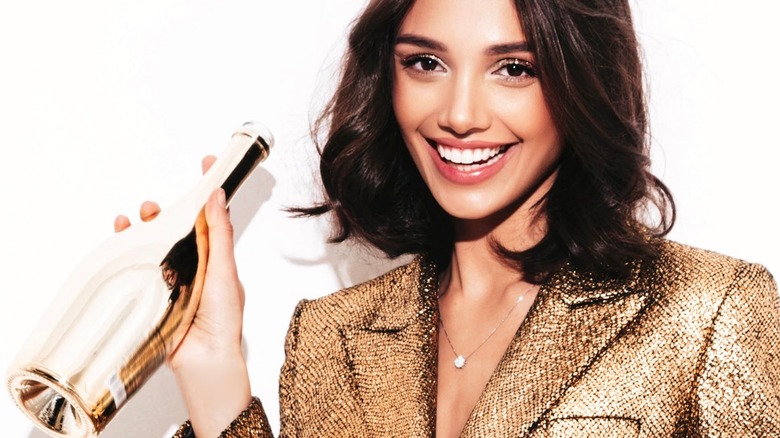 Halay Alex/Shutterstock
You got it. The invite of the year. The biggest, most spectacular party and you're definitely going. Your RSVP is in, you picked out your date and your dress, and have been saving hairstyles on Instagram all week. What's left? Your makeup look, of course.
The first thing to consider is the time of your party. Is it a day event, or an evening soiree? The difference between the two is the lighting, which will affect how you apply your makeup. What looks good in bright sunlight could get lost in a dark ballroom, and what works in dim lighting has the potential to look overwhelming in the daylight hours.
To start, Goop recommends using the foundation you already know looks good, layering it if you want more coverage for your party look. The site also reminds you that a picture is worth a thousand mirrors. Since photos are a given at the big event, be your first photographer and snap a selfie to see if your foundation and concealer hold up against a camera. As for the rest of your makeup, there's a big don't, as well a big do...
Don't overdo your party makeup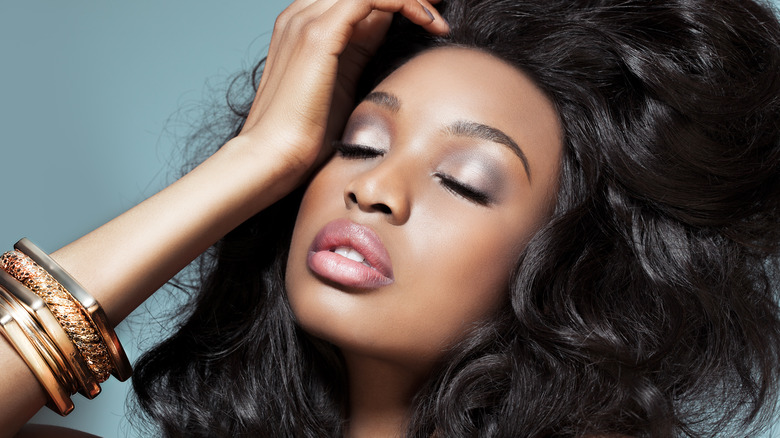 Iconogenic/Getty Images
Yes, you want to do a little something extra special with your look for the special occasion, but that doesn't mean you should apply every product in your makeup bag. You definitely want to do an edit, picking and choosing to achieve your desired look.
If you want to do a bold lip as well as bold eyes, you absolutely can, says Glamour, but you should skip the blush and contouring, pairing them with a natural, glowing complexion instead. To achieve a subtle shine, makeup artist Troy Surratt says to go ahead and apply a highlighter product, but only on the top of the cheeks and the tip of the nose, and not all over, he tells Allure.
If it's a glitter kind of event, avoid the stuff in your craft closet and opt for a shimmery eye shadow instead, recommends Surratt. The flecks will give you a subtle sparkle when the light hits your eyes. To make sure the glitter doesn't wind up all over your face, makeup artist Sarah Oulagnon tells Cosmopolitan the trick is to mist a brush with setting spray and apply it to your eyelids before the shadow.
Do make sure you're prepping before applying makeup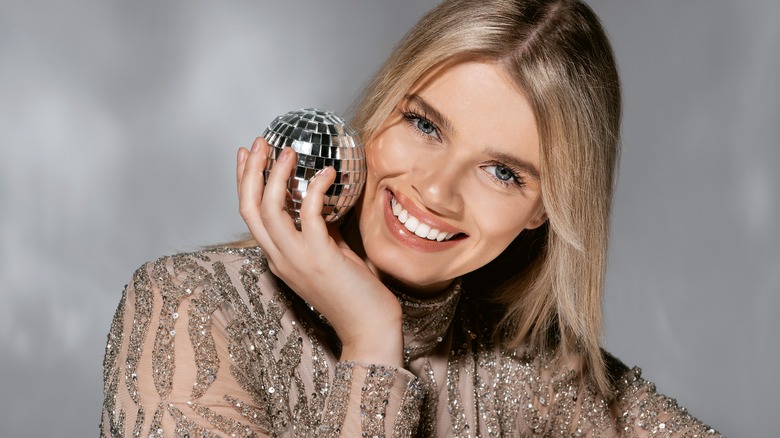 HighKey/Shutterstock
You can have the perfect shade of foundation the best shimmer powder, and the ultimate red lipstick, but putting them on an unprepared face does not spell a pretty finish.
Makeup icon Bobbi Brown shared with Katie Couric that any makeup product in your bag will look better if you start with healthy skin. The artist says a good skincare routine is key, including cleansing, moisturizing, and drinking water. She also has a few pre-makeup tips: "Always apply an eye cream before applying concealer or eyeshadow ... and hydrate your skin with a good moisturizer."
Lip prep is also important, especially if you've decided to go with a bold lip for your party look. "Using matte, heavily pigmented lipsticks before properly prepping the lip is one of the worst makeup mistakes," declares makeup artist Matin Maulawizada via Women's Health. Gently exfoliate with a lip scrub, then apply a moisturizing lip balm before adding your color. And don't forget to tuck your lipstick in your handbag. You'll want to touch up your color after sipping champagne!