Why Kourtney Kardashian Only Applies Products To Her Neck In An Upward Motion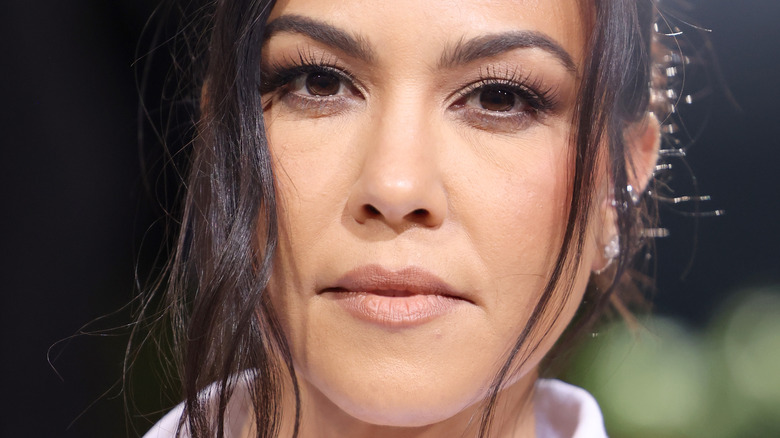 John Shearer/Getty Images
It's safe to say the Kardashians have pretty much become the queens of all things beauty and style over the years. The famous family have a slew of current and former beauty lines behind them (the crazy successful Kylie Cosmetics from Kylie Jenner and Kim Kardashian's former line KKW Beauty to name but two!) with "The Kardashians" stars even branching into skincare so that we can all attempt to achieve their glowing, flawless complexions.
The uber-healthy Kourtney Kardashian has been one of the most vocal sisters when it comes to skincare though, often sharing her go-to products with the world, as well as sharing her biggest tips and tricks when it comes to how she still looks so darn youthful. But how does she do it? Well, it turns out it's as much in the application as it is the products themselves, as the Poosh founder revealed an invaluable hack she always uses when it comes to applying products to her neck that is a total game changer for those wanting to emulate her ever-youthful appearance.
Kourtney Kardashian uses Khloé Kardashian's neck trick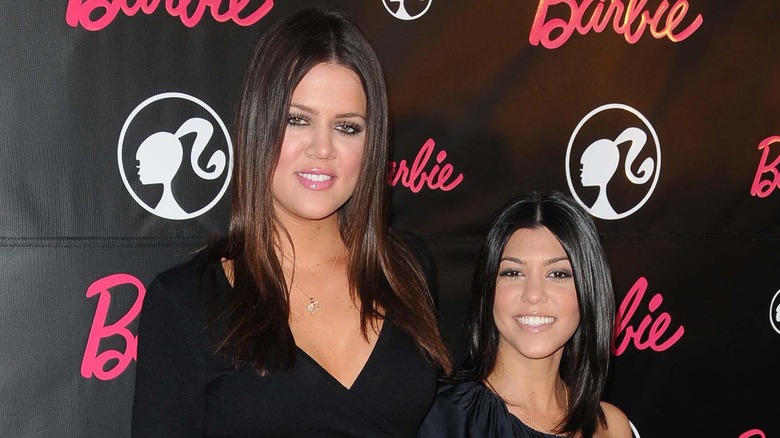 s_bukley/Shutterstock
One of Kourtney Kardashian's biggest hacks when it comes to skincare? Only ever applying things to her neck in an upwards motion. Kourtney revealed the beauty secret in her "Go To Bed With Me" video for Vogue back in 2019, in which she admitted it was actually a pro-tip taught to her by her own sister, Khloé Kardashian. "Khloé taught me this trick. To, on your neck, to put everything going upwards," she told the camera as she applied a facemask with her fingers in upward strokes. Kourtney admitted she'd never done that before Khloé suggested it to her the month prior, while also giving us a walkthrough of her impressive nighttime routine.
As for why applying in upwards strokes can be such a game changer? It helps to fight off gravity's pull. Yep, According to Adore Beauty, using an upward motion can actually actively help prevent sagging on the neck, as the skin around the area is particularly thin and can often be a tell-tale sign of aging. "The skin on your neck is a little bit thinner than your face, and the muscle and skin tissue [are] weaker," Helen Flamenbaum of Schweiger Dermatology Group explained to Byrdie.
The Kardashians have plenty of other tips to keep their necks looking youthful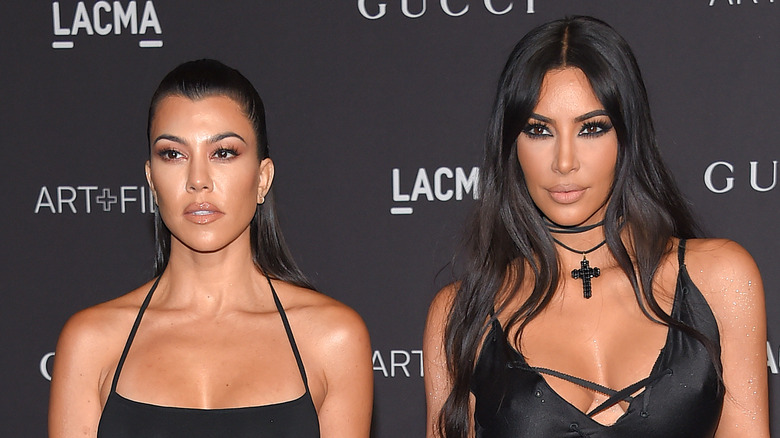 DFree/Shutterstock
Applying products in upwards motions isn't the only tip the Kardashian clan have for keeping that part of the body looking as good as their faces. In fact, Kourtney Kardashian even dedicated a whole blog post to keeping the skin on the neck looking youthful, with her lifestyle brand Poosh sharing a few other tips and tricks to avoid what's often described as "tech neck" (aka developing creases because we spend so much of our time looking down at technology). Amongst the recommendations? Always applying neck cream at night and (of course!) putting it on in upwards strokes that stretch as far up as the jawline and behind the ears.
As for Kourtney's sister Kim Kardashian, the Skims founder has revealed that she's taken extra steps to keep her neck looking good after admitting she's long been worried about that part of her body aging. Writing on her since defunct app in 2016, Kim shared that she'd received laser treatments from Dr. Simon Ourian. "I especially love laser ultrasound for your neck. I'm obsessed with my neck getting old, and Dr. Ourian really helps," she wrote (via Hello!), adding, "A major trick of the trade is to get laser treatments."