The Body Cream Hailey Bieber Swears By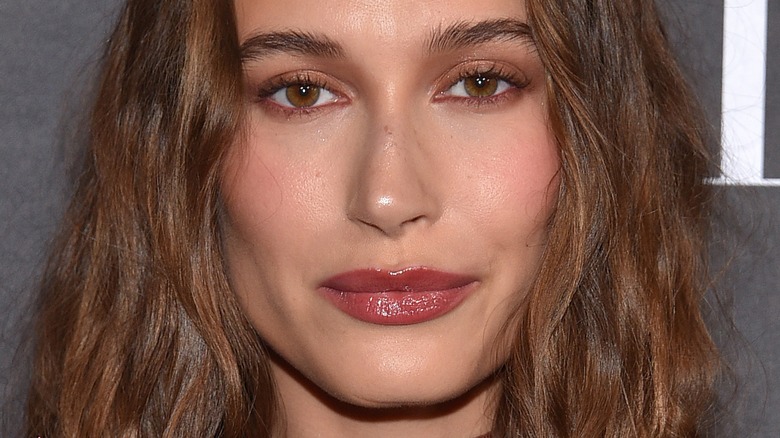 DFree/Shutterstock
While Hailey Bieber may be the queen of the "no-makeup" makeup look, there's no doubt that starting with perfect skin is essential to the process. After all, who needs makeup when your skin is already flawless? However, achieving amazing skin isn't something that just happens overnight. It has been a long journey for Bieber, who often shares her makeup and skincare hacks with her social media followers. Unsurprisingly, these days, she uses products from her own skincare line, Rhode Skin. Per the Rhode website, Bieber wanted to create products that could simplify skincare and become "go-to essentials."
It would make perfect sense if Bieber's favorite body cream was a product in her own skincare line, but it's not! That alone should speak volumes about the quality of this cream. The truth is, Bieber's holy grail body cream was a staple in her collection long before she launched her own skincare line.
Brazilian Bum Bum Cream is Hailey Bieber's go-to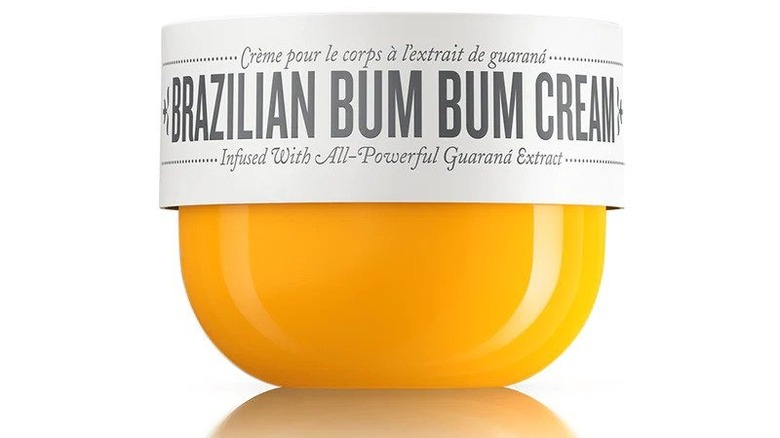 Sol de Janeiro
Fellow caffeine lovers, rejoice! Who needs to drink coffee when you can wear your caffeine? The Brazilian Bum Bum Cream by Sol de Janeiro that Hailey Bieber uses for body care contains five times the caffeine content of coffee. This is thanks to an ingredient called guaraná, which is a fruit found in the Amazon rainforest that works well in skincare because it "stimulate[s] micro-circulation and boost[s] energy for smoother-looking skin," per the product page for the cream. However, that alone isn't the reason this cream made it into Bieber's collection. When Bieber chatted with Refinery29 about Bum Bum cream back in 2016, she noted that "it smells amazing," adding, "It's like I'm on the beach."
The Sol De Janeiro Brazilian Bum Bum Cream is a bestseller and even has the Allure Reader's Choice stamp of approval for 2020. The product description explains the scent as being "irresistible" with notes of "pistachio, salted caramel, and vanilla." The unique scent combination alone is likely enough to make this product fly off the shelves, but the results have kept buyers coming back time and time again.
Other notable buyers that can't get enough of the product include Hilary Duff and Selena Gomez. Duff once gushed about being "obsessed" with the cream to The New York Times, while Gomez told British Vogue she used the product to help with peeling after a trip.
Hailey Bieber's mom taught her skincare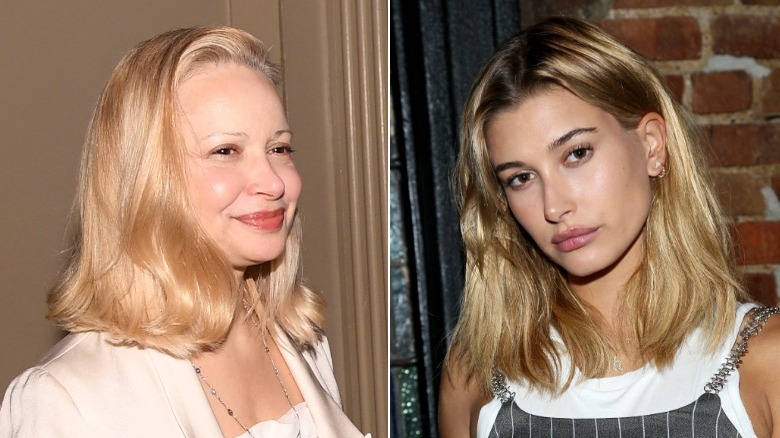 SD Mack/Shutterstock & Dimitrios Kambouris/Getty
While we've normalized having a multi-step skincare routine for our faces, lotions and creams for our bodies can often be overlooked. Many people even forget about their body's skincare needs altogether. Lucky for Hailey Bieber, her mom instilled in her the importance of full-body skincare when she was young. In January 2023, Bieber explained on The Run-Through with Vogue podcast that, as a child, after she would get out of the shower or bath, her mom would say, "you're not leaving this bathroom till I slather you from head to toe in hydration and creams."
Bieber's mom sounds like the real MVP since it's not uncommon for people to wish they'd started their skincare journey much earlier. However, there is truly no time like the present and if the Sol De Janeiro Brazilian Bum Bum Cream has Bieber's stamp of approval, it must be the real deal. According to the Sol De Janeiro website, the cream can be used on just your bum or massaged into the rest of your body using circular motions. 
Before you know it, you could have skin that glows just like the Rhode founder herself.