How To Keep Frequently-Colored Hair From Drying Out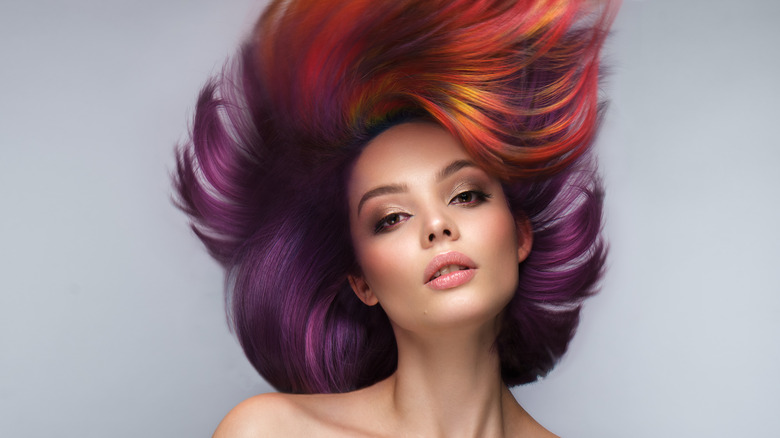 KOBRIN PHOTO/Shutterstock
Whether you're a blonde, brunette, redhead, or somewhere in between, you've probably wondered what it would be like to change up your hair color. For many, the journey of self-discovery and self-love begins with a hair transformation. In 2019, Statista found that 64 million people used some form of hair coloring product at least once, showing just how popular the practice is. From the cowgirl copper hair trend to the buttercream blonde ponytails and honey beige bangs strutting down fashion runways this season, there's no shortage of shades to try if you're feeling adventurous (via Allure). 
But keeping up with the latest shades can come at a cost. In fact, if you find yourself dyeing your hair too often, you may experience dry, brittle hair and, in extreme cases, breakage. Luckily, we found a few tips and tricks to keep your hair happy and healthy while expressing yourself with different hues. 
Kick these bad habits to achieve healthy color-treated hair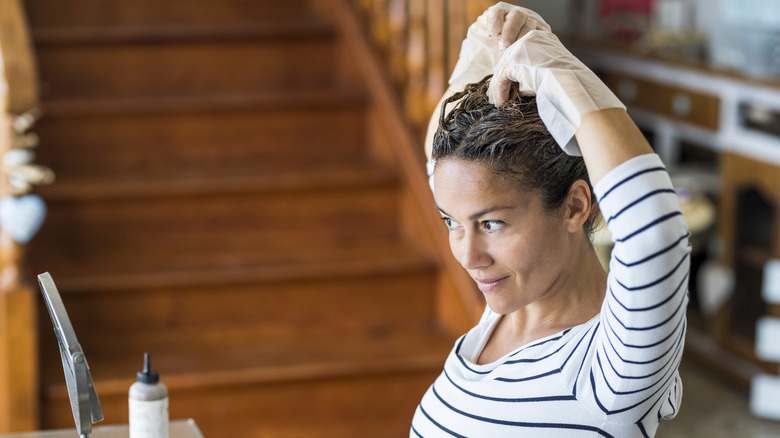 simona pilolla 2/Shutterstock
If you're battling dry, color-treated hair, one of the best things you can do is wash it less often. This helps maintain your scalp's natural oils and prevents the color from fading too quickly. Per Bustle, colorist Haleh Lekkos recommends washing color-treated hair only two or three times each week. If you need to revamp your hairstyle in between washes, dry shampoo is your best friend. For color-treated hair, stylists at AllThingsHair recommend Suave Professionals Keratin Infusion Color Care Dry Shampoo. This product is gentle on your color while keeping your greasy 'do at bay, but use it sparingly — too much dry shampoo can lead to irritating buildup.
After washing dyed hair, you should also try to avoid using heat styling tools on your fresh locks. When heat is a must, L'Oréal Paris advises air drying your hair before styling and using a heat protectant before applying tools like curling irons or straighteners. Too much heat on color-treated hair can take away your hair's vibrance and shine, especially when you decide to try vivid hair colors. It can also lead to breakage, as your strands are especially vulnerable because of the pigment-changing chemicals used during the dyeing process (via InStyle).
Products to keep your hair hydrated and brightly colored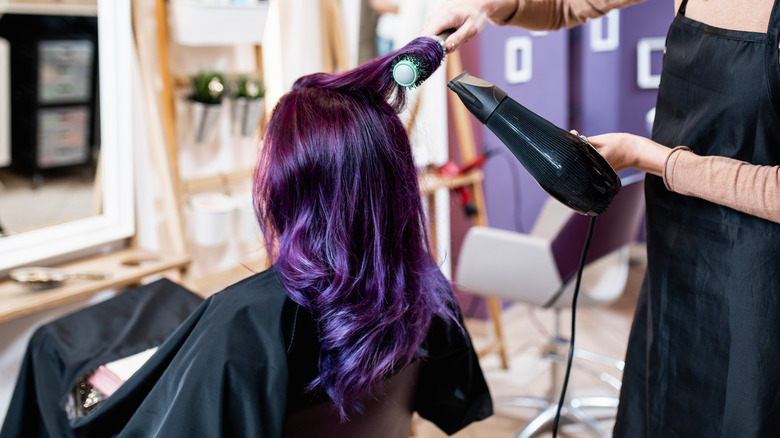 hedgehog94/Shutterstock
Next time you're shopping for products to combat dry strains and breakage, keep these tips in mind. To prevent drying out your frequently-colored hair, avoid shampoos with harmful chemicals that strip your hair of moisture and dull your color. Professional hair colorist Richy Kandasamy tells Vogue that "sulfates, parabens, sodium chloride, and petrochemicals" found in most shampoos can seriously dry out your hair. Switching to sulfate-free moisturizing shampoo will clean your scalp without leaving your hair feeling stiff and frail.
Frequently moisturizing your hair with a color-safe conditioner is also one of the best ways to combat dryness. Even when you're not washing your hair, a quick conditioning treatment can help lock in moisture while strengthening your strands. L'Oréal Paris also recommends using a leave-in treatment before styling and investing in a hair mask to give your hair extra shine.
Feel confident no matter what hair color you choose next with these simple changes to your hair routine and achieve the vibrant, hydrated locks of your dreams.