How To Get Rid Of Dry Shampoo Buildup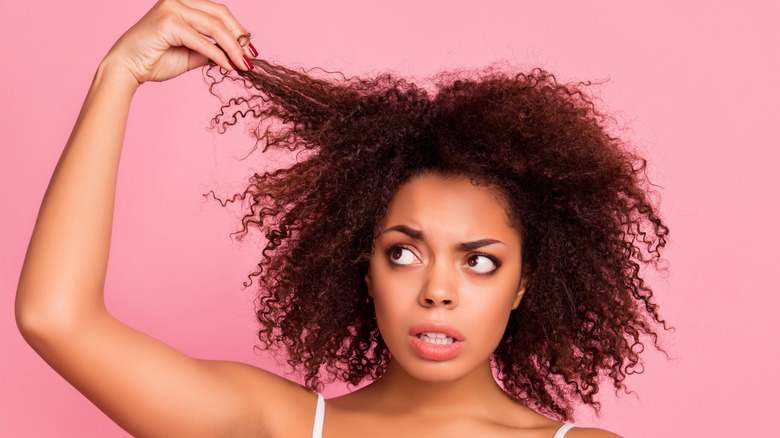 Shutterstock
When it comes to haircare, you can feel overwhelmed. You're never too sure how often you should be washing your hair and what products are best. Sometimes, you just opt for the quickest way to maintain your locks — and that's with dry shampoo. It's so simple to spray on some dry shampoo, work the product into your scalp, and go about your day. According to Gio Bargallo, a colorist at Rita Hazan, dry shampoo can not only reduce the appearance of greasy hair between washes, but it's often used by stylists to provide amazing volume (via Good Housekeeping). It's basically a miracle product you want to use every single day, but you know that after some time, your dry shampoo can start to build up. 
That's when you know you need to wash your hair. However, it can be a bit tricky getting out all of the dry shampoo buildup you have on your scalp with just a typical shower. According to Well+Good, by applying too much dry shampoo over time, you could actually really damage your hair. Shaylee Blatz, a Nine Zero One senior stylist, says that without properly removing your dry shampoo, you can cause more "dandruff and the hair to weaken." 
There are some items in your kitchen that could help deep clean your scalp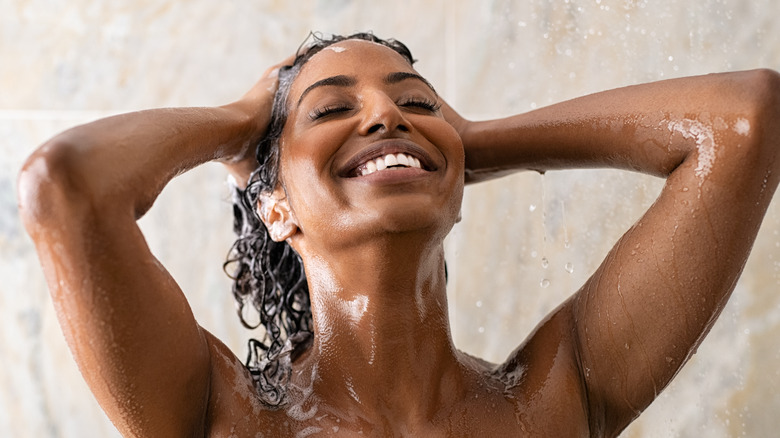 Shutterstock
You definitely don't want to ruin your hair from too much dry shampoo. So, if a normal shower and shampoo isn't good enough, there are some extra steps you can take. Makeup and Beauty Blog actually has a couple tricks you can use to get rid of dry shampoo buildup, and the first one is just to use a clarifying shampoo. According to Allure, clarifying shampoos are "deep cleansers" that do more than just your typical shampoo. You should be washing your hair with a clarifying shampoo "every two weeks," and you can always check with your hairstylist for recommendations of which ones to get.
Other tricks you can try at home include using either an apple cider vinegar or lemon juice rinse. Both are acidic and can help to restore the pH balance of your hair. Another product you might be able to find in your kitchen is some baking soda, which you can use to exfoliate the scalp with. While it may seem counterproductive to rub in another powdery substance, baking soda is actually great at breaking down the buildup. In fact, Taste of Home says that washing your hair with a baking soda mixture is the best kept beauty secret. Of course, you could also just give your dry shampoo a bit of a break or be better about detangling your hair to prevent any buildup in the first place.