Antiquated Bridal Shower Traditions You Can Leave Behind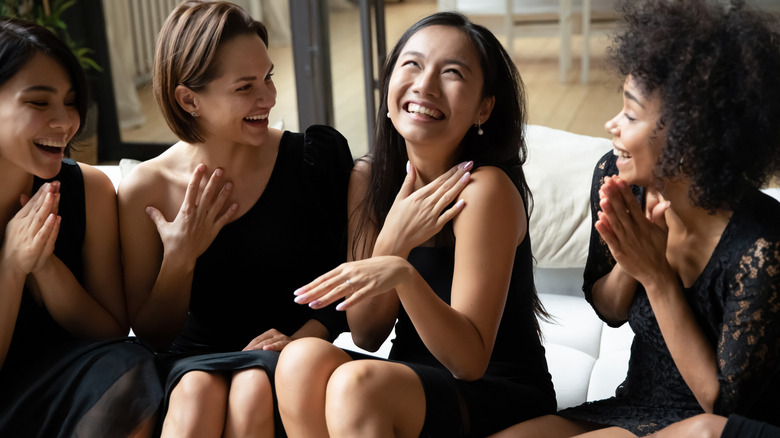 fizkes/Shutterstock
Bridal showers are an opportunity for the female friends and family members of a woman who's getting married to celebrate her ahead of her big day. Whether it's a surprise party or a pre-planned luncheon, brides typically receive gifts for the home that they're about to build with their spouse. It's an opportunity for the bride to chit-chat with the women she'll be seeing on her wedding day, enjoy a mimosa or two, and let people ask her all kinds of questions about what she and her partner are planning. Over the years, bridal showers have transformed, with some people incorporating games or thinking up other ways to keep the group of women entertained for a few hours.
If you're newly engaged, the person you choose as your maid of honor may already be thinking about planning your bridal shower, as the task usually falls to the bridal party and the close female relatives of the bride. For some brides, a shower can be a stressful event rather than a joyous one. However, there are some traditions that can be skipped in order to alleviate some of that anxiety and give you and your guests a better experience overall.
Don't open your gifts in front of everyone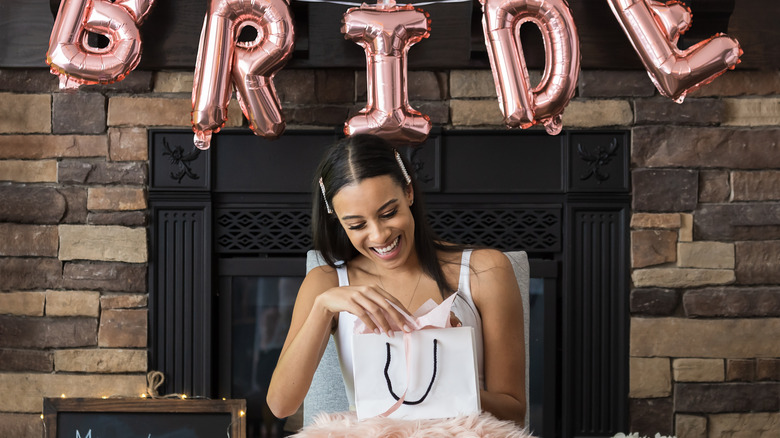 Traci Beattie/Shutterstock
If you're someone who doesn't like to be the center of attention or you simply don't want to be put on the spot as you unwrap the $300 tea kettle that your aunt splurged on, you can easily skip the gift-opening portion of your bridal shower. While some people who attend your shower may want to ooh and aah over the place settings you've picked out, skipping this can save your guests any uncomfortable feelings of being judged for the money they spent on you or the level of thoughtfulness they put into their gift.
Don't invite every single woman that you're inviting to your wedding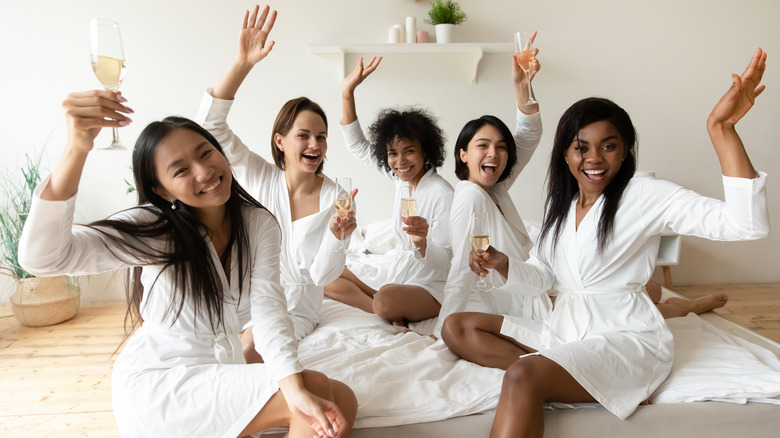 fizkes/Shutterstock
Traditionally speaking, all of the women who are invited to the wedding are invited to the bridal shower. The bachelorette party usually includes a much smaller group made up of the bride's girlfriends, though it does expand past the bridal party. However, keeping your bridal shower more intimate is perfectly acceptable and can help save money. Consider inviting people you actually know and are closer to rather than every female on your guest list. Having a smaller bridal shower can alleviate financial strain and other anxiety.
Don't expect your bridal party to plan — or pay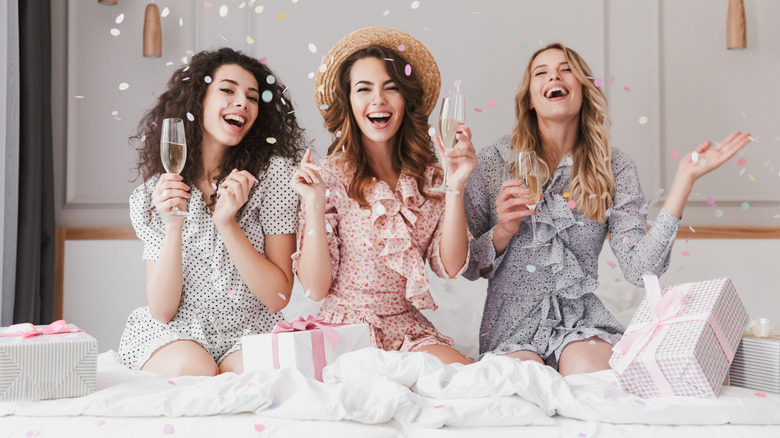 Dean Drobot/Shutterstock
Bridal party expectations can be high for many brides, and that puts a great deal of pressure on the maid of honor and bridesmaids. Having an open conversation about what you'd like at your bridal party is important, but taking the reins is also not out of the question. There's no rule that says that you can't plan your own bridal shower or that you can't be involved in the planning. And if you want to foot the bill, that's also perfectly acceptable and we're sure your friends would agree.
Consider a Jack and Jill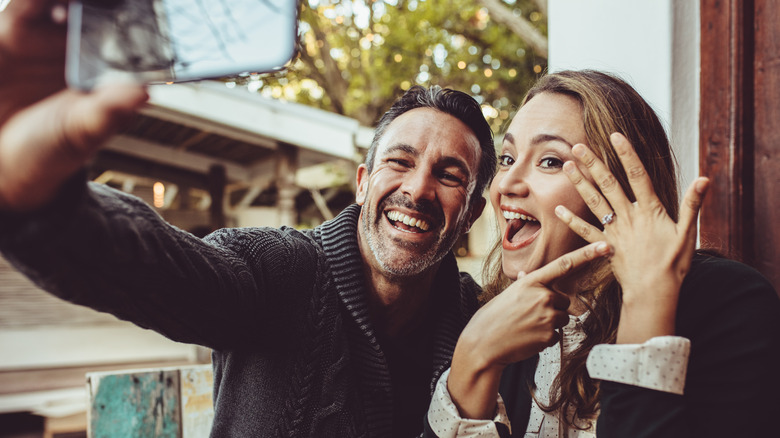 Jacob Lund/Shutterstock
You and your significant other are in this together, so why not celebrate together? In fact, more and more people are doing Jack and Jill parties, meaning the groom attends and so do his buddies. The days of women-only events are fading for some, and many brides like the idea of being "showered" alongside their beau. There's nothing that says you can't do the same! Of course, there are some guys that won't have any interest in attending a bridal shower, so be mindful of that when going through the RSVPs, and don't take it personally.
Stop catering to other people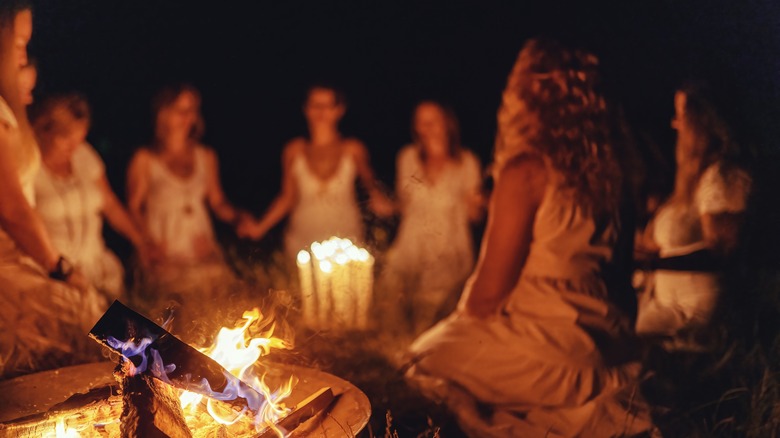 Jozef Klopacka/Shutterstock
While a lot of people will try to accommodate those around them to make sure everything is just right for everyone else, your bridal shower is one day when you really don't have to do that. Of course, you may want to be absolutely sure that your mom and your favorite cousin can attend, but you need to ultimately choose the day and time that works best for you. This also goes for your bridal shower theme and what you want to do to celebrate your shower. If you don't want to do brunch, don't. If you want to have a magician perform, go for it. 
Give up the games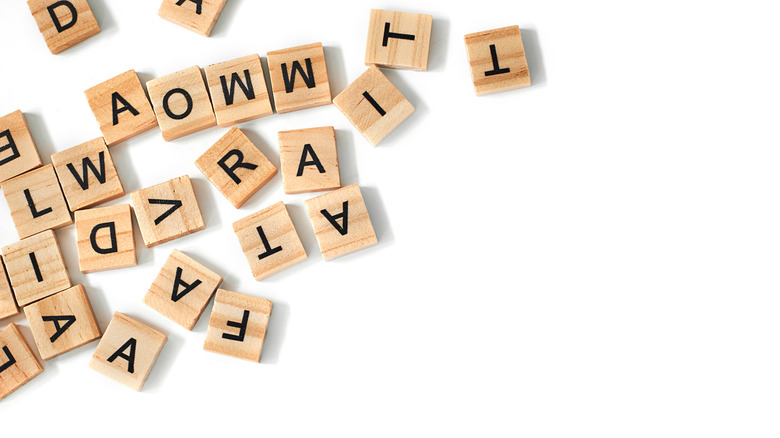 Serhii Khanas/Shutterstock
For years, bridal showers have been a place for people to mix and mingle, to get to know one another and to get closer to the bride, who is set to embark on a new life journey. Games are often set up as icebreakers, and while some can be entertaining, others can be downright cringey. If having your guests participate in games is not high on your bridal shower to-do list, you shouldn't feel obligated to have any. There are plenty of things for women to talk about without the need for them to go on a scavenger hunt around the restaurant. 
Ditch the white dress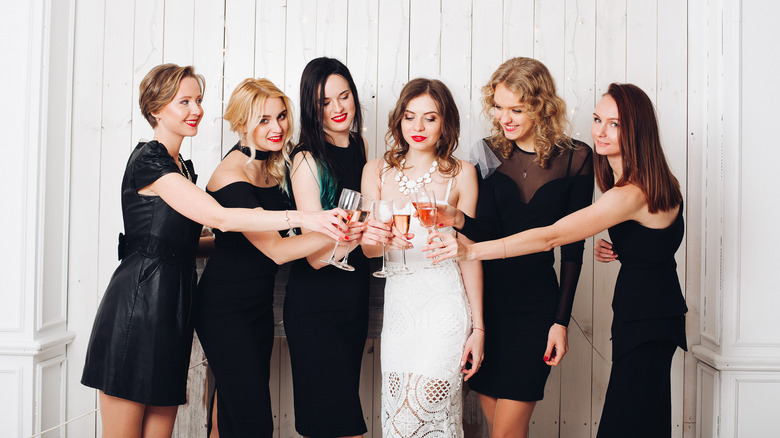 Studio Lucky/Shutterstock
We get it. You're a bride, and your friends can't wait to see you in your gorgeous wedding gown on your special day. That said, there really isn't any written rule that says that the bride must wear white to her bridal shower. If you don't want to, don't. Wear something that looks good on you and that you feel good in, regardless of what color it is, and don't put too much thought into finding another white dress this year.
Skip the embarrassing gifts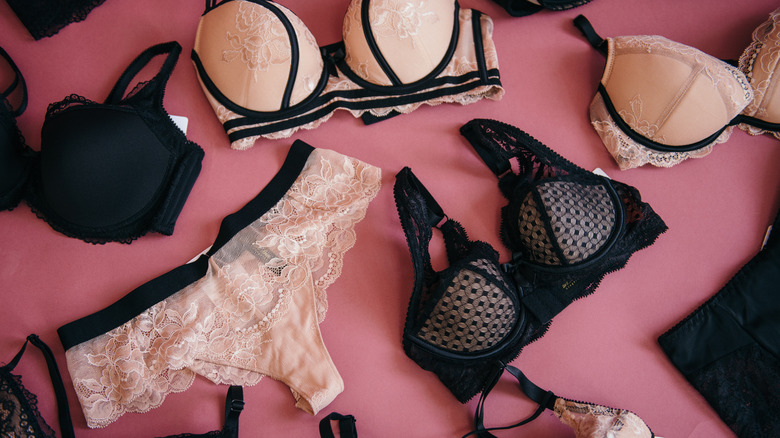 Vovchyn Taras/Getty Images
We can pretty much promise you that no one wants to open a gift box filled with lingerie in front of their family members, no matter how close they are. So, if you're going to gift the bride anything inappropriate, we suggest you do so privately or hold onto your present for the bachelorette party. Some things are best kept private, and this is one of them. As an aside, your friend may not want to wear the see-through undies you bought her because, well, they will remind her of you.
Don't be shy about asking for money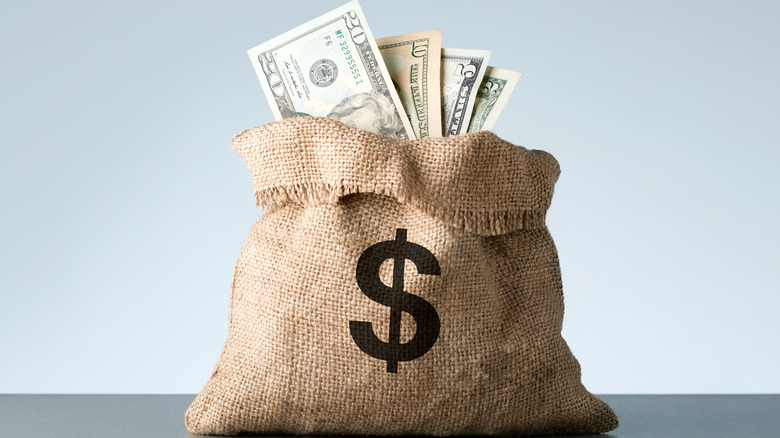 CHUYKO SERGEY/Shutterstock
Let's face it. You and your groom are probably already living together and your home is probably already furnished. Perhaps you don't actually want a set of china to sit in the closet for the next decade of your life. Because of this, there's really nothing wrong with asking for cash, whether it be in the form of gift cards or a honeymoon fund. Sites like Honeyfund make it easy to set up fundraisers or cash-based wedding registries in lieu of tangible gifts.
Don't do a brunch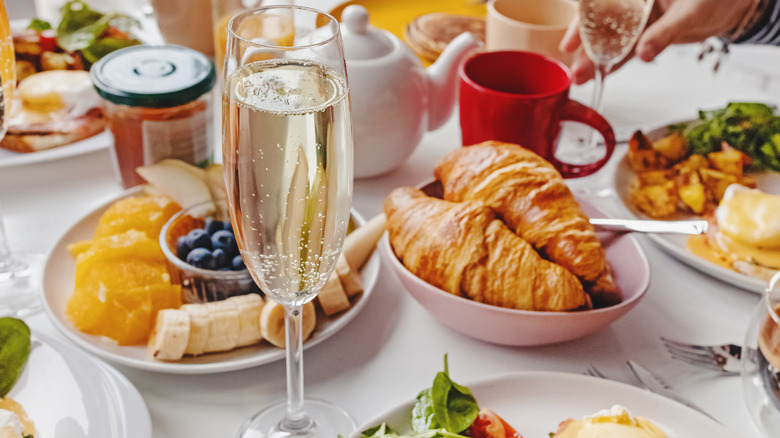 Chiociolla/Shutterstock
It's no secret that brunch is one of the most popular meals to have at a bridal shower, but it's not the only option. In fact, you could forego the meal altogether and just have a dessert party. Want something a little more upscale? Have a bridal shower dinner. The day of the week and the time of the day is completely up to you and if you want to roll with something less traditional, go for it.
Skip the party favors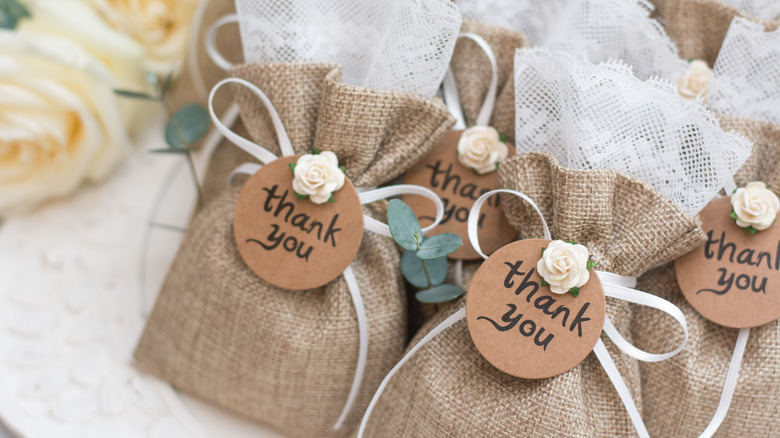 Svetlana Lev/Shutterstock
A lot of people seem to think that guests at a party that usually includes free food also expect to be able to take something else home, but party favors are a thing of the past. Gifting a bridal shower guest a small bottle of nail polish or a memento with the shower's date and the bride's name isn't generally something that people want, and many of these little items end up going right in the trash. 
Don't even have a bridal shower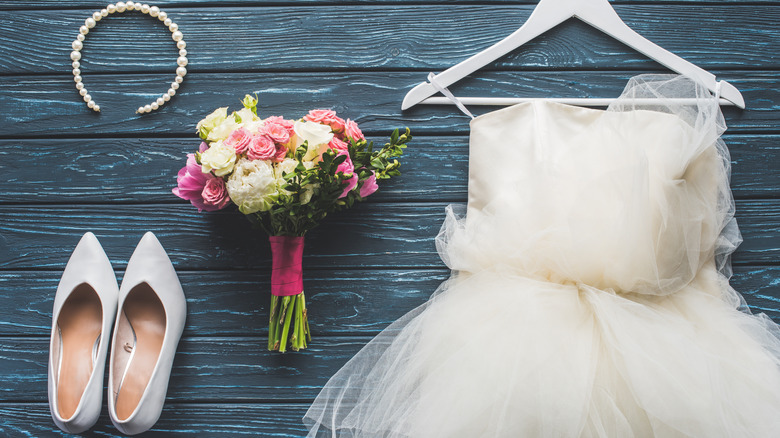 LightField Studios/Shutterstock
Believe it or not, there's no law that states that every bride-to-be must be feted with a bridal shower. Once you get engaged, there's going to be plenty of celebrating you, and a bridal shower may not even be very important to you. Guests are welcome to bring gifts to your wedding, of course, which means you can still register if you so desire, but skipping the whole gift-giving soiree is totally acceptable. 
Don't feel obligated to attend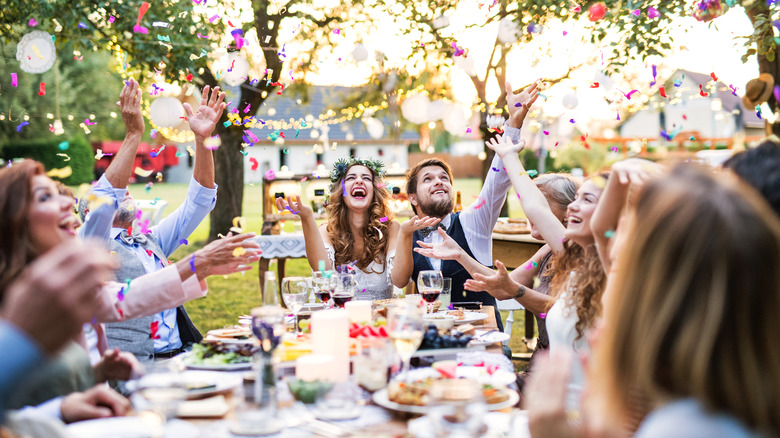 Ground Picture/Shutterstock
A tip for guests who really don't want to attend a bridal shower after receiving an invite: Don't. The bride-to-be likely has a long guest list and while you might be missed, the bride probably won't take your decision personally. Bridal showers can be fun, but they aren't for everyone and you shouldn't feel obligated to attend, especially if you have other things going on that make it difficult. The one exception is if the bride is your sibling or you're in her wedding party.
Don't disregard the registry for something you like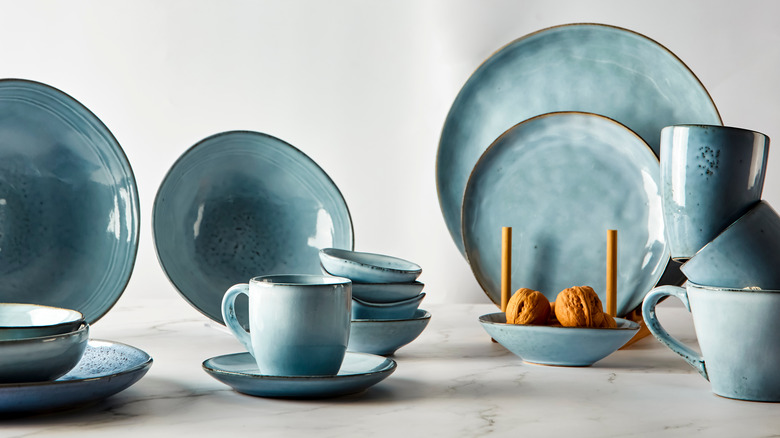 Jenson/Shutterstock
Even if the bride is your best friend, you really should stick with getting her a gift from the registry that she created. Some people like to go off the cuff and pick out something that really speaks to them in the store, but the bride already has an exact idea of the items that she wants. You're better off getting her something that she will definitely like. And, either way, don't forget the gift receipt. Everyone changes their mind from time to time.
Don't knock tradition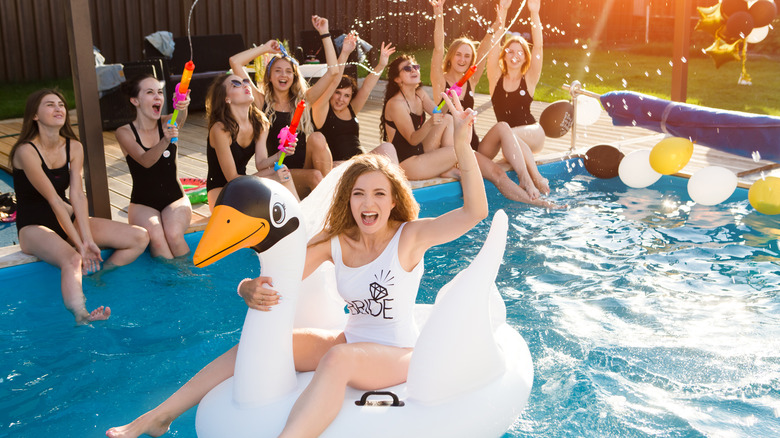 Ulza/Shutterstock
While there are certainly plenty of things that are old-fashioned that you may not want to include at your bridal shower, you shouldn't hesitate to keep with some traditions if they make you happy. At the end of the day, your bridal shower is a day filled with memories as you're surrounded by people who love you. It's important to keep that in mind. So, if you want your maid of honor to make you a ribbon bouquet to carry during your rehearsal, you should do that. And if you feel that you simply must partake in a newlywed game with your spouse-to-be, no one will stop you. At the end of the day, your bridal shower is about you and your bridal style, so don't be afraid to embrace it and make it your own.