To Fix Makeup Smudges, All You Need Is A Cotton Swab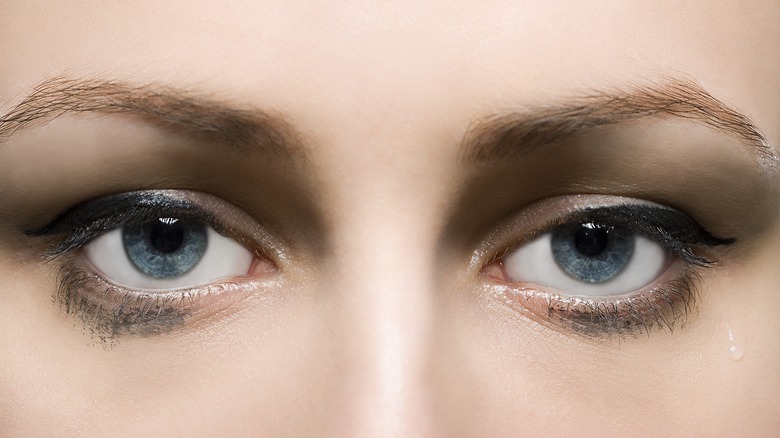 Image Source/Getty Images
We may receive a commission on purchases made from links.
When it comes to applying makeup, let's face it: you're bound to make a mistake at some point. Even those of us who have practiced applying eyeliner for hours aren't immune to unwanted smudges. If you're anything like us, you've probably wondered what the secrets are to preventing your eyeliner from smudging. Beyond the process of putting on makeup, there is also the question of keeping the product from eroding during the day. 
Luckily, there are tools and practices you can use to prevent dark clouds of product from accumulating around your eyes, which is how makeup artists keep eyeliner in place all day. But for the average person who spends hours at work, has to walk through cold winter wind, and uses drugstore makeup products, you may be searching for more ingenious tips for keeping your eye makeup from smudging. Look no further — one of the products that you likely keep on hand in your bathroom is the perfect tool for fixing even the most haphazard makeup mistakes.
Cotton swabs are your best friend when applying eye makeup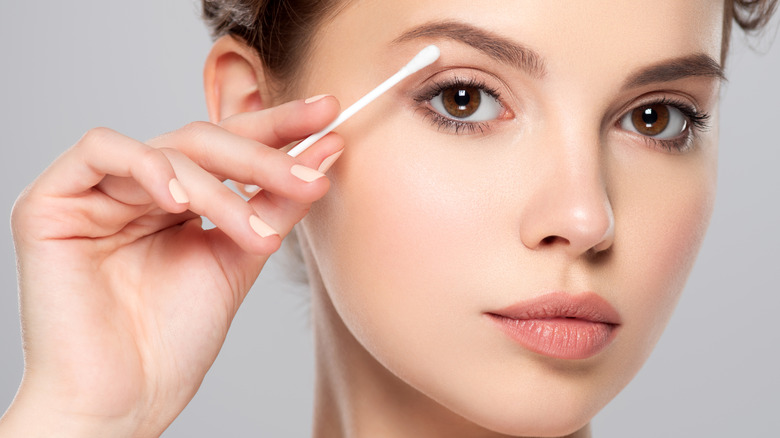 VALUA VITALY/Shutterstock
Cotton swabs can save the day when it comes to makeup smudges and smears. If you have ever attempted an eyeliner-heavy look, you may have encountered stranded lines of product, cloudy smears, or smudges in all the wrong places. When you're channeling your inner Taylor Swift to "draw a cat-eye sharp enough to kill a man," you may benefit from a cotton swab for a cleaner, more professional look. Place some water or a dab of makeup remover on your swab before gently tapping off the mistakes.
But cotton swabs aren't just useful for cleaning up eyeliner smudges. Any eye makeup woe — including clumpy mascara, difficult false eyelash adhesive, or overdone eyeshadow – can be fixed with a swab (via Intrinsics).
Perhaps you aren't trying to get rid of your eyeliner smudge. If you have ever tried to achieve a more grudge-inspired look, you may have noticed that this messy and carefree eye makeup trend is more time-consuming than you probably first thought. Apply your eyeliner like usual and use a cotton swab to delicately smudge the liner, according to MasterClass.
The best cotton swabs to use for makeup mishaps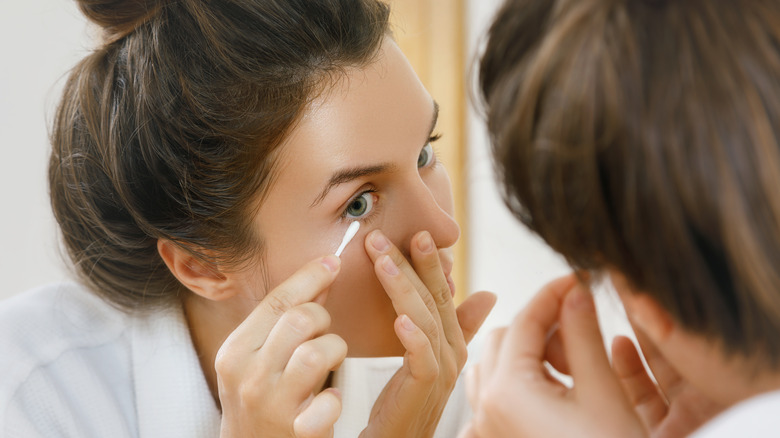 BLACKDAY/Shutterstock
Pretty much any cotton swab will do for a small eye makeup mistake, but some products definitely stand out from the crowd. Alleyoop's Tip Off cotton swabs upped the expectations for the makeup remover shelf in the beauty aisle. According to Yahoo, these cotton swabs have makeup remover within them, adding extra convenience to your skincare routine. Due to their size, each swab is precise enough to remove liner or mascara. And TSA-approved, the Tip Off cotton swabs are a great option for those traveling by air.
Another great option for environmentally-minded makeup lovers is the LastSwab Beauty Reusable Cotton Swab. This sustainable option is an alternative to the classic, one-time-use cotton swab. Placed in a plant-based case, even storage has the environment in mind. To clean, use soap and water after each use. No matter what kind of cotton swab you prefer, they are a tried and true tool for fixing your makeup.