How To Use Foundation To Minimize The Shape Of Your Cupid's Bow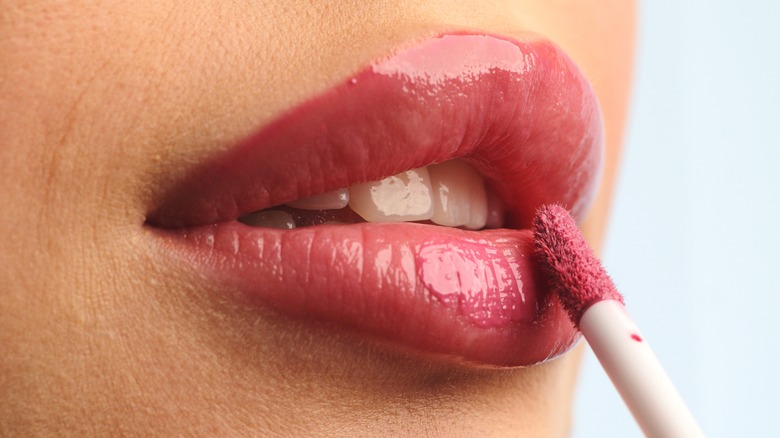 VALUA VITALY/Shutterstock
We may receive a commission on purchases made from links.
If you apply a full face of makeup on the reg and are up-to-date on all the beauty trends that took over the internet over the past few years, you've probably thought about the look of your Cupid's bow — aka that dip at the top of your upper lip — a few times. 
As lipstick trends have changed over the years, so has the ideal look of the Cupid's bow. While it may feel as though the art of learning how to overline for fuller, natural-looking lips was a trend brought about by Kylie Jenner just a few years ago, it-girls have been transforming the look of their natural lip shape via overlining since the 1920s, per Marie Claire. Back then, the goal was to make your Cupid's bow look more pronounced. According to i-D, the rise of #bratzlips of 2020 and 2021 brought about the opposite ideal lip look; some started to prefer a perfectly round upper lip, hiding the Cupid's bow entirely.
Regardless of the Cupid's bow trend of the moment, modifying the shape of your pout has always been a major part of makeup. Consequently, the makeup gurus and beauty trendsetters of the world have been hard at work improving how we can use makeup to make our lips look different. If you're looking to make your Cupid's bow a bit less prominent, there's a new way to camouflage your lip dip, and you won't even need to buy any new products.
Prepping your lips
If you're looking to get that rounded upper lip look and keep your Cupid's bow concealed, it may be easier than you think. 
Your first step should always be prepping your lips with lip balm to ensure that your product goes on smoothly and stays on all day (via Foundation Fairy). Apply a thin coat of lip balm and wipe off any extra before you begin. 
In an interview with Byrdie, makeup artist to the stars Jaleesa Jaikaran recommends choosing a foundation that matches your skin tone and applying the product to your lips as well. Once your lips are moisturized, Jaikaran says, "Use a beauty sponge to melt the product into the skin, creating a new canvas with a seamless finish." As Jaikaran notes, concealed lips basically give you a blank canvas to draw on your new lip shape. 
That said, per Mind Body Green, when it comes to overlining your lips, owner of Savannah Rae Beauty and makeup artist, Savannah St. Jean, advises, "Work with what you have. When you start trying to completely recreate what you look like, that's when things get hairy." With that in mind, as you start using lip liner to achieve your ideal lip shape, always taper the liner into the natural corners of your lips. This will help to keep your overlining from looking obvious or over-the-top. Celeb makeup artist Tobi Henney also recommends applying a matte concealer to the skin in between the peaks of your Cupid's bow before you start with your overlining as well (via Byrdie).
Perfecting your pout
Lip liner is the key to altering your lip shape with makeup. If you'd rather transform your lips in the opposite way, you can also use lip liner to play up your Cupid's bow. Usually, lip liner creates sharp and smooth lines around your lips. In this case, however, part of concealing the natural outline of your lips means making the line a bit less precise, per Byrdie. Jaleesa Jaikaran says, "Blurring the cupid's bow to soften sharp peaks and round out the shape can be achieved by smudging lip color along the edges of the lip lines with a sheer lip tint or soft matte lipstick." Blur lip liner into the space between your Cupid's bow. 
Remember that it's easier to add makeup than remove it, so go for a less-is-more approach and add as needed. We recommend pairing NYX Soft Matte Lip Cream with NYX Slim Lip Pencil.
Once you've overlined and applied your matte lipstick, you can use highlighter to give your lips a fuller effect. Opt for highlighter instead of lip gloss, since gloss can make overlining obvious. Makeup artist A.J. Crimson tells Mind Body Green that a dab of highlighter in the middle of your lip goes a long way. "It's going to bring more of the attention there," he explains. "Anytime you add something reflective to the lip, it's going to add more of that pop and poutiness." Just like that, you're done, and your lips are probably poutier than ever.