15 Celebrities With Neck Tattoos You'll Want To Copy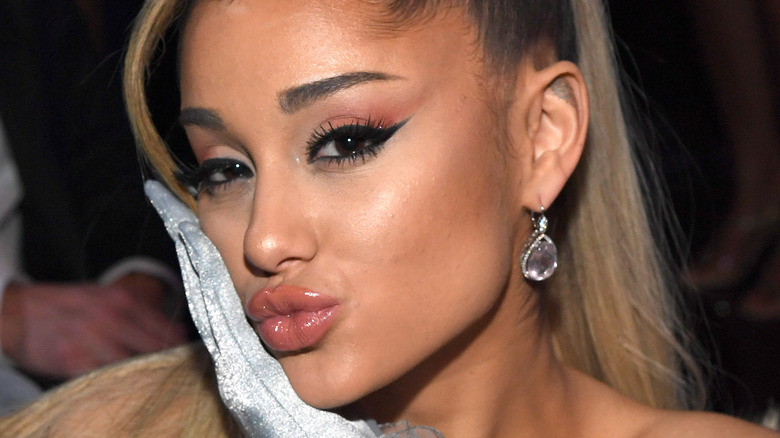 Kevin Mazur/Getty Images
The word is out: Neck tattoos are in! Tattoos, in general, are a great way to showcase your individuality. They help you express yourself in a creative way that's both memorable and permanent. Now, you can get inked on any part of your body and know that it's impacted you, but if you want your design to make a real impression on others as well, neck tattoos are the perfect option.
It's easy to assume that the neck isn't the best place for a tattoo because it's so visible, but that's not necessarily the case. Of course, you can go for the punk-rock approach and get the entirety of your neck tattooed in bold patterns, but you can also opt for a small and simple symbol on the back or side of your neck, or you can split the difference, and get something that's subtle but visible. 
The neck's wide surface area gives you a lot of room for customization. Having all this space to play around with can lead to confusion and doubt, but don't panic. We've got a wide range of celebrity neck tattoos from adorable and pretty to meaningful and sweet, to give you some inspiration. All these creative designs will surely get your creative juices flowing before you book an appointment. 
Joe Jonas' mysterious back-of-neck design
When Joe Jonas revealed his mysterious neck tattoo on his Instagram Stories, fans were convinced it was a portrait of his wife, Sophie Turner. Some even speculated that the design was meant to represent how Turner is always watching his back, as ET reported at the time. Although the Jonas Brothers singer hasn't revealed the true meaning behind his tattoo yet, it's most likely inspired by the Italian artist, Piero Fornasetti's, portrait of opera singer Lina Cavalieri (via Page Six). 
This isn't Jonas's only Fornasetti-inspired tattoo either. Just a week prior to the unveiling of his curious neck design, Turner took to Instagram once more to showcase a Fornasetti-inspired arm tattoo, which represents the proverb "See no evil, hear no evil, speak no evil." 
Maisie Williams' heartfelt Game of Thrones tribute
Maisie Williams inked a tribute to her "Game of Thrones" character, Arya Stark, by getting the words "No One." tattooed in red on the back of her neck (via Allure). Mr. K, the iconic celebrity tattoo artist, shared the design on Instagram in July 2018 — just a year before the show's eventual end. This isn't even the actor's only "Game of Thrones" inspired tattoo. Williams has a matching tattoo with her co-star and close friend, Sophie Turner, reading "07.08.09" in peach ink on her forearm, to represent the date they got the parts for their characters on the show (via E! News).
Demi Lovato's meaningful tattoo
Celebrity tattoo artist Dr. Woo revealed Demi Lovato's "survivor" tattoo on Instagram. The pop star has been very open about her struggles with addiction and substance abuse in her music, interviews, and YouTube documentary, "Dancing With The Devil." According to Good Morning America, this tattoo is meant to be a mark of a stronger person who has overcome tough obstacles. 
Lovato suffered a near-fatal overdose in 2018, during which they survived three strokes and a heart attack, so the delicate ink may also be a representation of how far the "Sorry Not Sorry" singer has come since then and their journey to sobriety. In Lovato's docuseries trailer, she revealed that doctors had only given her a mere five to 10 minutes to live during the overdose. 
Cara Delevingne's eye-catching ink
It'll come as no surprise that this tattoo caused some speculation about its true meaning when Cara Delevingne first revealed it at her sister, Poppy Delevigne's wedding (via The Mirror). Delevingne hasn't delved into the reason for the tattoo, but the design does resemble a Thai Yantra. The artist behind this design, Keith "Bang Bang" McCurdy, revealed to Vanity Fair that Delevingne had seen another one of his marker eye tattoos and adored it, so she asked him to ink a similar design on her. 
Initially, Delevingne wanted the eyes on the tattoo to be hers, but he advised against it because McCurdy would be drawing them on with markers, and he warned that they wouldn't turn out the way she pictured them. 
Zayn Malik's heavily inked neck
Zayn Malik is no stranger to tattoos. The former One Direction star has over 60 covering almost his entire body, per J-14. Following his second breakup with supermodel Gigi Hadid, in 2018, Malik inked his neck with an intricate pattern near the throat that had eye-catching red grids surrounding it. Malik also has an endearing tattoo of his father's name, "Yaser," behind his right ear. In addition, he has a rose on the back of his neck too, which Malik also apparently got as a reaction to his split from Hadid, per E! News. 
Camila Cabello's minimalist design
Camila Cabello's dainty and simple sweetgrass tattoo is a heartfelt tribute to the book "Braiding Sweetgrass" by Robin Wall Kimmerer. In an Instagram post, she revealed the significance of this ink. Cabello noted that the book "taught me about reciprocity, about the gift and wisdom in Mother Nature, and that when we heal the Earth, we heal ourselves." She even added a quote from the book to further cement the meaning of the tat: "All flourishing is mutual." 
Elle King's boldly positioned neck tattoo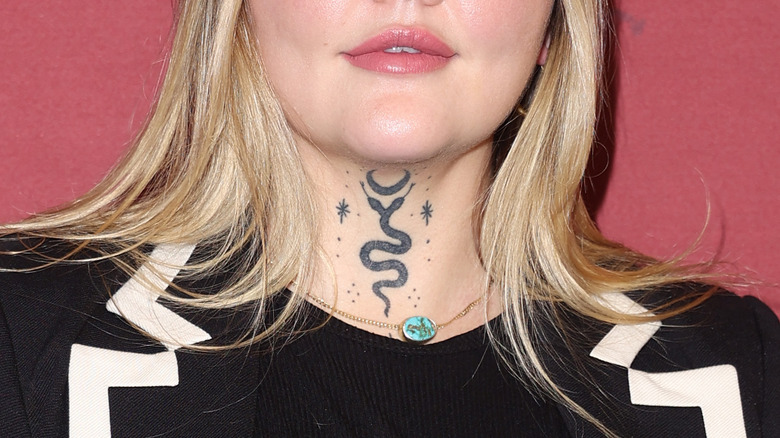 John Parra/Getty Images
While plenty of celebs choose to get something small inked on the sides or the back of the neck, Elle King did the opposite, keeping her two-headed serpent in full view at all times. In an interview with 94.9's "The Bull," the singer joked about the origins of the tattoo: "Dierks [Bentley] drew that on right before we took the picture cause he wanted me to look hard." King's an avid ink lover. In 2018, she admitted to Vogue that she had 55 and counting. In fact, King's fiancée, Dan Tooker, is a tattoo artist (via Wide Open Country). 
Rita Ora's spacey tattoo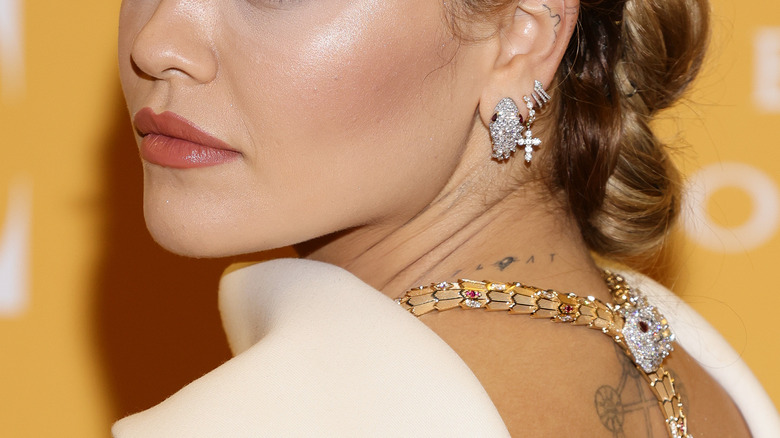 Andreas Rentz/Getty Images
Rita Ora is another star who's completely obsessed with tattoos. Ora's extensive body art is primarily representative of things that are important to her and phrases that she lives by. For instance, the British pop star got the word "float" tattooed on the back of her neck in a small font with the sun sinking under the sea. 
She hasn't confirmed the meaning behind this tattoo yet, but Ora did speak of the meaning behind her "Zog" neck tattoo via a deleted Instagram post. According to Pop Sugar, the singer wrote, "When I was younger my mum @veraor would call me her zog 'Zogi mamit' she would say, which means her little baby bird in Albanian." 
Ariana Grande's iconic crescent moon
Ariana Grande has referenced the moon in multiple songs throughout her career with the most prominent one being a track simply entitled "Moonlight." Although Grande hasn't confirmed the meaning behind this particular tattoo, it's most likely an ode to her third studio album, which she intended to name "Moonlight" but ultimately changed to "Dangerous Woman," (via Billboard). 
The iconic pop star has another neck tattoo on the back that reads "Mille Tendresse," which is a phrase from one of her favorite movies, "Breakfast at Tiffany's" (via MTV). 
Rihanna's endearing tattoo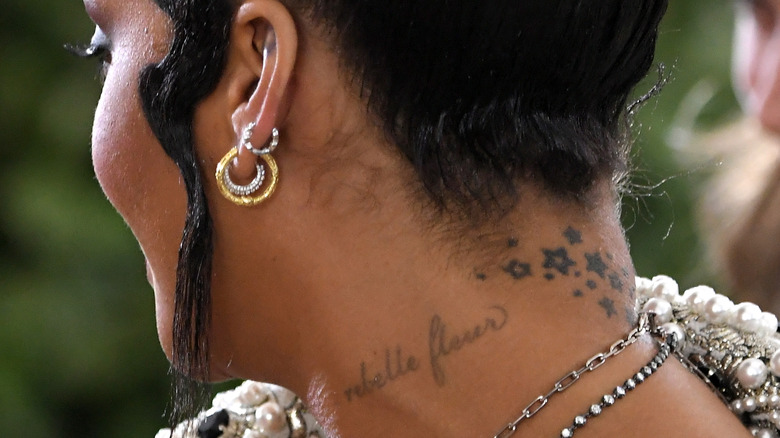 Mike Coppola/mg18/Getty Images
Rihanna has the words "rebelle fleur" tattooed on the side of her neck. The phrase translates to "rebel flower." It's a pretty accurate way to describe RiRi, and clearly, her grandmother agrees. When People asked Rihanna what inspired the name of her first fragrance, "Reb'l Fleur," she shared: "My grandmother in Barbados used to call me her Rebel Flower." The multi-talented singer and businesswoman also has some star clusters starting at the back of her neck and extending to her shoulder blades. 
Hailey Bieber's lovely tattoo
Hailey Bieber has "lover" tattooed on the side of her neck, while her husband, Justin Bieber, has "forever" inked in almost the exact same spot. Although the happy couple hasn't confirmed it yet, we can reasonably assume they're matching tattoos to honor their love. According to Elle, Hailey's "lover" ink is an addition to her cross tattoo to cement her faith in and love for God. 
However, others believe it was taken from Taylor Swift's album, "Lover" because of the similarity in fonts, per Cosmopolitan. The supermodel also has "New York" tattooed on the other side of her neck alongside a little diamond. 
Adele's sweetly simple ink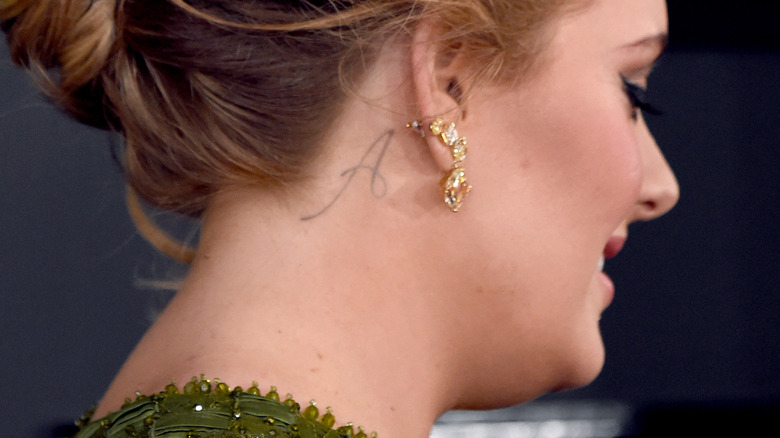 Frazer Harrison/Getty Images
Adele has a simple tattoo of the letter A behind her ear. It's either meant to represent her own initials or her son, Angelo's. Although the singer hasn't clarified either way, Adele does have her son's name inked on the side of her hand, so it's plausible that the A represents him. Furthermore, the tattoo was first spotted in February 2013, per the New York Daily News, and her son was born in October 2012.  
Maluma's meaningful tattoos
Maluma has a variety of tattoos across his neck, with the dove being among the most prominent. It was inked by Peruvian tattoo artist, Stefano Alcantara, who has created many works of body art for Maluma. He actually did it thousands of feet in the air, on Maluma's private jet. In an interview with Inked, Alcantara confirmed: "The dove means peace."
He continued, "The first idea that he wanted was for it to represent peace, but it was also flying so it was a coincidence that we did it in the air." The in-demand tattoo artist added, "We were talking about it while we were tattooing that the sky's the limit, which has a deeper meaning in his career." 
Dakota Johnson's pretty tattoo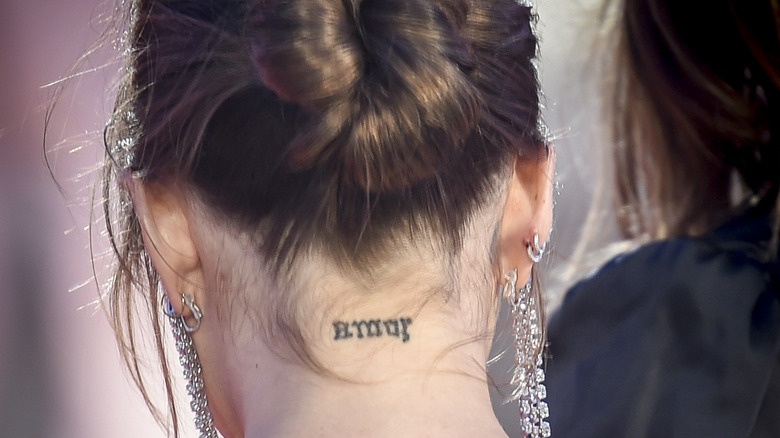 Antony Jones/Getty Images
Dakota Johnson has the Spanish word for love, "Amor," tattooed across the back of her neck. The body art creates a beautiful contrast because it's such a delicate word written in a rather bold font. Johnson also has an unidentified face-like shape tattooed behind her ear, per Refinery 29. 
The actor's vast array of tattoos ranges from matching infinity symbol tattoos with her partner, the Coldplay singer, Chris Martin, to phrases like "Acta Non-Verba." This Latin phrase translates to "Deeds, not words." Johnson informed Teen Vogue that she also has "tender" tattooed because it's her favorite word. 
Lucy Hale's cute bow tattoo
Lucy Hale's bow tattoo was notably her very first. As Refinery 29 notes, she got it inked back in 2012 at the hands of celebrity favorite Dr. Woo. In an interview with Maniac magazine, the "Pretty Little Liars" star shared the story behind the cute design: "My most manic moment was when I was 19 and I got my tattoo. It's on the back of my neck. It's a bow. Luckily, I still like it." Hale continued, "I got it after a break-up and I wanted to do something rebellious, which is kind of out of the norm for me."