Rita Ora's Tattoos: A Complete Guide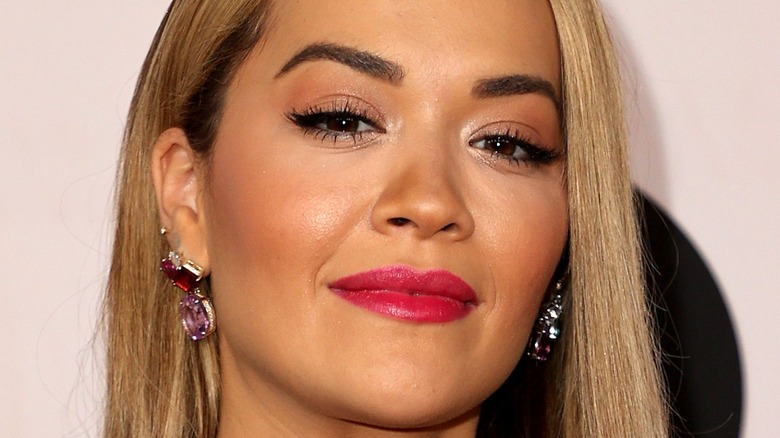 Kevin Winter/Getty Images
These days, celebrities and tattoos seemingly go hand in hand. It's rarer than ever to see a famous singer or actor who is a tattoo virgin, especially those who are either millennial or Gen Z. Within that demographic, however, there seems to be too different camps when it comes to getting inked: You either are covered head to toe in big and bold pieces (à la Justin Beiber, Adam Levine, or Ruby Rose), or you hopped on the tiny tattoo train (like the Kardashian-Jenner clan or their pal, Mrs. Bieber).
However, the English singer, songwriter, and actress Rita Ora has a delightful mix of both. According to Body Art Guru, the "Let You Love Me" crooner has a total of 25 tattoos, which together create a collection that is both varied and unique. On her body's canvas, you can spot a myriad of styles, sizes, languages, and colors — she even has an almost-undetectable white tattoo!
But scrolling through her Instagram or paparazzi pics in an effort to locate and decipher each and every one would take hours — so we've done the hard for you. Here's the complete lowdown on each and every tat the blonde bombshell has gotten.
Rita Ora has quite a few big and bold tattoos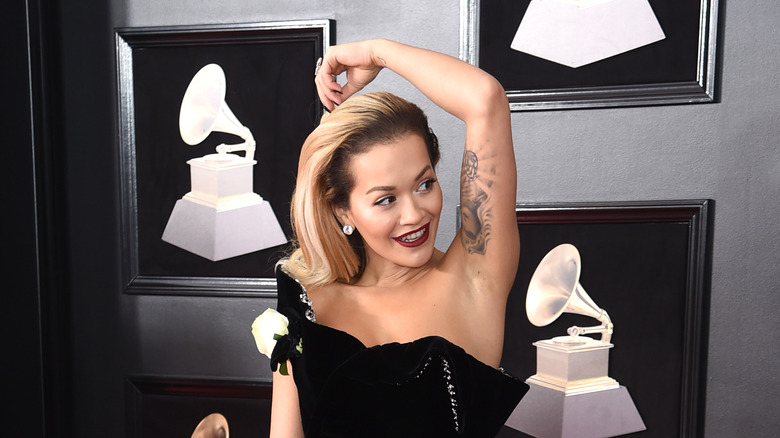 Jamie Mccarthy/Getty Images
Although Rita Ora's skin is dappled with adorable tiny tattoos, it's the sizeable ones that are the most noticeable, especially from the mosh pit.
To start with, she has a geometrical tree of life in between her shoulder blades (via Body Art Guru). The intricate design includes 10 circles that are all connected. According to Uni Guide, this Celtic symbol has multiple philosophical and religious meanings that vary from culture to culture. Ora also had a massive rose design done on her right hand, but the piece is believed to have been removed via laser tattoo removal. Nowadays, you'll see an exquisite feather in the very same spot, which was done by the famed celebrity tattoo artist known as Bang Bang" in New York. Bang Bang also did the tattoo of a flying dove on her right shoulder blade.
Another intricate design is located on Ora's right tricep; it's a Degas-esque tattoo of a ballerina mid-twirl. A gigantic Greek goddess of love is housed on the opposing tricep, as love Gods reportedly fascinate her (via Body Art Guru). Then, on the singer's ribcage, there's a semi-nude pin-up girl smelling a flower. According to Body Art Guru, "Rita called it 'Rosetta' and revealed that it is based on the original piece of incredible illustrator, Alberto Vargas. The tattoo signifies the power and build of the star."
Rita Ora has too many tiny tats to name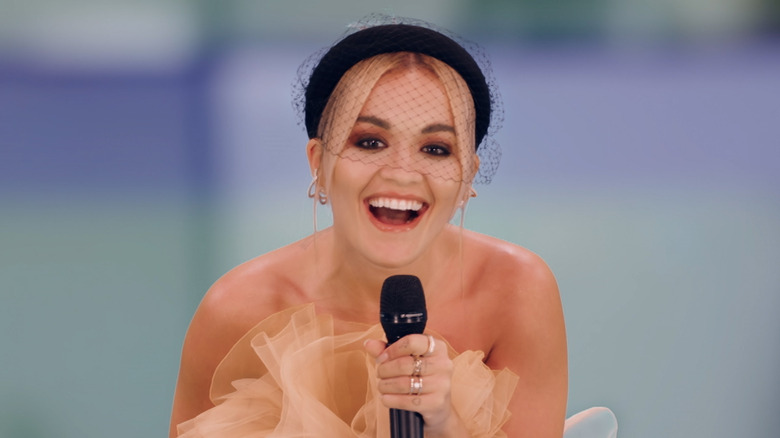 Getty Images/Getty Images
In line with many other celebrities, Rita Ora has a wide selection of minimalistic tattoos. One of the cutest of the bunch is a simple smiley face on her right earlobe (via Body Art Guru). As it turns out, the meaning behind the piece is actually somewhat bittersweet, as when she posted a pic of the ink to Instagram and Twitter, Ora added the caption: "Smile though your heart is breaking." The singer also has the outline of a tiny triangle on her right arm and an equally small heart on her left pinky finger, in addition to a Sagitarrius crossbow behind one ear and an "R" behind the other. Oh — and who could forget the adorable little anchor on the side of her right wrist?
The tattoos that are a bit bigger include a wishbone on her left wrist and an arrow on her middle finger, both of which she got to match a pal. She also has several Japanese symbols on her wrist, the words "love," "hope," and "promise" tattooed across different fingers in different colors, and a pair of wings on the back of her right ankle.
Ever the fan of phrase tattoos, Ora has "All's fair in love and war," "Love all, trust few, do wrong to none," and "love me" in different spots. Lastly, she has a couple of tattoo tributes to her family, including the names of her two siblings. So. Many. Tattoos.