Why Sports Bras Are Ideal For Recovery After Breast Surgery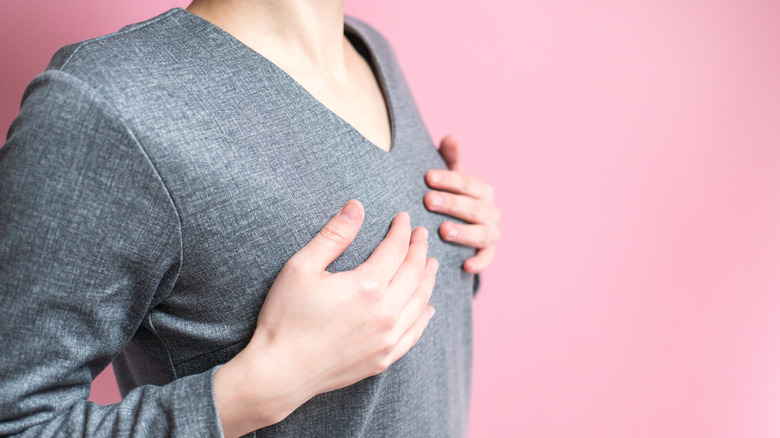 Ah86/Getty Images
Sports bras can be a godsend in many ways. They are less constricting than traditional bras with underwires or even wireless yet tight everyday bras designed to lift and support. Sports bras are also helpful for providing support and restricting movement when working out, whether running, jumping, or any other activity that requires your body to bounce, as per WebMD.
Keeping breasts, especially larger ones, from unnecessary sustained movement helps prevent pain in the breast and the back. To this end, there are different types of sports bras you can try. Encapsulation bras help keep each breast individual in its own cup area. Compression sports bras push the breasts against the chest and don't provide individual support, which is often helpful for those with smaller breasts.
Compression bras and various other types of sports bras can also be ideal after breast surgery, whether the surgery was a mastectomy, lumpectomy, biopsy, or any kind of breast reconstruction surgery (via ContourMD).
The pros of wearing a post-surgery sports bra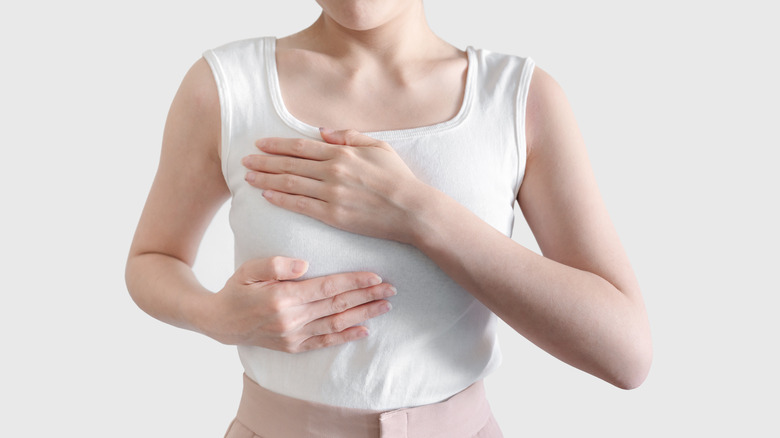 Sasin Paraksa/Shutterstock
No matter what kind of surgery you had on your breasts, they will likely be sore during the recovery process, and you might also have drains in place that can make the whole breast area feel swollen and painful. The type of bra you wear can bring comfort and can substantially improve your post-surgery experience. "A postoperative bra can be a critical part of your recovery after breast surgery," says Dr. Catherine Hannan (via Healthline). "They help reduce swelling, support implants that tend to drop, and provide an easy way to attach drainage tubes if you have them after your surgery." 
In some cases, your surgeon will give you a compression bra to wear home, but you may want to transfer over to your own sports bra as you move through your healing process. Breast surgeon Dr. Troy Andreasen writes on Inland Breast and Body that compression bras not only help reduce swelling but also keep dressings in place and breasts aligned.
When you move on from a compression bra, the last thing you want with sore breasts is to have them move unnecessarily. A sports bra can keep them firm against the chest wall while also protecting them from painfully bumping into things. Sports bras keep breasts still, covered, and protected — just what you want after surgery.
Sports bras promote healing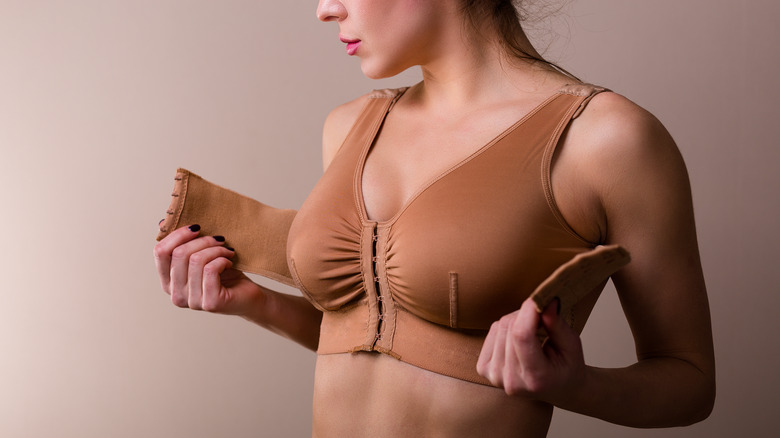 Tinatin1/Getty Images
Sports bras are typically made of soft material that still provides a level of compression that other bras may not (via Mastectomy Shop). Regular bras may rub against sensitive areas that are healing and interfere with scar tissue.
Sports bras can reduce chafing and prevent complications like cellulitis, lymphedema, or an infection. Lymphedema occurs when lymph fluid builds up. A supportive sports bra can discourage fluid from congregating near the incision sites, encouraging fluid to go where it is supposed to: other parts of the body where it will reabsorb, which also helps foster sufficient blood flow.
According to Breast Cancer Now, choosing an all-cotton sports bra is best. Cotton will help the area breathe, a plus when sweating, and also reduce the chance of infection. Sports bras made from cotton can be easily cleaned and are soft to the touch. Once fully healed, underwire bras can be worn, but check with your doctor before switching.