TikTok's 'Mascara Trend' Has Nothing To Do With Cosmetics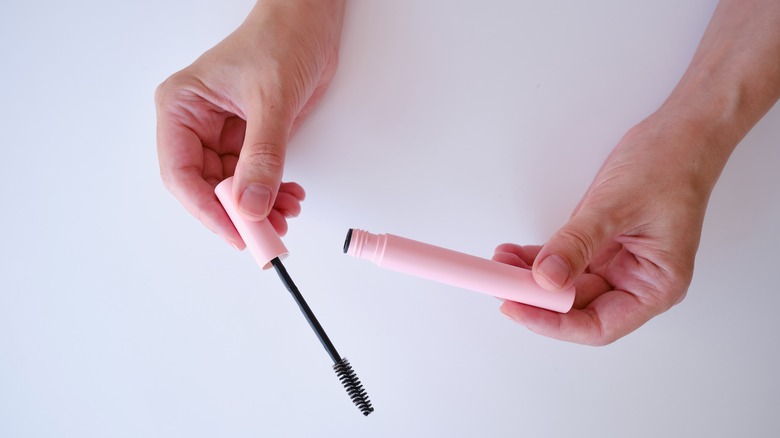 Iuliia Pilipeichenko/Shutterstock
Trigger warning: This article contains references to sexual assault. 
When it comes to discovering the latest beauty trends, TikTok is the number one source for many of us. Scrolling on the app can be a fun distraction from everyday life, but it could also help you step up your makeup and skincare routines. In 2022, TikTok delivered some of the best tricks and tips around to keep your makeup looking great all day long. 
One such trend involved using translucent powder as the first layer of makeup, followed by facial sprays and primer, all before applying your foundation (via Byrdie). Brilliant, right? Some other hacks included siren eyes, a take on the classic smokey eye, and the W blush technique, which is exactly what it sounds like — you apply blush in the shape of a W for a perfectly flushed look.
These beauty trends only really scratch the surface of what has gained traction on the app in recent years. Now, though, there's a new beauty trick in town, but this mascara trend is not what it seems. 
There's a deeper meaning to this new beauty trend
TikTok can be a great place to find the latest beauty tricks. However, some may not be what they seem on the surface. A recent trend took over the app, and initially it seemed innocent enough. Users posted videos discussing mascara, but as it turns out, they weren't talking about the beauty product at all (via NBC News).
The trend started as a way to get around community guidelines on the app. Users started talking about mascara as a code for their previous sexual experiences, both good and bad. Some of the videos are silly, like "I love my mascara, but my mascara won't put the wand in the tube," while others used the trend to open up about sexual assault.
"I gave this one girl mascara one time and it must've been so good that she decided her and her friend should both try it without my consent," shared one TikTok user. Another admitted, "The one mascara I ever really liked ended up damaging my eyelashes really badly so now I'm too scared to try any new mascaras because I can't take my eyelashes being damaged again."
If you or anyone you know has been a victim of sexual assault, help is available. Visit the Rape, Abuse & Incest National Network website or contact RAINN's National Helpline at 1-800-656-HOPE (4673).