The Friends Scene Maggie Wheeler And Matthew Perry Had Trouble Getting Through - Exclusive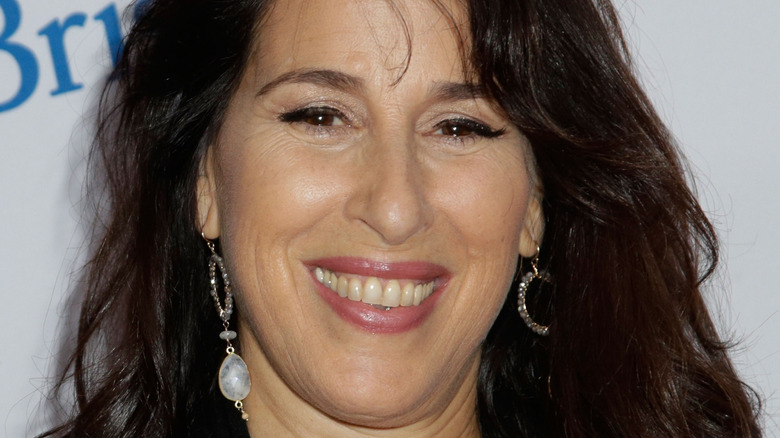 Vincent Sandoval/Getty Images
Name a more iconic couple than Janice Hosenstein and Chandler Bing. We'll wait. Janice, played by actress Maggie Wheeler, is still a memorable character as "Friends" continues to storm the sitcom industry. Despite the 10-season television series ending in 2004, fans are still traveling to visit the original set in California, located at Warner Bros. Studios.
In an exclusive interview, The List had a one-on-one with Maggie Wheeler at the pop-up Friends Experience in New York City (another well-visited fan destination) to honor Warner Bros.'s new partnership with International Delight. Wheeler often acted beside Matthew Perry, who played Chandler Bing, as Chandler's on-and-off love interest throughout the show.
Janice's comedic timing was unmatched, whether she showed up at the hospital during the birth of Chandler and Monica's (Courteney Cox) babies or at a secluded house showing. Without a doubt, Wheeler and Perry had some laughs — especially when it came to that one hyperventilation scene. 
The duo couldn't stop laughing
Remember that scene where Chandler confronts Janice about getting back together with her ex-husband, the mattress king? Well, apparently Maggie Wheeler does too. "We had rehearsed that scene many, many times, and each time when [Matthew Perry] grabbed the bag to stop me, he would just grab it. He would grab [it] forcefully, but it just deflated," she told The List.
In the scene, Janice becomes panicked and Chandler gives her a paper bag to breathe into and calm her anxieties. Chandler then snatches the bag to stop her heaving. Wheeler explained, "The night that we were shooting the show, the adrenaline was running, and he grabbed the bag and it made this huge sound, and it surprised me and it surprised him."
The actress continued, "I had to hide in the bag so that you can't see me trying to fight the laughter." Wheeler said there were quite a few moments that she and Perry had trouble getting past in the comedy series, but honestly, can we blame them?

You can grab the FRIENDS Manhattan Hazelnut Mocha creamer on International Delight's website. Keep up with Maggie Wheeler's upcoming projects on her Instagram page.