A Look At Riley Keough's Close Relationship With Her Late Brother Benjamin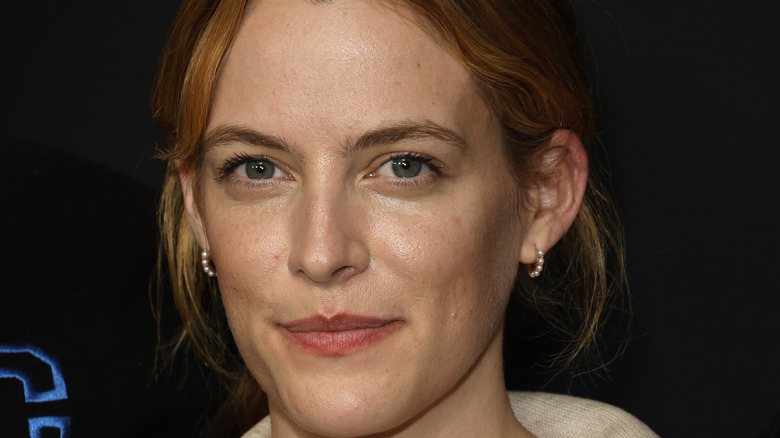 Frazer Harrison/Getty Images
The family of The King has been mourning the loss of Elvis Presley's daughter, Lisa Marie Presley, since her heartbreaking death in January 2023. She was not simply known for being the legendary performer's daughter, though. Lisa Marie Presley had four children of her own: Riley Keough, the late Benjamin Keough, Harper Lockwood, and Finley Lockwood. Lisa Marie told Healthy Living that she would "smother [her children] in love" and was "ferociously protective" of them. That strong sense of family compassion clearly seems to have been passed down from the mother to her eldest child.
Riley Keough's eulogy for Lisa Marie Presley showed the incredible depth of their bond, but that strong sense of love was not reserved only for her mother. Looking back at Riley"s relationship with her late brother, Benjamin, one can see that family members had a close place in Elvis Presley's granddaughter's heart. Lisa Marie Presley said she never recovered from the tragic loss of her son, but Riley certainly felt the heartbreaking effects of Benjamin Keough's death as well. 
Benjamin was Riley's 'best friend,' she says
Riley and Benjamin Keough's father is musician Danny Keough, Lisa Marie's first husband, per TODAY. As Lisa Marie's two oldest children, Riley and Benjamin were close all through their childhood and into adulthood, with Riley sharing that her brother was her "best friend" in an Instagram post commemorating what would have been his 30th birthday. They shared many happy memories over the years and provided one another with support and refuge during tough times.
Though three years separated the siblings, insiders said that the brother and sister had an inseparable, twin-like relationship, according to South China Morning Post. The two had each other to lean on throughout the more tumultuous periods of their childhood, with Riley recounting how her adolescence consisted of constantly traveling, security details, and homeschooling (via The Guardian). And while Riley she loved her brother and held him close in her heart, Benjamin Keough suffered from depression and the immense pressure of being Elvis Presley's only grandson, his friends told People. He died of an apparent suicide in July 2020, per Insider, leaving his family —and particularly Riley — full of grief.
Riley Keough was 'totally debilitated' following the loss of her brother
After Benjamin Keough's apparent suicide in July 2020, his sister Riley Keough struggled to make it through the days, she said in an interview with The New York Times. She experienced "a year of feeling like I was thrown into the ocean and couldn't swim." Having lost her only brother who she described as her "twin soul" on Instagram, Riley struggled to "get out of bed" and "couldn't talk for two weeks."
In a soul-bearing post in July 2020, Riley shared her experience grieving Benjamin's death. "Mornings are the hardest. I forget you're gone. I can't cry because of the fear that I will never stop," she wrote. "I guess this is true heartbreak. I hope we meet again." 
In July 2022, two years after Benjamin's death, Riley said that time still hadn't healed the wound. "It's been two years today since you left and I still can't believe you're not here," she wrote on Instagram. Though Riley described her brother's death as a "giant hole" in her heart in the post, she has continued prioritizing her family. According to Hello, she and her husband, Ben Smith-Peterson, have welcomed a baby girl. The legacy of their family's love lives on.
If you or anyone you know is having suicidal thoughts, please call the National Suicide Prevention Lifeline​ by dialing 988 or by calling 1-800-273-TALK (8255)​.