Barrel-Leg Jeans Are Here To Stay In 2023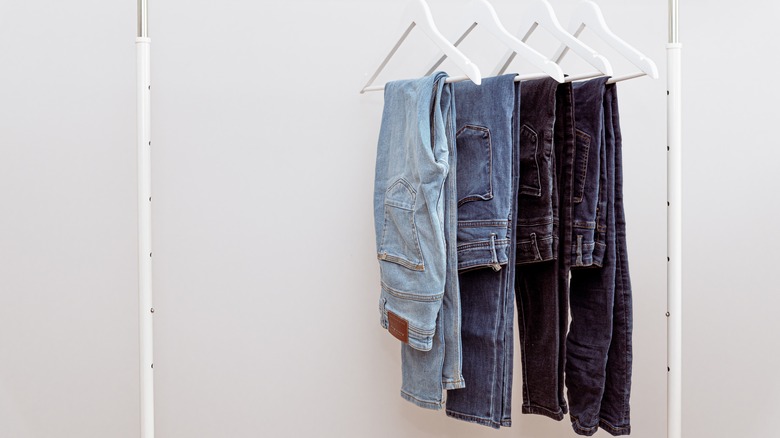 Damian Lugowski/Shutterstock
With the new year comes new fashion trends. The beginning of 2023 has already given us one sigh of relief with the graceful exit of low-rise jeans. You'll find that cargo pants and wide-leg jeans are making their rounds on TikTok and Instagram. If you don't know how to rock the trendy baggy jeans look in 2023, don't worry. This year will reveal plenty of trends here to stay, including one you might be thrilled about.
You may not expect what most people say is their favorite fit for jeans. We found that most people prefer to ditch skinny jeans for some looser denim — including straight-leg jeans and the good old mom jean. The barrel-leg jean is another excellent option that fashion novices and the industry's pros have incorporated into their wardrobes. Barrel-cut jeans first hit the fashion scene in the late 2010s, per Who What Wear, but it wasn't until the 2020s that this cut gained popularity. It seems that this jean style isn't going anywhere any time soon. 
What to know about the barrel-leg jean trend
If you love straight-leg jeans, you'll be happy to know that the barrel-leg look has picked up steam recently. But if you have no idea what we're talking about, you may be spectacle hearing this unique — and dare we say, unflattering — name for a style of jeans. Luckily, former Nordstrom executive and blogger Suzanne Bell explained what barrel jeans really are. Bell categorizes the barrel-leg jean as adjacent to the straight-leg, noting that this cut "features a high waist with a wide-cut cropped leg that tapers at the ankle." While the name may not represent it, the barrel-leg jean is gorgeous.
According to In-Spades, popular '80s and '90s denim cuts inspired the barrel-leg jean. The barrel-cut is a cousin of the iconic mom jean. The best quirk of the barrel-leg jean is their ability to combine a high waist with a wide-leg fit. But unlike baggy jeans, these fall on the ankle in a narrow manner, accentuating your height and slimming your legs. You can trade in your super-tight skinny jeans for this more comfortable — and just as flattering — cut of denim. 
The best ways to style barrel-cut jeans
If you have a pair of barrel-cut jeans but don't know where to start when making an outfit, don't worry. These pants are incredibly flexible when it comes to creating outfits. You can dress them up with a blouse, cardigan, or jacket, and a pair of strappy heels like Banana Republic's take on dark-wash barrel-cut jeans. For a more casual look, consider a sweatshirt or cozy sweater. We loved The Mom Edit's super practical and adorable barrel-cut jean outfits: Birkenstocks, a rainbow sweater, and Gap High-Rise Barrel Jeans made for a casual and cute everyday look.
As with any high-waisted pair of pants, cropped shirts work great with barrel-cut jeans. Alongside this popular cut, cropped sweaters gained major popularity in 2020 (via Refinery29). High-waisted yet loose-leg barrel-cut jeans and a cropped chunky sweater offer a unique and flattering silhouette. Whether you're looking for a pair of jeans for a night out or something you can throw on while dealing with all life throws at you, the barrel-leg jean is a great denim option to have in your closet. We're ready to make 2023 all about the barrel-leg jean.