You May Not Expect What Most People Say Is Their Favorite Fit For Jeans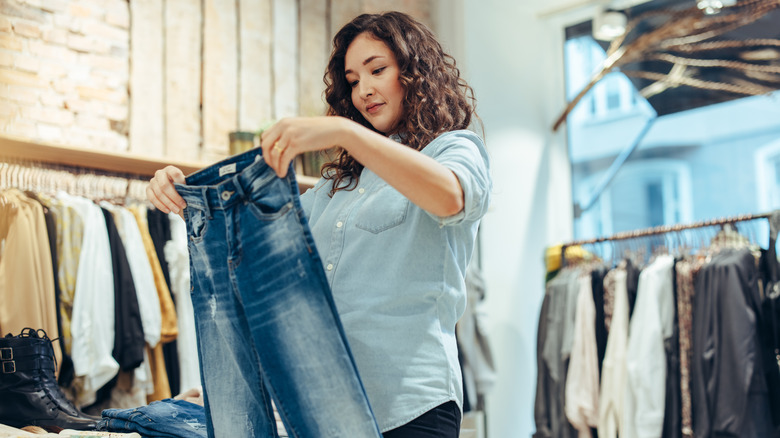 Jacob Lund/Shutterstock
There's nothing quite like a good pair of jeans, perfectly fitted to accentuate your waist and show off all the squats you've been doing at the gym. Whether you're running errands or meeting friends for a late night bite, jeans have become a staple in our capsule wardrobe. Even our favorite celebrities have shown off fresh new fits inspired by the latest jean trends: According to Vogue, Emma Watson was spotted looking gorgeous at Couture Fashion Week rocking a pair of gray skinny jeans. And who could forget the famous Britney Spears and Justin Timberlake all-denim red carpet moment of 2001?
A good pair of jeans can change your life (and your wardrobe) forever, but the perfect fit can be hard to find: One Twitter user tweeted, "Finding the perfect pair of jeans is an extreme sport." Another user called the hunt for the ideal jeans "more difficult than finding love." With all the different styles on shelves today, it can be a challenge to find the perfect fit, especially with fashion trends forever changing. Luckily, The List conducted a survey that asked 573 people, "Which is your favorite fit of jeans?" It may still be summer, but the top choice has us wishing for PSLs and falling leaves as we search the back of our closet for the perfect jeans to wear ... once the weather cools down.
Sorry skinny jeans ... we'll miss you too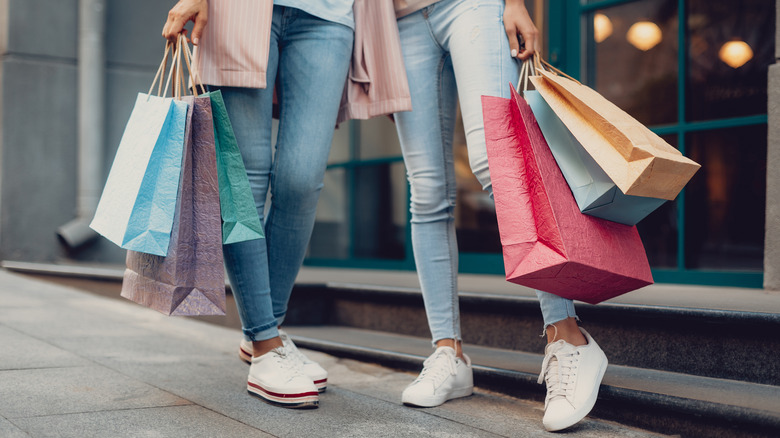 Olena Yakobchuk/Shutterstock
Based on the data collected by The List's survey, skinny jeans that were once all the rage have been dethroned as our favorite fit: the relaxed fit has taken its place! 28.10% of voters prefer relaxed fit jeans, which Lee describes as "looser than regular, but not baggy." 
Relaxed jeans are a comfortable fit that flatter practically all body types, making them the perfect choice for our nature walks this fall. The ever-popular skinny jeans beloved by millennials everywhere have fallen to second place, with 26% of the vote. Moreover, 23.56% of people prefer a straight leg jean — a classic fit with an even hem from hip to ankle (via Workwear Command). 
The reliable mom jeans — a high waisted fit first made popular in the 1990s, per PopSugar — followed behind with almost 12% of the vote. 7.85% of people prefer flared jeans that billow at the ankles, and only 2.62% prefer the short and sassy hem of a cropped jean. From relaxed and cropped, the wide selection of jean styles have evolved to offer a flattering fit for every body and every occasion.
The fascinating evolution of denim jeans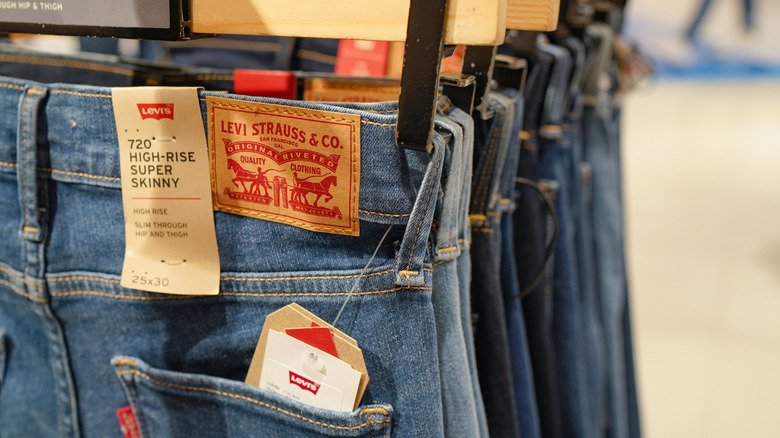 NP27/Shutterstock
A tailor named Jacob Davis invented jeans in 1873, crafting them from Levi Strauss's iconic blue denim for a customer who needed a sturdy pair of pants while at work, per History of Jeans. Even then, he knew his work had endless possibilities, so he partnered with Strauss with the hopes of creating something revolutionary. Over the years, they improved their design with added details like belt loops, copper rivets, and zipper flies — all to ensure workers had the most reliable pair of pants possible (via Vogue). With the comfort and reliability of Strauss and Davis' creation, jeans became so popular that they changed the fashion world forever.
According to Byrdie, jeans have taken many forms throughout the years: In the 1950s, jeans were banned at schools as students looking to "stick it to the man" wore jeans as an act of rebellion. Flared jeans were a symbol of the flower power movement back in the 1970s. Baggy denim arrived in the 1990s and reigned supreme until low rise took over in the 2000s. The 2010s marked the arrival of our beloved skinny jeans, worn in every color and pattern you could imagine (not to mention the rise and fall of the controversial "jeggings" situation). What began as a style of pants for hard labor workers has evolved into a full-on cultural phenomenon. Today, the relaxed fit reigns supreme as the "perfect pair of jeans", but be on the lookout for those ever-changing trends.