TikTok's 'Revenge Makeup' Trend Could Help You Get Over Your Ex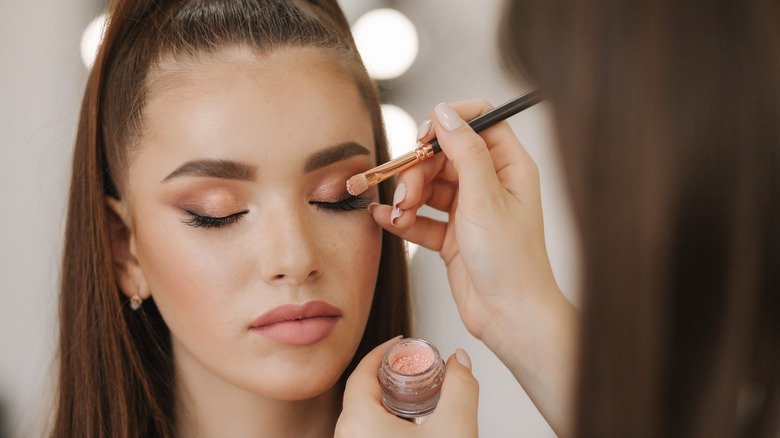 Hrytsiv Oleksandr/Shutterstock
Every day more makeup tips, tricks, and trends emerge from TikTok, including the snow-bunny winter blush trend and this foundation hack that will change your makeup game. There's no doubt that we've all been tempted to try out a new look or two when endlessly scrolling through the FYP, and this latest trend is no exception.
The most recent TikTok trend has a catchy name and an even catchier meaning. Called "revenge makeup," the trend is exactly what it sounds like — doing your makeup so well and looking so good that you're essentially taking "revenge" on someone. Mainly focused on getting back at your ex, the trend is inspired by Princess Diana's "revenge dress," which still holds up as an iconic look almost 30 years later (via Byrdie). Much like how Diana stepped out looking incredible and made headlines for it, the "revenge makeup trend" is all about showing your glow up post-breakup. 
We've gathered together a few of the very best TikTok "revenge makeup" looks so you can slay all day and night.
The trend aims to make you feel more confident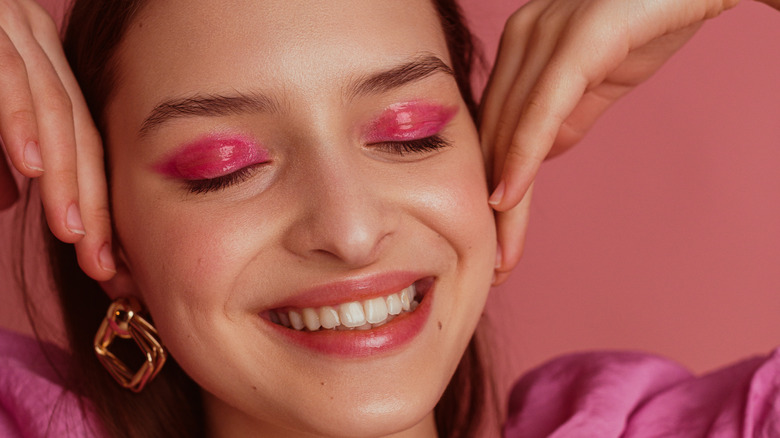 Victoria Chudinova/Shutterstock
One of the most popular vids under the #RevengeMakeup hashtag ha 1.5 million views as of now and is by @sarahnewsfx. She appears to have started the trend of using singer Raye and 070 Shake's hit song "Escapism" as background music, mouthing along to the words as a cheeky extra nod to the name of the trend. Her take on the makeup look includes ombre gold eyeshadow and heavy lashes, along with plump, glossy lips. She also posted another revenge-inspired look with bright red lipstick and winged eyeliner for a siren-esque vibe.
There is no one set look for this trend, as the point is to feel good in your own skin. For example, instead of pink glossy lips, content creator @emblawigum opted for shimmery golden champagne eyes and deep plum lips for her #RevengeMakeup look. The one thing to keep in mind is that this trend shies away from subtlety. It is all about taking up room, whether that's with false eyelashes, heavy bronzing, iridescent highlighter, or all of them at once.
The idea behind taking up room with your makeup is to share that you feel completely free of your relationship — essentially, putting a classy middle finger up to your ex.
Figuring out your style is a key part of the trend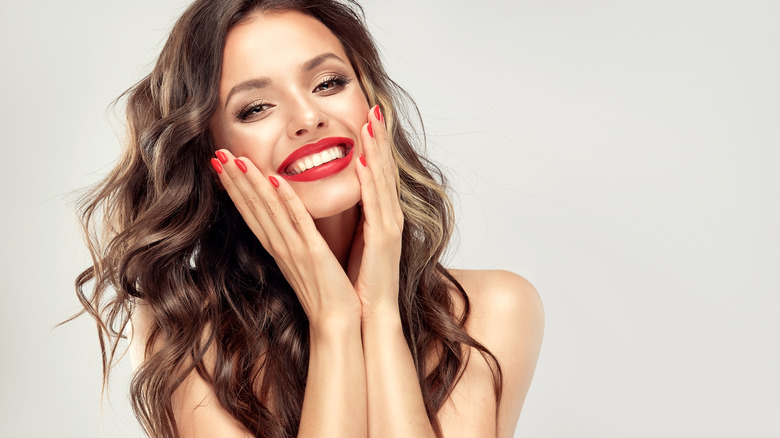 Sofia Zhuravetc/Shutterstock
If heavy makeup isn't your thing, you can definitely still slay the revenge makeup trend. TikTok content creator @zoekimkenealy shared a more natural take on the look, which prioritized glowing skin, dark eyes without heavy falsies, and red lips that appear just-bitten. 
There is definitely a "red lip effect" surrounding the trend, with the majority of videos under the #RevengeMakeup hashtag featuring the bold hue. This could be because red lipstick is naturally more eye-catching due to its brighter appearance, but also because red lipstick is seen as powerful and attractive. It is naturally associated with sex appeal, too — who can forget Jessica Rabbit's red pout in "Who Framed Roger Rabbit?" or Marilyn Monroe's iconic red lips look in "Some Like It Hot"? 
Red lips or not, the more confident you feel, the more effective your revenge makeup look will be, so don't be afraid to customize the trend to achieve a look that feels authentic to you. Whatever your makeup style preference, revenge makeup is more about feeling yourself than hoping your ex will notice you and fall madly back in love again (though, for some, that's an added bonus).