Is There A 'Right' Time To Throw A Bridal Shower?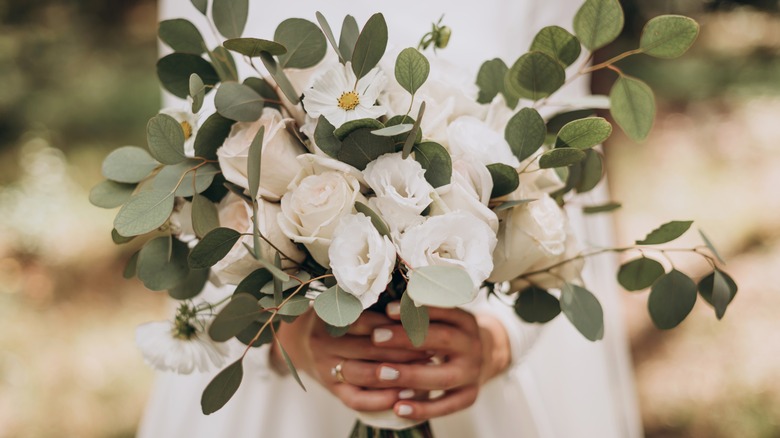 antonina_jurii_mazokha/Shutterstock
So, you've been engaged for a total of five minutes, and friends and family are not only asking when the wedding is, but they want to know when they can start celebrating you. Multiple wedding-themed gatherings typically accompany the engagement season to honor the happy couple. This can include events like an engagement party, wedding shower, bridal shower, and bachelorette party. While couples don't always choose to participate in all of these traditional events, the bridal shower is usually a classic, even if they choose to avoid some of the old-fashioned bridal shower traditions.
Unlike a wild and crazy bachelorette party, a bridal shower typically has a more elegant feel. According to The Knot, the shower can be hosted by anyone except the bride, but it is usually planned by either the bride's mom or her wedding party. Therefore, asking your bridesmaids to be a part of your wedding should be prioritized before the shower. Bridal showers have also historically been female-only. Since aunts, grandmothers, cousins, and friends will likely have to travel to attend, a bridal shower often takes months of preparation. 
But when is the best time to throw a bridal shower? 
Planning for the shower
Marija Jokic/Getty Images
Etiquette expert Diane Gottsman told The Knot that traditionally a bridal shower can be thrown as early as three months before the wedding or as close as three weeks before the big day. However, she emphasized the flexibility of this time frame. There may be friends or family who can only travel at certain times and remaining open with dates can ensure all your favorite people will attend.
One of the first things to pick once a bridal shower is on the horizon is the location. While it's totally normal to have the shower inside the host's home, the bride may have a different idea in mind. According to The Spruce, it's important to include the bride in the planning process because she may want a specific theme or have a certain vision for the day. Some popular locations for bridal showers include restaurants, country clubs, and outdoor parks. While budget and availability can narrow down these options, it's also important to keep the weather in mind when planning a date.
Once a shower date is picked, try to let your guests know as soon as possible. The earlier guests can mark their calendars, the better the likelihood of them being able to attend.
How long is the engagement?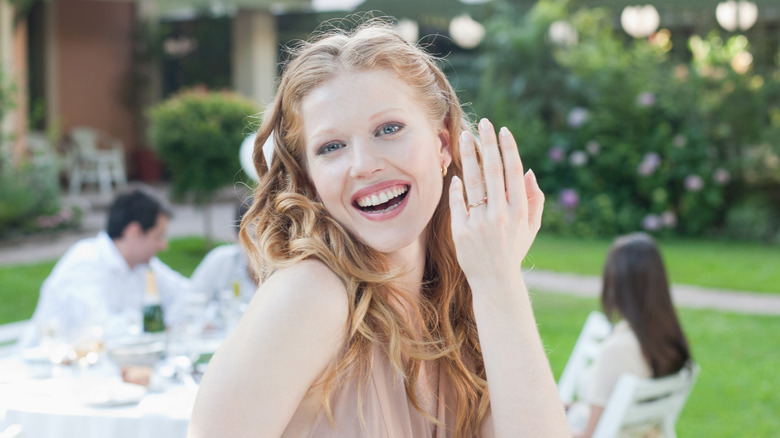 Sam Edwards/Getty Images
Another important factor to consider in the midst of bridal shower planning is how long the couple's engagement will be. Some couples choose to chill out for the first year of engagement before the chaos of wedding planning begins. This is usually when they will throw an engagement party together as a couple. However, the timing of the bridal shower may depend on whether the couple is having a two-year engagement or a six-month engagement. It may also be helpful to consider how much it really costs to throw a bridal shower since the hosts will need time to budget for this.
According to a tip from Brides, it's a good idea to spread out all of the events leading up to your wedding since those traveling might not be able to make multiple trips within the same month. Ensuring that the engagement party and bridal shower aren't too close to the wedding itself is helpful. Of course, this will likely be much easier to coordinate with a longer engagement window. Ultimately, the decision is an individual one. Once the couple has a wedding date picked out and knows which parties they want to have, it's really just about laying them out in order on a calendar.
While it can be easy to get caught up in the proper etiquette surrounding big events like weddings and showers, it's important to remember that there isn't a "right" time that will work for everybody. Doing what works for you is okay, even if it's a little different. Ideally, your friends and family just want to celebrate with you!