Jalen Hurts' Girlfriend: 5 Facts About Bryonna Burrows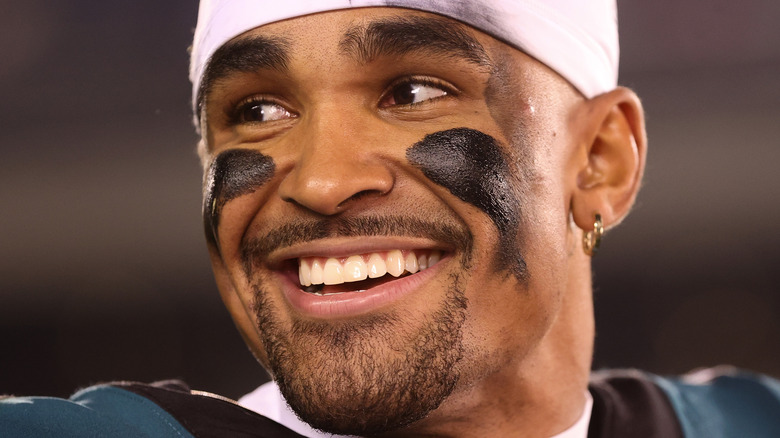 Tim Nwachukwu/Getty Images
Jalen Hurts and the Philadelphia Eagles have earned their way into Super Bowl LVII where they will meet Patrick Mahomes and the Kansas City Chiefs at State Farm Stadium in Glendale, Arizona. All eyes will be on the young quarterbacks as they play their hearts out for the coveted Lombardi Trophy on February 12. Hurts has been with the Eagles since 2020 when he was selected 53rd overall in the second round of the 2020 NFL Draft by the organization (via NJ.com). Hurts played football for Alabama and was a key player on the Crimson Tide football team for three years before transferring to Oklahoma for his senior year, according to ESPN.
While Hurts focused on both athletics and academics, he also spent time socializing. In fact, it's believed that Hurts and his girlfriend Bryonna Burrows met at the University of Alabama, where they both studied for their undergraduate degrees, as evidenced by Burrows' LinkedIn account. Burrows is a young professional and manages to keep her personal life completely out of the public eye. She doesn't seem to have any publicly accessible social media accounts and doesn't appear on her boyfriend's Instagram account, either. However, she has been a huge supporter of her main man and was seen with him on the field after the Eagles won the NFC Championship game, according to the New York Post. Burrows is expected to attend the Super Bowl and there will undoubtedly be plenty of questions about her. So, let's dig in.
Bryonna Burrows has her MBA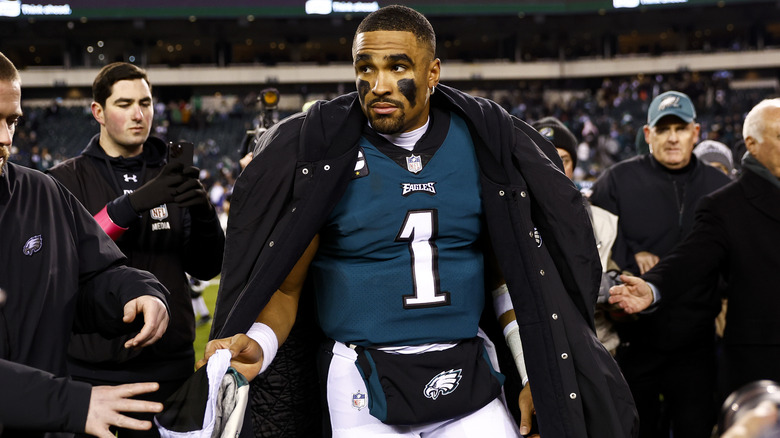 Kevin Sabitus/Getty Images
Bryonna Burrows attended the University of Alabama where she obtained a bachelor's degree in Spanish and political science, according to her LinkedIn. She was in a number of different groups, including the sorority Alpha Kappa Alpha, and was a part of the SGA Board of Governors. It appears as though she also spent a semester abroad studying Spanish language and literature as well as Latin American literature at the Universidad de Granada in Spain.
After graduation, Burrows enrolled to get her master's at the university. She obtained her MBA in business administration and was the MBA class vice president. In 2019, Burrows was part of a team that won first place in the 7th annual SEC MBA Case Competition, which was held at the University of Tennessee. In addition to the team win, Burrows was also named a winner of the question and answer session at the competition. It's clear she's an accomplished businesswoman, with a skill set that includes public speaking, leadership, and social media. In addition, she is fluent in Spanish and Portuguese. 
Bryonna Burrows works as an Artificial Intelligence Partner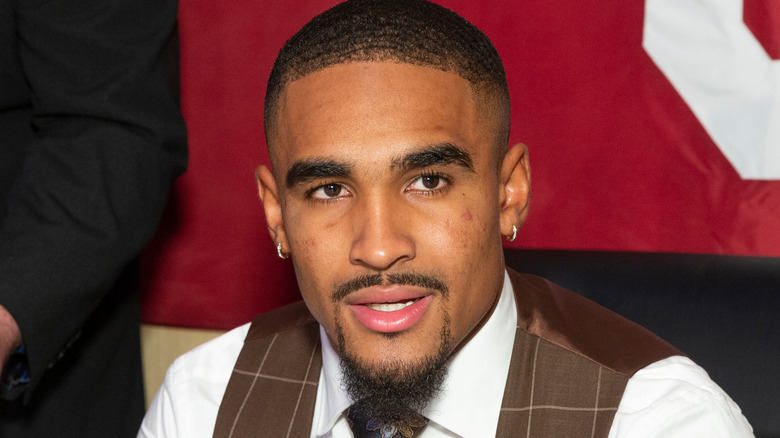 lev radin/Shutterstock
Bryonna Burrows has held a number of positions over the years, according to her LinkedIn profile. While she was still in school, she took on a job in sales and marketing for E. & J. Gallo Winery, a marketing company for the wine and spirits industry. She simultaneously worked as a graduate assistant at the University of Alabama, first for The Culverhouse Career Center before switching to The Black Faculty and Staff Association in August 2018, the same year she left E. & J. Gallo Winery.
In June 2019, Burrows applied for an opportunity with IBM. She started off as a senior solutions sales specialist, based in Dallas, Texas. In the time since, Burrows has climbed the corporate ladder within the company. She served as a financial sales executive starting in December 2019 before being promoted to software financing leader in January 2021. A year later, Burrows became an AI Partner with the company and has worked full-time with them ever since. "Nothing excites me more than a challenge to grow and improve. I believe in bringing curiosity, drive, and passion into everything I do," her LinkedIn bio reads, in part. 
Bryonna Burrows & Jalen Hurts have been dating since 2016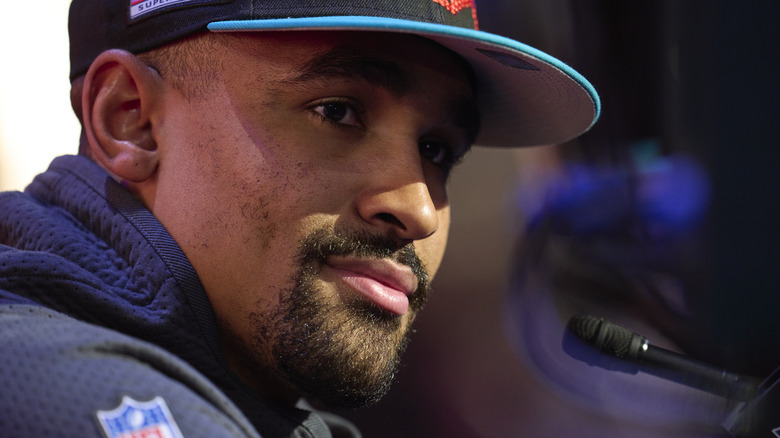 Cooper Neill/Getty Images
Bryonna Burrows has been dating Jalen Hurts "on and off" since 2016, according to the New York Post. Burrows was on hand to congratulate Hurts after the NFC Championship game, celebrating with him and his family. Burrows did not do any interviews nor did she speak to the media. However, she was seen hugging some of Hurt's family members in a video shared on Twitter by Fox Sports. She was all smiles as she embraced some of the kids that were in Hurts' circle, which may have been his nieces and nephews. 
Jalen and Bry originally met at Alabama where Jalen attended and played. She was one of the top students in her class, and has her MBA. https://t.co/24M9hHqlAH https://t.co/RKhou4ascf pic.twitter.com/q2vbY1Gbv7

— Eagles Nation (NFC Champs) (@PHLEaglesNation) January 30, 2023
Burrows showed off her chic style at the game as well. She wore a beige shirt with a cut-out above her chest and a beige leather Moto jacket. She accessorized with an oversized scarf, a pair of hoop earrings, a necklace, and oversized sunglasses. Burrows and Hurts exchanged quite a few smiles and were seen talking to one another as they walked off the field.
Bryonna Burrows is passionate about philanthropy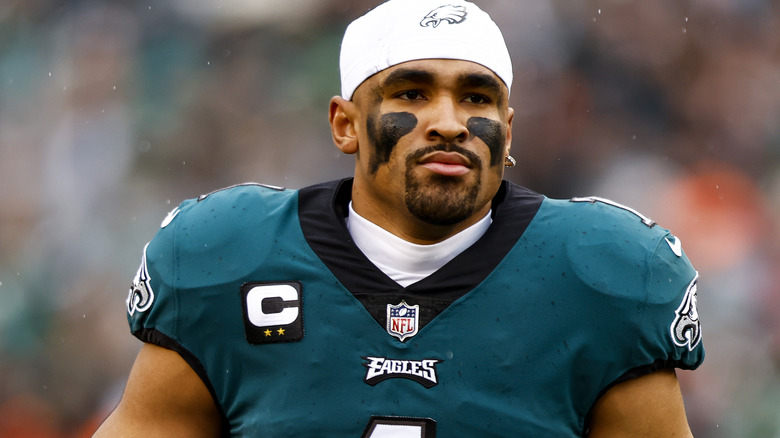 Kevin Sabitus/Getty Images
Bryonna Burrows is dedicated to helping others, especially people who are hoping to follow the same career path that she took. According to People magazine, she was a coach in IBM's 8-week Accelerate program in 2022 and also served as a speaker at a Diversity & Inclusion panel, which she wrote about on LinkedIn. "I'm fortunate my company allows us the space to converse, listen, and learn from one another. D&I is deeper than gender, skin color, or nationality. It's about lived experiences that define who we are and better our community and workplace," she shared.
Burrows' big heart and strong work ethic have touched the lives of many people. In one of the recommendations left for her on LinkedIn, James McCool, a finance manager at H&M, praised Hurts' girlfriend for the work she did when she served as Vice President for the University of Alabama's MBA Association. "She created the 'Manderson Social.' A now annual event that allows alumni to connect with students over food and drinks. Her impact at The University of Alabama's MBA Program will benefit students and alumina for years to come," McCool wrote, showcasing how Burrows' contributions continue to help other people.
Bryonna Burrows has a private Instagram account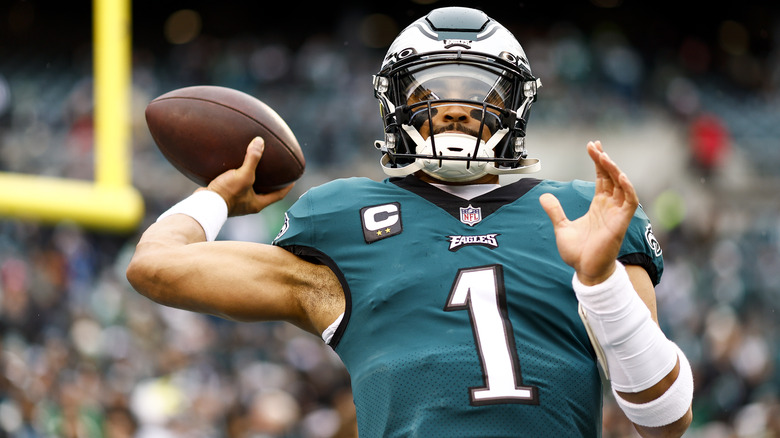 Kevin Sabitus/Getty Images
Bryonna Burrows makes sure to keep her level of professionalism up and doesn't seem to want any added attention from being the girlfriend of a star quarterback. This could be the reason why she keeps her Instagram account private. There are a few things that we can gather just by taking a look at Burrows' bio, which is visible to the public. First, she appears to go by the nickname "Bry" as her IG handle is "brys.ig." She also has a Brazilian flag emoji in her bio, which suggests that she is of Brazilian heritage. Lastly, Burrows is a big fan of wine. In fact, she calls it her "love language."
It's unknown if Burrows and Jalen Hurts have any plans to make their romance Instagram official or if the two have talked about marriage, but it looks like fans will be seeing a lot more of Burrows, especially if the Eagles win the Super Bowl.