The Bold And The Beautiful Classic Romance: Thorne And Darla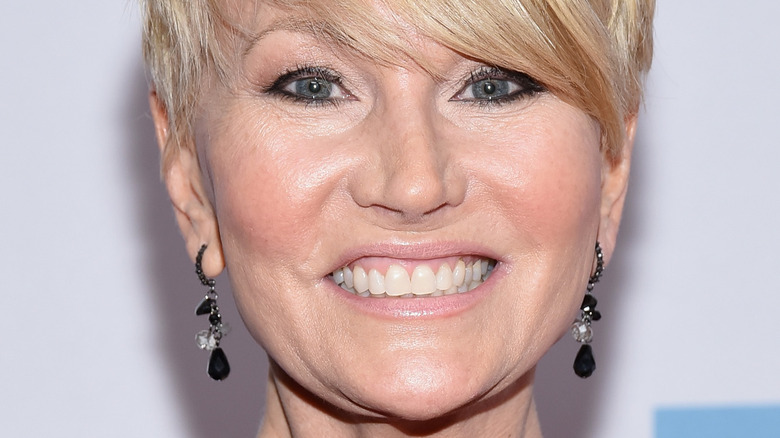 Tara Ziemba/Getty Images
In daytime TV dramas, there are supercouples, and then there are couples that are not so super but are still fondly remembered by many fans. The brief and ultimately tragic love story of Thorne Forrester (then Winsor Harmon) and Darla Eistein (Schae Harrison) was fraught with grief and indecision on "The Bold and the Beautiful." As Soaps in Depth recounted, Thorne Forrester has been involved with several women over the years. He loved Macy Alexander, but her half-sister Kimberly Fairchild (Ashley Tesoro) also desired him. He then ended up marrying Brooke Logan, but after a while, he could see that she was still in love with her old flame — his brother, Ridge Forrester (then Ronn Moss).
Thorne was in a relationship with Macy Alexander (Bobbie Eakes) until she was killed in a car accident, per Soap Central. He had previously flirted with her friend, Darla Einstein (Schae Harrison), who was the loyal assistant to fashion mogul Sally Spectra (Darlene Conley). When Macy later turned up alive but remarried, Thorne was distraught. Drowning his sorrows in alcohol, he ended up having a one-night stand with Darla, whom he mistook for Macy.
She became pregnant and wanted to have an abortion, but Thorne talked her out of it.
Thorne and Darla would be forever connected by their daughter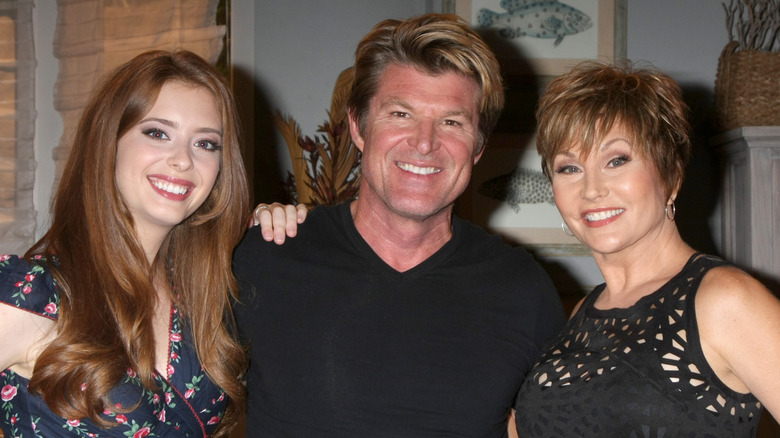 Kathy Hutchins/Shutterstock
Thorne Forrester ended up marrying Macy Alexander, but she eventually left him for Deacon Sharpe (Sean Kanan), per Soap Central. Darla Einstein decided to keep the baby, and she and Thorne agreed to raise it together. At the time, Macy was singing at a club called Ozzz but had no idea that bad guys wanted to take down the club's owner, Oscar Marone (Brian Gaskill). They caused a chandelier to fall from the ceiling, and it landed on top of Macy, gravely injuring her. After Macy's death, Thorne and Darla named their daughter Alexandria or "Aly" in tribute to Macy's surname.
Meanwhile, Thorne was not treated well at his family's company, Forrester Creations. Neither was Darla, as Brooke Logan (Katherine Kelly Lang) and her husband Ridge Forrester (then Ronn Moss) continuously made fun of her. Darla was something of an airhead and made mistakes — like accidentally giving pictures of Forrester's new designs to rival Sally Spectra (Darlene Conley). She intended to just run away as a result, but Thorne convinced her not to, proclaiming his love for her (via Soaps in Depth). Thorne couldn't take the way his family disrespected him, so he quit and went to work for Spectra. After Sally decided to shut down Spectra Fashions, Darla and Thorne asked her to move in with them.
Darla meets a tragic end
One night, Darla Einstein went to assist Phoebe Forrester (Mackenzie Mauzy) with a flat tire, according to Soaps. Meanwhile, despite being drunk, Phoebe's mother, Taylor Hayes (then Hunter Tylo), also decided to go and help. Sadly, Taylor was driving down the road just as Darla was struggling with the tire iron and fell into the street. Taylor struck Darla, landing her in the hospital. However, Darla didn't last long, and Thorne and Sally were at her bedside when she died. 
Taylor's crime was initially covered up, but eventually, the truth came out that she was responsible for Darla's death. She ended up going to jail, and Thorne drowned his sorrows in alcohol, once again, per TV Insider. However, he implored the court to be lenient on Taylor, which ultimately worked, and she was set free.
Later, when Aly Forrester (Ashlyn Pearce) was a troubled teen, she was grieving her mother's death when Darla appeared to her as a ghost. Aly misinterpreted the spirit's intention as urging her to kill Taylor's daughter, Steffy Forrester (then Alex Hoover). Steffy and Aly had a confrontation which resulted in Aly falling and smashing her head on a rock, leading to her death — on the very same road where her mother died. 
Though fans still can't get over Darla's tragic death – or that of her daughter — there's always a chance she could reappear as a ghost.