The Woman Who Claims To Be Prince Harry's First Lover Subtly Shades Meghan Markle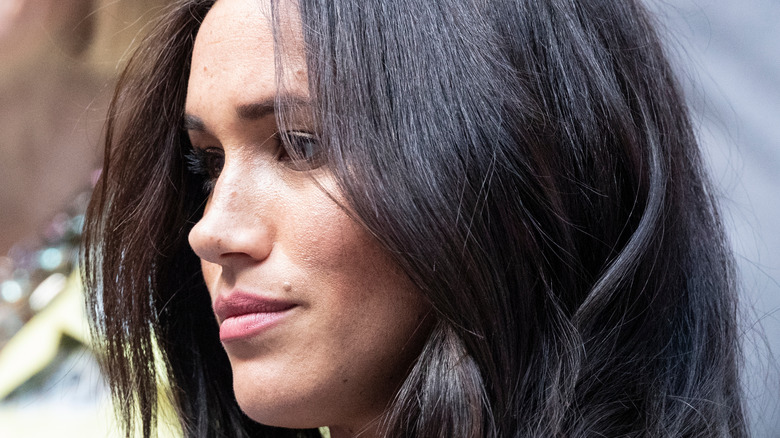 Lev Radin/Shutterstock
In "Spare," Prince Harry, Duke of Sussex didn't hold back from telling the world some pretty intimate details about his life. One such revelation was that he had a frostbitten penis during Prince William's wedding. Trevor Noah even made a joke about the incident at the 2023 Grammys. Harry also brought up losing his virginity in 2001, describing it as with an older woman who "liked horses, quite a lot, and treated me not unlike a young stallion," as reported by Us Weekly. He continued with the horse imagery and said the encounter was a "quick ride, after which she'd smacked my rump and sent me off to graze. Among the many things about it that were wrong, it happened in a grassy field behind a busy pub." One thing he didn't do was include her name.
But the world knows who it was now. Sasha Walpole has come forward and said she was the older woman in question. Walpole was 19 at the time and she'd invited Harry to her birthday party at the pub behind which the incident took place, according to Daily Mail. Walpole has been speaking out about what happened, including a sit-down TV interview with Piers Morgan, where Meghan Markle came up. And Walpole threw some subtle shade Meghan's way.
Sasha Walpole jokes about Meghan Markle with Piers Morgan
On his show "Piers Morgan Uncensored," Morgan interviewed Sasha Walpole about her friendship with Prince Harry when they were young and how she was blindsided by hearing that she was mentioned, even if not by name, as the woman who took Harry's virginity in "Spare." The conversation ended up turning to Walpole's thoughts on Meghan Markle. Walpole notes that she doesn't know Meghan so doesn't really have a view on her. She did say she hasn't even seen Harry for 21 years though she does "wish him all the best." Morgan continued to push for Walpole's opinion of Meghan, finally asking her if she thought "he's traded up from you or down," and Walpole said, "definitely down." She did laugh afterward so it could have been all in good fun, but it did seem to be the answer that Morgan was looking for.
Despite not being named in "Spare," Walpole feels that it was inevitable that people would figure out that it was her considering the details included, so she decided to "take control of the situation," and tell her side of the story, via Daily Mail. That would explain why she sat down to talk with Morgan, who hasn't been shy about voicing his distaste for Harry and Meghan.
Piers Morgan was direct with his insults toward Meghan Markle
Piers Morgan got in some more unambiguous shots at Meghan Markle during the interview with Sasha Walpole, saying that Prince Harry went from a "digger to a gold digger" — Walpole works in construction as a digger driver, via YouTube. He also said Harry would probably "have been happier" marrying someone like Walpole. Morgan has been a critic of Meghan for years. Morgan's rant against Meghan on "Good Morning Britain" set a record for complaints to the network. Morgan ended up walking off-set after his co-host called him out on his seeming vendetta against Meghan, according to The New York Times. It wasn't always a bad relationship between Meghan and Morgan, though. In 2016, Morgan referred to Meghan as "perfect princess material," via Insider. But by 2018, he was saying that Meghan had "ghosted" him after having met Prince Harry.
Some people aren't happy that Morgan brought up Meghan in the conversation with Walpole. One tweeted: "Here we go again ... his obsession ... Meghan!" Others agreed. Another person tweeted about Morgan saying, "Seriously, if ever someone needed a hobby its this man." Some on Twitter seemed impressed overall with Walpole's demeanor, and one person seemed to agree that Harry traded down, tweeting "[Walpole] strikes me as a far nicer person than Meghan Markle actually." And in the YouTube comments of the interview, one wrote "[Walpole] would have been a much better wife for Harry but she's too good for him."