Gingerbread Latte Hair Is The Latest Yummy Color Trend You'll Be Seeing On Social Media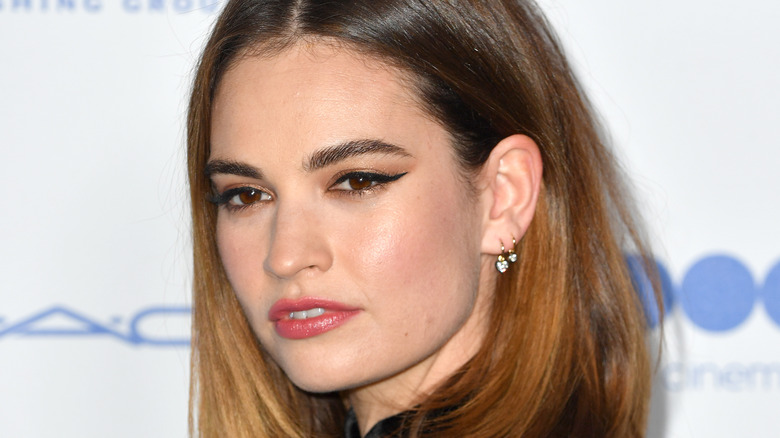 Gareth Cattermole/Getty Images
It's getting closer to spring, and, for many of us, that means a fresh start. If you want to switch up your hair but aren't sure what exactly you want, there are plenty of hair trends to choose from. Alternating from more elevated versions of your natural hair to out of the ordinary colors, the hair trends of the moment are varied and unique. You might be the type of person who isn't afraid to take risks, in which case the latest spring dip-dyed hair trend is a perfect pick. Or, you might prefer the clean alpine blonde hair trend that's ideal for those months before the weather starts to get warmer. Either way, you'll never be stuck for inspiration.
However, if you want something low maintenance, look to the latest hair trend that's about to take over your feed. Referred to as "gingerbread latte hair," this color sounds good enough to eat and is full of richness, warmth, and depth. Here's what to ask for when you inevitably visit the hairdresser after seeing just how scrumptious gingerbread latte hair looks.
The trend looks just as good as it sounds
The main base color of gingerbread latte hair is chocolate brown for a rich, velvety vibe, mixed with lighter swirls of cinnamon brown throughout for a truly delicious look. As seen on Natalia Bryant, cinnamon brown hair is another major trend, so with gingerbread latte hair you'll be hitting two trends in one for an ultra stylish look.
Hair colorist Chris Greene recommended gingerbread hair for those who already have darker hair. Speaking to Allure, he stated, "the difference between the base and highlights is only a few levels of lightness," making this hairstyle a perfect option if you don't want to go too light and potentially damage your hair. Plus, another major plus of gingerbread latte hair is that your roots remain dark, so it isn't as much of a big deal if you can't factor in frequent salon trips.
As demonstrated by @paintedhair on TikTok, the trend can be achieved via a balayage effect. The roots stay remain chocolate brown but the rest of your hair color gradually gets lighter, much like a swirly latte.
Cute but still low maintenance, it's a great transitional hairstyle
"Pam & Tommy" star Lily James also hopped on the sweet-sounding hair trend, showcasing her warm cinnamon and copper hair at a Magic Office event for Charlotte Tilbury (via PopSugar).
Co-owner of NYC salon Beautified Suite Tricia LaManna told Allure that the gingerbread latte trend will look especially good on warmer skin tones, stating, "add some strategically-placed highlights in a subtle gold or honey if you want to create depth." She also advised specific colors that would look good on skin with warm undertones, recommending  "ebony brown, mocha, and violet-based colors" to "enhance the natural warm undertones of the skin." 
Warm skin tones suit fall-asociated colors like yellow and orange in general, so it makes sense that the warmness of gingerbread latte hair would be a perfect fit. Of course, you don't have to stick to the above colors to achieve a dreamy gingerbread latte hair look. So long as your hair starts off dark brown and includes shades of cinnamon and copper, you can try the trend in a way that flatters you.