The Cautious Reason King Charles Will Break A 45-Year Tradition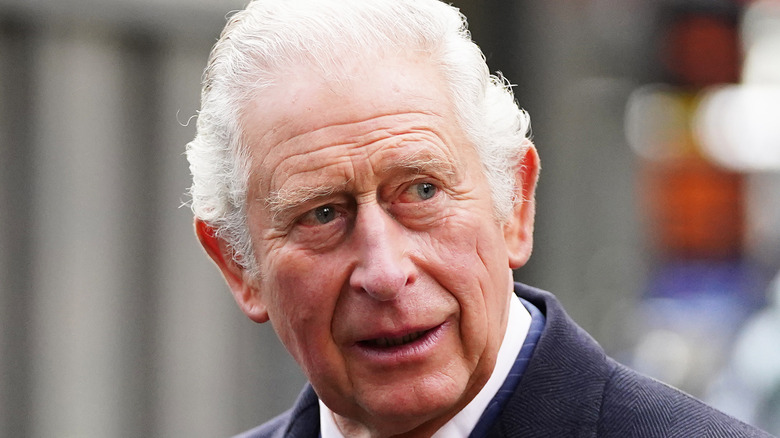 Wpa Pool/Getty Images
King Charles has been hitting the ski slopes for 60 years.  While he learned at age 14, the Daily Mail reports that his enthusiasm took off when he started going to Klosters. Located in Switzerland near Davos, this resort is Charles' favorite place to ski, and he typically visits in February or March each year. Over the decades, the monarch honed his skills by practicing with his friend, Charles Palmer-Tomkinson. A former Olympic skier, Palmer-Tomkinson also hosted the royal at his chalet there.
Besides skiing, Klosters is a peaceful venue for the king to indulge in another surprising hobby: art. An avid watercolor painter, Charles relies on using vodka to rinse off his brushes when he's painting in cold weather.  In 1997,  one of Charles' paintings from 1992 was featured on the area's season ski pass.
Trips to Klosters have given also Charles opportunities to relax and show off his silly sense of humor. During a memorable 1980 trip to the snowy resort, the then-Prince wore round black glasses, complete with a false nose and mustache. When photographers saw through his efforts to ski incognito, he removed the disguise and consented to a group photo. However, this year, Charles has decided to abstain from snowy sports, foregoing one of his favorite annual traditions for an important reason.
King Charles isn't going to take any risks before the coronation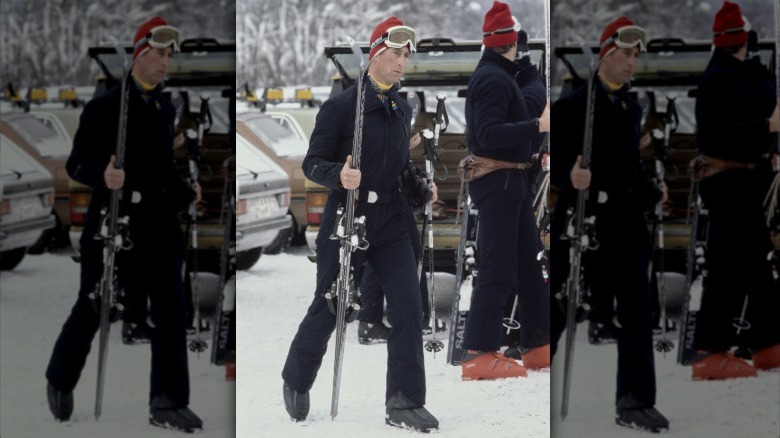 Tim Graham/Getty Images
In an abundance of caution before his May 6 coronation, King Charles has decided to skip his annual trip to Switzerland's Klosters ski resort. The monarch has multiple reasons for sacrificing this 45-year tradition. "There are many factors at play, not least it's a bad look to go skiing during the cost-of-living crisis and the King is not a very ostentatious person," a source told The Sun. "Also it would be disastrous to suffer a skiing accident."
In 1988, Charles was skiing on some of the steepest slopes at Klosters when an avalanche occurred. "I've never forgotten the sound of it," he recalled, per the Daily Mail. "The whole mountain apparently exploding outwards . . . vast clouds of snow. I thought to myself My God, the horror . . ." Tragically, his friend Major Hugh Lindsay was killed. Mrs. Charles Palmer-Tomkinson, suffered leg injuries. Although Charles was not hurt, he was devastated by the death of his friend.
While Charles is also staying home this year in solidarity with UK citizens who can't travel due to the higher expense of daily living, when he does take ski trips, he travels frugally. "[Charles] eats lunch at one of the cheapest places around," notes a guest book entry at Klosters' Chesa Hotel, per The Telegraph. The note also revealed that the king "hires skis that he carries himself and invariably travels second class on the sports train."
Charles cancelled a 2007 skiing trip to cut his carbon footprint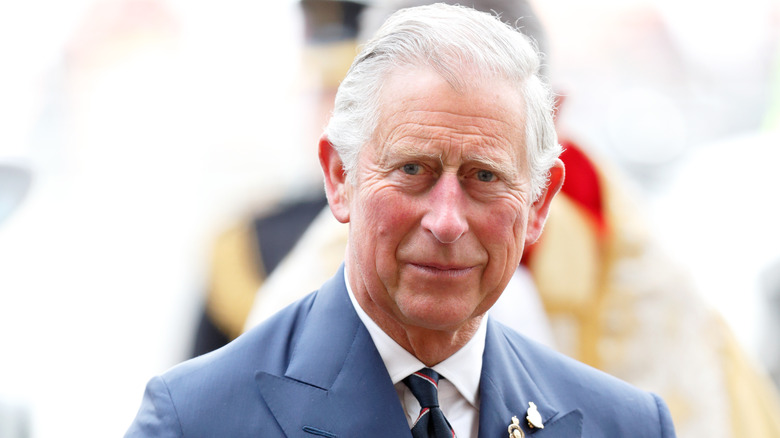 Max Mumby/indigo/Getty Images
Even though King Charles has been making the trek to Klosters, Switzerland since 1978, this isn't the first time he's missed out on skiing in his favorite location. In 2007, Charles also opted to stay home, with a royal source telling The Telegraph, "[Charles] is trying to cut back on his carbon footprints and this is one of the factors in his decision." At the time, he had just come under criticism after making a quick trip to the U.S. to receive Harvard Club's Global Environmental Citizen Award. Long a champion of environmental causes, that year Charles started working to gather data on the carbon footprint of Duchy Foods, his organic food company. In addition, he also decided to be transparent about disclosing information about his carbon footprint, as well as setting goals to reduce it.
As for this year, the monarch is busier than ever—particularly with his 3-day coronation celebration less than 3 months away. Charles has been busy making all kinds of decisions, from his updated choice of outfit to Prince Harry's attendance. While Harry and Meghan are among the 2,000+ invited guests, The Telegraph noted that some members of Parliament are frustrated they won't make the cut. 
In contrast, Queen Elizabeth II's coronation had more flexibility, with 8,000 attendees. Speaking to the Daily Mail, one planner commented, "We need Wembley Stadium, not Westminster Abbey."