There's An Official Playlist For King Charles' Coronation (& It Has Some Hidden Messages)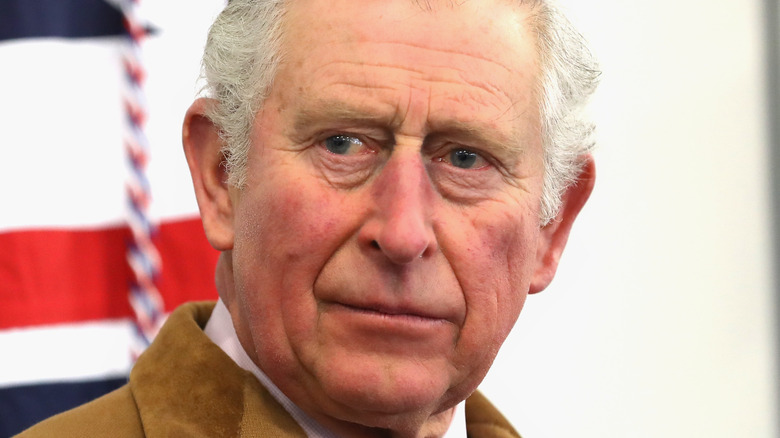 Chris Jackson/Getty Images
It's almost time for the Coronation of King Charles III, and according to HM Government, "People across the country and the Commonwealth are invited to celebrate the Coronation of His Majesty The King and Her Majesty The Queen Consort over a weekend of special events on 6–8 May." The weekend celebration, which will take place at Westminster Abbey, will include concerts, food, and various fun events to celebrate King Charles III's reign. Additionally, on Monday, May 8, the Big Help Out will allow members of the public to engage in volunteering and local outreach programs (via The Royal Family).
Moreover, a 27-song playlist has been released on Spotify as a suggested soundtrack for the street parties that will take place during the coronation weekend, and while some consider the playlist to be a fun look into King Charles' musical preferences, others are seeing some major red flags with the chosen songs. Below, we'll dive into the top tracks and the hidden messages within the official coronation playlist.
Is the coronation playlist a flop?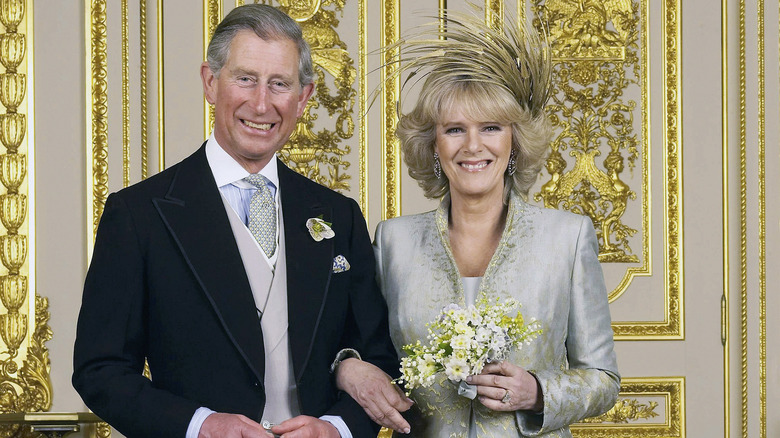 Pool/Getty Images
In addition to the celebratory events planned for the coronation, an official coronation playlist has been made available via Spotify. The almost two-hour playlist includes hits like "Come Together" by The Beatles and "Waterloo Sunset" by The Kinks, as well as more modern songs by Ed Sheeran and Harry Styles. The mix of oldies and newer hits echo the statement that Buckingham Palace released which read: "[The coronation] will reflect the Monarch's role today and look towards the future, while being rooted in longstanding traditions and pageantry" (via The Royal Family).
The playlist was made to honor artists from Britain and the Commonwealth ahead of the coronation, however, some believe the playlist lacks diversity since only four artists of color are present in the 27-song lineup. Additionally, Buckingham Palace claimed the playlist is about celebrating Commonwealth artists, but the only artists on the playlist that represent Commonwealth diversity are Grace Jones, Boney-M, Emeli Sandé, and one member of the Spice Girls.
While a coronation playlist is a fun idea, this one is bringing up some red flags with its lack of inclusivity. As Euronews puts it: "Where's British-Sri Lankan singer M.I.A.? Barbados-born Rihanna? Australia's very own Kylie Minogue or Natalie Imbruglia? Cameroon's Irma or Blanche Bailly? The list goes on, and no Indian artists to be seen."
Come Together by The Beatles is an obvious choice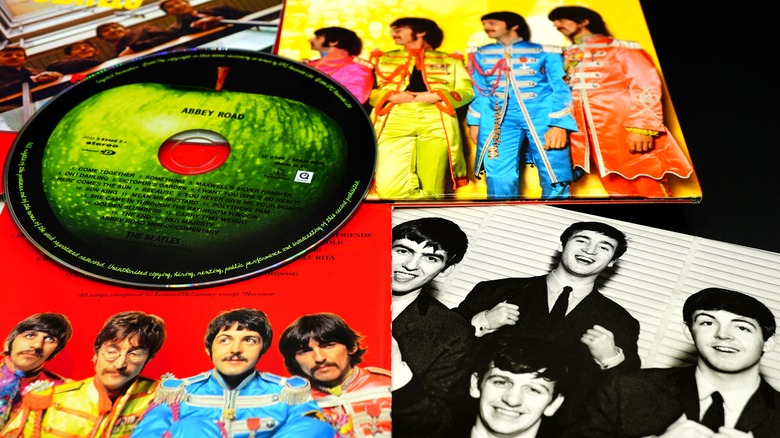 Kraft74/Shutterstock
"Come Together" is a classic song by one of the most famous British bands of all time: The Beatles. The song, which topped the charts both in Britain and America when it came out in 1969, was described by the New Musical Express as: "Probably the funkiest thing The Beatles have ever done" (per The Beatles).
Though the song is definitely creative when it comes to the lyrics (does anyone know what "He got walrus gumboot" means?), it has a central message of liberation and unity: "One thing I can tell you is you got to be free / Come together, right now, over me." 
Putting this groovy classic on the playlist — as the first song — sets the vibe for the coronation playlist to be one that emphasizes peace, harmony, and good times. The song is also a perfect reflection of King Charles' wishes to unite the country, as he stated in a 2022 Christmas broadcast: "Our churches, synagogues, mosques, temples, and gurdwaras have once again united in feeding the hungry, providing love and support throughout the year. Such heartfelt solidarity is the most inspiring expression of loving our neighbor as ourself" (via YouTube).
Running Up That Hill by Kate Bush is a timely addition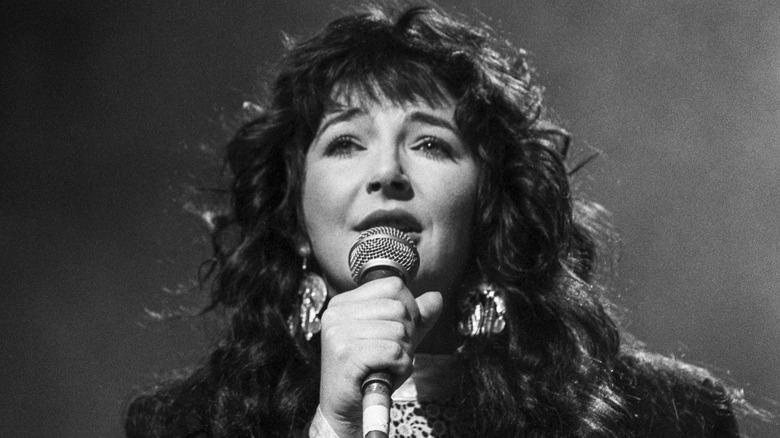 Dave Hogan/Getty Images
It's undeniable that this Kate Bush anthem has had a major comeback thanks to "Stranger Things" — the 1985 song was the 12th most consumed song of 2022 (per Variety). Likely due to its popularity, "Running Up That Hill" made its way onto the coronation playlist as one of several upbeat, dance tracks. Delving into the meaning of the song, one could surmise that this one was added to imbue a sense of strength, power, and togetherness to the coronation playlist.
However, the actual meaning of the song doesn't appear to be super relevant to King Charles' celebration. When Kate Bush sings, "And if I only could / I'd make a deal with God / and I'd get him to swap our places," that's exactly what she means. Bush said in 1985 to "The New Music" magazine (via Bustle) that the song refers to the relationship between a man and a woman. "It's saying, if the man could be the woman and the woman the man, if they could make a deal with God, to change places, that they'd understand what it's like to be the other person and perhaps it would clear up misunderstandings," Bush said.
So, although it may not be super relevant to the coronation, this timeless power anthem will likely be a favorite for those who tune into the playlist.
Treat People With Kindness by Harry Styles is a loving reminder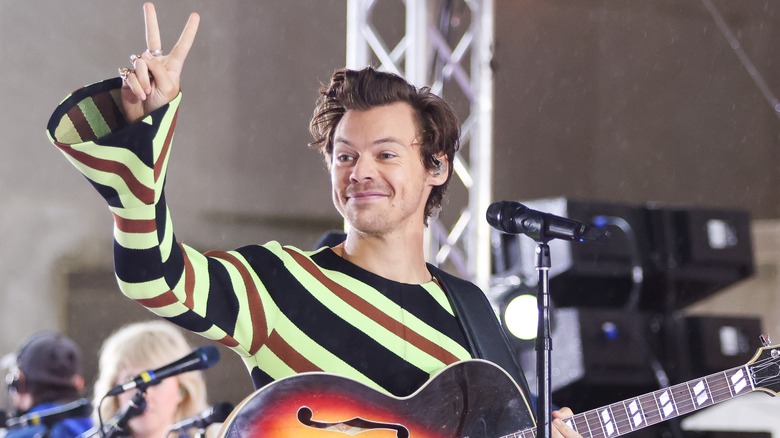 Debby Wong/Shutterstock
Is including a Harry Styles song on the coronation playlist King Charles' way of connecting with young people? If so, we're not mad about it. "Treat People With Kindness" is from Harry Styles' 2019 album "Fine Line," and the message of the song is one of connection, love, and hope for a better day.
When it comes to its place on the coronation playlist, we're thinking it's a way to echo the intention of the playlist which is to be one that is inclusive, since the song includes lyrics like "Maybe we can / Find a place to feel good / And we can treat people with kindness." Perhaps the simple focus on kindness and love may seem like a cop-out for the playlist, but it does stay consistent with King Charles' messages to his country. After Queen Elizabeth passed away, the king said in a public speech: "I shall endeavor to serve you with loyalty, respect, and love" (via YouTube).
Say You'll Be There by the Spice Girls hints at something more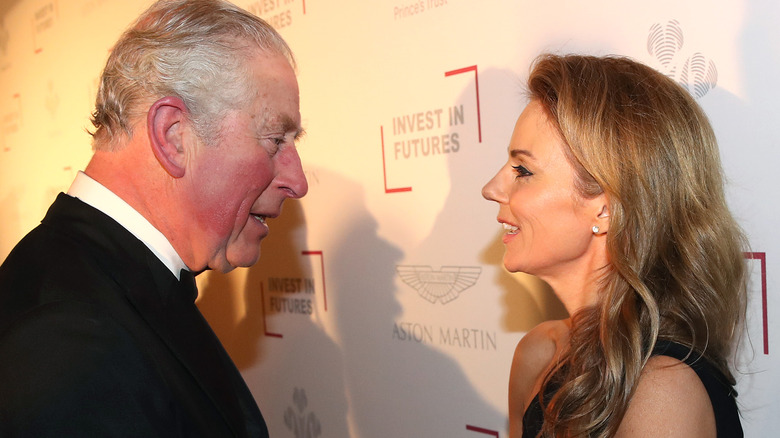 Chris Jackson/Getty Images
This one may have been added to the playlist due to the fact that it's a banger, but also because King Charles is apparently a big fan of the Spice Girls. See, the king and the Spice Girls have quite a history. Back in 1997, King Charles and Prince Harry attended a Spice Girls concert which Harry reflected on in his memoir "Spare" writing: "I saw it with my own eyes, Pa gamely nodding to the beat and tapping his foot" as the Spice Girls performed "Wannabe" (per Newsweek).
But that's not all the history King Charles has with the band. Back in the mid-1990s, the girls attended a charity event for the Prince's Trust, and Ginger Spice (aka Geri Halliwell) supposedly pinched the future king on the bum and told him he was "very sexy" according to Express. However, Ginger Spice later told the Times (via Express) that she hadn't pinched his bum, she had patted it: "Patting him on the bottom was against royal protocol but we're all human."
Finally, adding the Spice Girls to the playlist may have a secret meaning: the girls may be reuniting to perform at the coronation. "Royal organisers are super keen to secure Britain's biggest girl band and the Spice Girls are seriously pondering a return to the stage as a five piece for such a historical event," said an insider (via The Sun).
The significance of Slave to the Rhythm by Grace Jones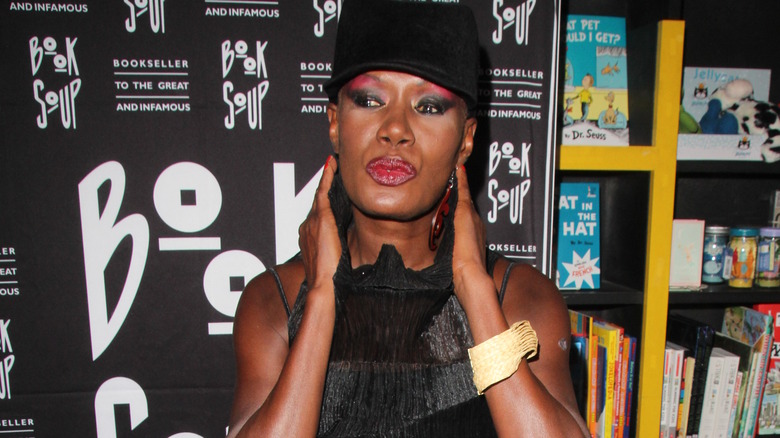 Kathy Hutchins/Shutterstock
"Slave to the Rhythm" was a hit in 1985 and is still a hit today. The song was Grace Jones' top commercial success, and in addition to topping the charts in several countries when it was released, it was also named the best single of the year in 1985 by "The Face" magazine.
While it's likely that this song was added partially due to its popularity, the song and artist hold more significance as well. Back in 2012, Jones performed the song for Queen Elizabeth at the Diamond Jubilee concert (per The Guardian) as a representation of one of the major hits throughout the decades of the queen's reign.
Additionally, having Jamaican artist Grace Jones on the coronation playlist offers diversity to the playlist which some believe is lacking in representation. And while the song's lyrics are mostly about making music, one could also infer that choosing a song that discusses Jones' heritage ("I had a grandfather on my father's side / He's ninety-five years old / His great-grandfather came from Nigeria, from the Igbo tribe") is a way to pay homage to her culture. After all, King Charles is known for being progressive and pushing for social change. "I've had this extraordinary feeling, for years and years, ever since I can remember really, of wanting to heal and make things better," he said (via Time).
We Are the Champions by Queen doesn't land well for some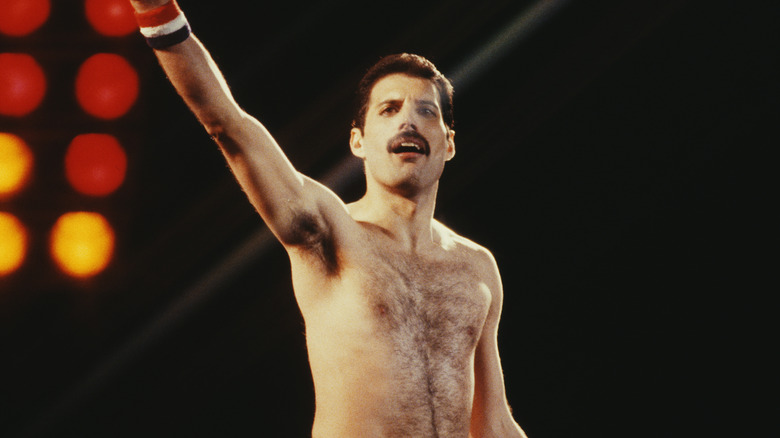 Keystone/Getty Images
"We Are the Champions" is an iconic song. Written by Freddie Mercury and released in 1977, it was in the No. 2 spot on the U.K. Singles Chart and at No.4 on the U.S. Billboard Hot 100. It was also named the world's favorite song in a 2005 poll by Sony Ericsson (via The Register), so it's safe to say that this hit was a no-brainer for the playlist.
And while it does makes sense that the coronation playlist has a lot of classic, celebratory hits, some people believe that "We Are the Champions," among other songs on the playlist, is veering into the self-congratulatory territory. According to Euronews: "It has an uncomfortable feeling of self-congratulatory patriotic nonsense that doesn't sit well with the fact that for a collection of songs supposed to celebrate a new monarch but also a country and its people, it's very one-note and depressingly uniform."
Gold by Spandau Ballet is an inspirational hit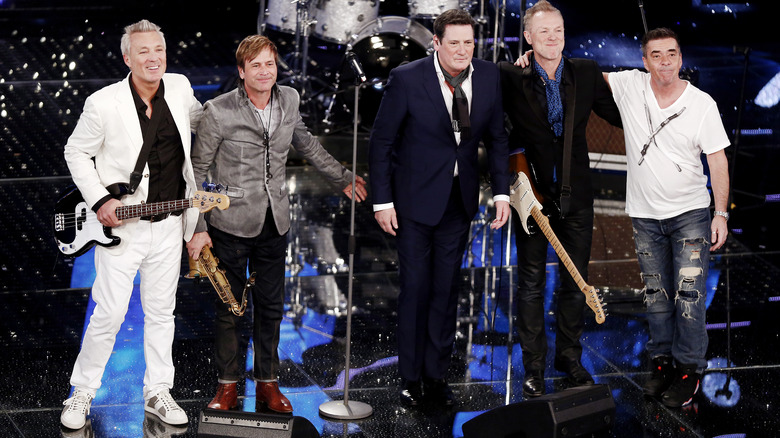 Andrea Raffin/Shutterstock
Clearly, King Charles is a fan of '80s music, and we can't really blame him. Looking back at his life in the 1980s, it seems he was a fan of the music and dancing of the time; an iconic video from 1985 shows him breakdancing on the dance floor (via YouTube) — we truly love to see it!
Most people know Spandau Ballet for their hit song "True," but "Gold" is another popular song by the British New Wave band. It was so popular, in fact, that Spandau Ballet was invited to perform the song at the 1988 Olympics torch-passing ceremony (via Dig!). Since it came out, the song has been a celebratory classic and "will forever be first in line when programmers are looking for an appropriate musical lift," according to Dig!
Including "Gold" by Spandau Ballet on the coronation playlist seems perfectly fitting, considering the 1983 track was a No. 2 hit on the U.K. Singles Chart, right around the time when the Prince of Wales was breaking it down on the dancefloor. "Gold" also has inspirational lyrics that feel appropriate for the celebration: "Always believe in your soul / You've got the power to know / You're indestructible, always believing / You are gold (gold)."
King by Years & Years is a bit random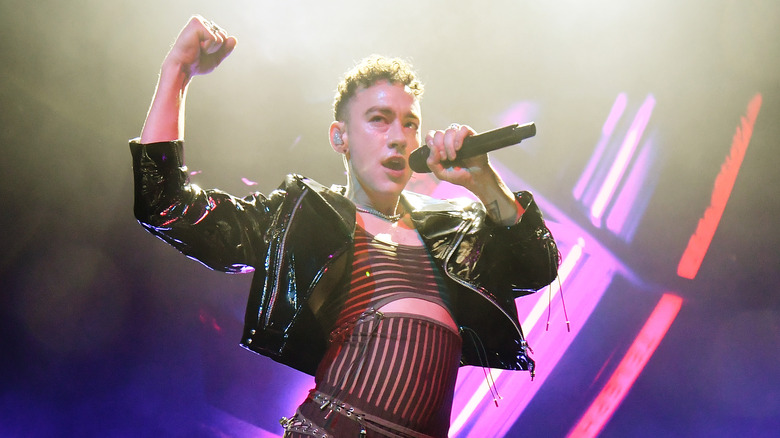 Jim Dyson/Getty Images
It makes sense to put a song called "King" on the coronation playlist. However, we're a little confused about why this particular song was chosen. "It's Good To Be King" by Tom Petty feels more fitting than the Years & Years song; even "Rain King" by Counting Crows would have sufficed.
"King" by Years & Years, which did hit No. 1 on the U.K. Singles Chart in 2015, is just not a particularly celebratory tune. With a chorus like, "I was a king under your control ... I want to feel like you've let me go," the song appears to be more about a romantic relationship than anything remotely royal. And while it's true that "King" is an upbeat dance song in line with many others on the playlist, it does feel a bit like it was chosen solely for its title — not because it's relevant to the coronation.
Plus a controversial addition that was quickly removed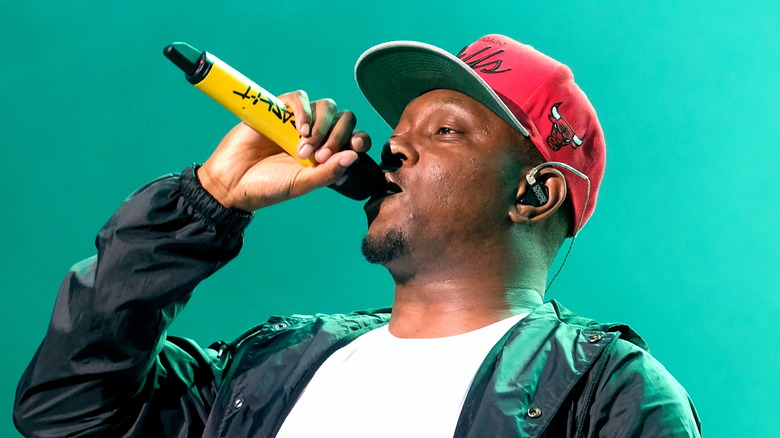 DFP Photographic/Shutterstock
A theme on the coronation playlist is dance music, so adding "Dance Wiv Me" by Dizzee Rascal was a choice in line with many of the others on the playlist. However, the song was apparently added by mistake since the British artist was found guilty of assaulting his partner in March 2022 (per the BBC).
A representative for the Department of Digital, Culture, Media and Sport (DCMS) quickly released a statement regarding the situation, saying: "A track featuring Dizzee Rascal was included in error and as soon as this was identified it was removed" (via the Independent).
Though it was an honest mistake, it's a good thing that the song was removed — not only is it promoting abusive behavior, but it's especially unfit considering Camilla, Queen Consort has been very adamant in outreach efforts in support of victims of intimate partner violence. During a 2022 reception at Buckingham Palace, Queen Camilla spoke on the "global pandemic of violence against women" and said: "Over the years, in my previous role, I had the privilege of meeting many survivors of rape and domestic abuse; and of sharing in the sorrow of people who had lost family members to violence. And again and again, I heard that two of the most powerful ways in which to help were to remember and to listen" (via Vanity Fair).
The playlist fails to celebrate the Commonwealth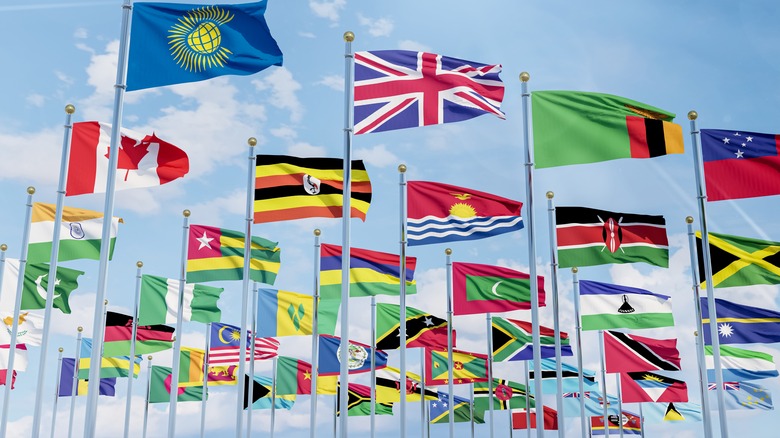 justit/Shutterstock
Although the coronation playlist was supposed to "celebrate British and Commonwealth artists ahead of the upcoming Coronation" (per Euronews), some believe it doesn't live up to its intention. The Commonwealth includes 54 countries, but apparently, Britain's Department of Digital, Culture, Media and Sport (DCMS) thinks inclusivity means including just three artists who offer some diversity: German-Caribbean outfit Boney M., Canada's Michael Bublé, and Jamaica's Grace Jones.
The lack of true diversity on the playlist, especially a playlist meant to celebrate Commonwealth artists, doesn't sit well with many. According to Euronews, "all the playlist does is serve as an uncomfortable reminder that this is a nation that still hasn't reached puberty by not convincingly wrestling with its colonialist past, as well as highlight that those in power prefer to stick to sanitized versions of culture despite a wealth of diversity and plurality of voices."
Is this playlist celebrating the country ... or the king?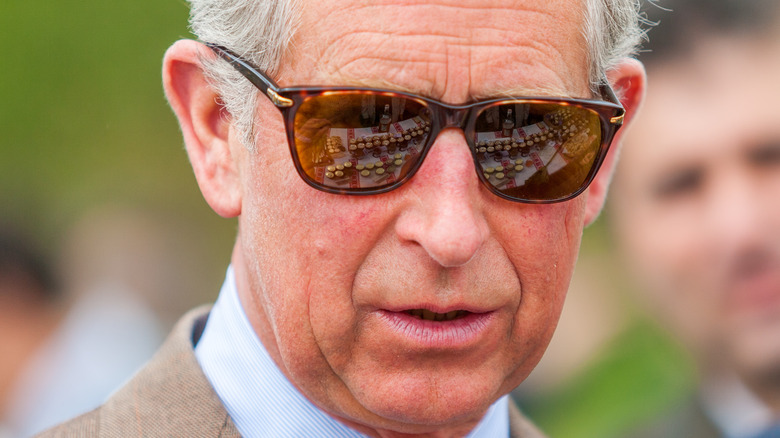 Mircea Rosca/Shutterstock
Another issue with the playlist is that, overall, it falls a bit flat in terms of celebrating the country. Not only are some of the songs seemingly only chosen for their titles, but many feel that the playlist feels more like a generic celebration of the king rather than of the country.
Big Issue wrote: "A coronation isn't a celebration of a King. Not really. It's a celebration of a country and its people." But when the songs seem mostly random and selected for shallow reasons, the playlist loses any depth or significance it was shooting for. "There's some decent songs on here ... But none of them really says much about what this list is for, or what the day is about. It's a shrug of the shoulders and half an hour of writing down what you hear on Radio 2. It's boring. It's a waste," Big Issue stated. "And maybe, in a way, it's perfect? Preoccupied with England, mostly male, mostly straight, boring, predictable and reminding us uncomfortably of colonialism and slavery? Sounds like the monarchy to me." 
Ultimately, while the playlist does have its fun moments, it feels like a bit of a letdown.